Editor's Note: We first posted this yesterday, but for readers who didn't see it, we're bumping it to the top of the page so people know what's coming in just about three hours.
Hey, we know: after sixteen months of rumors, figuring out exactly what to expect from Apple's "Let's Talk iPhone" event tomorrow can be confusing. Well, let us break it all down for you. Here's everything we know (or think we know) about what Apple's going to announce tomorrow. It's going to be a hell of a show.
Expect up to three new iPhones: the iPhone 4S, the Budget iPhone N90A and the iPhone 5
A new iPhone is the star of Apple's Tuesday event, but at this point, it looks like we'll be seeing more than one new phone. In fact, we may see as many as three.
First, there's the iPhone 4S. We know from references in Apple's latest iTunes beta that the 4S is coming, and it'll mostly be a speed bump. Following the branding nomenclature of the 3GS, we expect this device to look practically identical to the iPhone 4, but come with an A5 processor, an 8MP camera, 1 gigabyte of RAM and up to 64GB of flash storage. It'll be available in both black and white from the get go, and the iPhone 4S will also be a world phone, capable of running on both GSM and CDMA networks with the same hardware. We expect Apple to announce that the iPhone 4S will go on sale on October 14th, and be available for preorder by this Friday.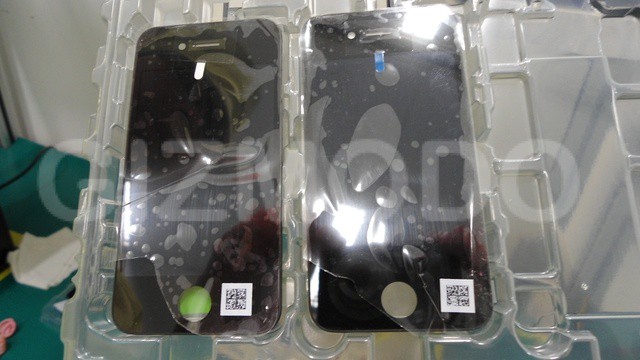 In addition, the weekend saw confirmation that Foxconn has been building budget iPhones in its Brazilian factories with the model N90A. We've heard a lot of loose talk about budget iPhones in the past: the idea is that these iPhones would be cheap enough to produce that they could be used in the growing American pre-paid market. If you want to know what a budget iPhone looks like, you should probably look no further than the iPod touch: expect a lesser quality Retina Display, a smaller camera module, a maximum of 8GB of internal storage, and maybe even Apple's last-generation A4 SoC.
Finally, there's the iPhone 5. This device is rumored to be a complete redesign: up to 25% thinner, with a larger 4-inch display, tapered edges and a capacitive home button. iPhone 5 cases are all over the place right now, and it's said that the reason case makers are so convinced they'll see this device announced tomorrow is because they managed to buy a stolen iPhone 5 prototype from a worker inside Foxconn.
That said, we think an iPhone 5 from Apple is unlikely. For one, there's no supply chain evidence that it exists, so even if Apple has redesigned the iPhone as rumored, it probably hasn't gone into production. Second, as Daring Fireball's John Gruber points out, there's a lot about the rumored iPhone 5's design that doesn't make a lot of sense. We think it's going to ultimately turn out that the iPhone 5 was a controlled leak of a phony device directly from Apple meant to thwart Chinese case designers.
New iOS 5 Features: Assistant and Facebook Integration
httpvhd://www.youtube.com/watch?v=aZ-xC3g0duA&feature=player_embedded
Just because iOS 5 has been in beta for months doesn't mean Apple can't surprise us with new features at the last minute, and the cat's already out of the bag on what that surprise is: the new Assistant feature, which allows you to control almost every aspect of your iPhone using nothing but natural speech.
References to Assistant are littered all through the iOS 5 betas, and even the "Let's Talk iPhone" slogan for Tuesday's event is a sneaky reference to it.
Here's how it will work. To activate Assistant, you will hold down the home button for a couple of second, at which point a microphone interface "slides up." From there, you can speak using your natural voice to tell your iPhone what to do. So, for example, you could say "make an appointment with my doctor for Tuesday at 9AM" and have it entered into your calendar. "Send a text message to John Brownlee saying Hello you scoundrel," would send me a text with the stated text. "Remind me to buy wine at the liquor store" would tell iOS 5's new Reminders function to alert you to your need for booze when you pull up at the local Booze Palace. And so on.
Assistant will be powered by Siri's voice control functionality, and we think it's going to require a 3G or WiFi connection to work properly, since your voice's waveform is being sent to Siri's external servers. Because Assistant's voice recognition is so sophisticated, reports say that it will depend upon an A5 processor and 1GB of RAM. That means that Assistant will not be backwards compatible to any previous device: it is the "killer feature" of the iPhone 4S, which is why we have yet to see it in action in any of the iOS 5 betas.
That's probably the biggest software reveal to come next week, but you can also expect expect Facebook integration to be announced tomorrow, along with a native Facebook iPad app.
Sprint Will Get The iPhone, While T-Mobile Will Be Left Out In The Cold
After almost four years of exclusivity, AT&T finally lost the edge of being the only carrier in the country that can sell iPhones when Verizon revealed a new iPhone 4 in February that could run on their CDMA network. Expect the iPhone's rollout to carriers to continue .
We know for a fact that Sprint is getting an iPhone this month thanks to leaked documents telling Sprint associates to expect pre-sales to begin this week.
What we don't know is which iPhone this will be. One rumor suggests that Sprint will only get the iPhone 4, but we find that unlikely: instead, we expect Sprint to either get the iPhone 4S, or perhaps just Apple's new N90A "budget" iPhone, which would be a great fit for Sprint's popular pre-paid tiers.
As for T-Mobile, looks like they'll be the last man out, as they have already confirmed they won't get the iPhone this year.
Next Page: iPod Touch, R.I.P. Clickwheel iPods, Steve Jobs' Final Bow?