In spite of a devastating pandemic, a moribund economy, widespread unemployment, factory and store closures, and a workforce toiling from home, Apple in 2020 had one of its best years ever.
The company released a raft of new products, saw its stock soar, enjoyed a record valuation, made record amounts of money, experimented with virtual product launches and events, released great advertising, and mostly skated through government antitrust hearings.
The company even killed off a hated product feature, to widespread plaudits from fans.
The story of the year, was, of course, the COVID-19 pandemic. And while the coronavirus crisis impacted Apple with closures of factories and stores, disrupted supply chains, and forced Apple staffers to work remotely, the pandemic actually increased Apple's sales for the year.
Working from home and Zoom school boosted sales of iPads and Macs, driving Apple to a record valuation of $2 trillion in August. And despite store closures and supply chain disruptions, Apple delivered one of the most productive product rollout calendars of recent years. The company launched more than two dozen new products in 2020, including the record-breaking iPhone 12.
"From remote learning to the home office, Apple products have been a window to the world for users as the pandemic continues, and our teams have met the needs of this moment with creativity, passion, and the kinds of big ideas that only Apple can deliver," Apple CEO Tim Cook said in an October statement.
The one misstep due to COVID-19 was the delayed iPhone 12 launch, which got pushed back a few weeks. Aside from that, the pandemic didn't appear to have much impact on the release of new products, whether hardware or software. In fact, Apple managed to update almost all of its product lines in 2020. Some, like the Macintosh lines, got two updates — something the company struggled to accomplish even in the pre-pandemic years.
On top of that, Apple introduced some historically significant changes, like the massive switch to Apple Silicon to power Macs. iPadOS 13.4 finally brought robust support for mice and keyboards to the iPad. And Apple made a big, important pledge that all of its products would be entirely carbon neutral in less than a decade.
An epic year for Apple products
Apple released an almost nonstop stream of new products during 2020.
"We're in the midst of our most prolific product introduction period ever," Cook told analysts in late October.
Over the course of the year, Apple released at least 21 new products (not including all the model variants).
The spree began on April 15, when Apple announced its new iPhone SE, an "affordable" addition to the iPhone lineup with prices starting at $399.
Notably, Apple released several new entry-level products to complement their more expensive siblings. As well as the iPhone SE, Apple also debuted the HomePod mini smart speaker and the $279 Apple Watch SE.
But just in case the low-priced products gave Cook heartburn, Apple also released several products at the top end of the price scale: a pair of $550 luxe headphones that make users's ears sweat, and a high-end iPhone 12 Pro Max that can go as expensive as $1,400 with the maximum storage.
The flagship products for the year, were, of course, the new iPhone 12 series, which are all 5G-enabled. As well as the Pro Max, there was the iPhone 12, iPhone 12 mini, and iPhone 12 Pro. Starting at $699, all the phones were well reviewed and sold like hotcakes.
The other major release was three new Macs powered by Apple's own M1 chips. The Apple Silicon Macs included a new MacBook Air, Pro and mini, and they blew reviewers' socks off.
It's easy to forget that earlier in the year, Apple already updated the MacBook Air and MacBook Pro. The new machines got bigger storage, faster processors and dumped one of the most hated of Apple's product features, the much-maligned butterfly keyboard, which is now officially extinct.
But these machines are all but forgotten, overshadowed by the M1 launch in the fall. In August, Apple also updated the 27-inch iMac. Anyone remember that?
Apple also updated the iPad line with new iPad Pro and Air models. In March, Apple released a new iPad Pro with a LiDAR Scanner, along with a new and innovative Magic Keyboard for iPad. It features a trackpad and a clever floating design that elevates the iPad a few inches above the keyboard. Apple in the fall also released an iPad updated iPad Air with A14 Bionic chip. The fourth-gen iPad Air garnered enthusiastic reviews for being a powerful iPad with a much lower price tag than the iPad Pro.
The annual fall update of flagship products also included the Apple Watch Series 6 with new case finishes and a built-in blood-oxygen sensor.
Apple also introduced HomePod mini, a softball-size smart speaker with pretty good sound and an appealing $99 price tag.
The company ended the year with the Dec. 8 introduction of AirPods Max, a pair of pricey high-end smart headphones. The wireless over-ear headphones feature high-fidelity audio, Active Noise Cancellation and spatial audio. Critics balked at the $549 price tag, but the luxury cans quickly sold out and remained on backorder at the end of 2020.
M1 chip puts world on notice
Perhaps the most significant moment in 2020 for Apple was the company's switch to its own chips for the Mac product line.
Dubbed the M1, the new ARM-based chip is both powerful and power-efficient. The performance per watt ratio is transformative not only for the Mac but perhaps the entire tech industry. Pundits and customers alike raved at the astonishing performance of the new chip, which debuted initially in three relatively entry-level and undemanding machines. Looking ahead to 2021, Apple is likely to introduce even more powerful versions of its chips.
The M1 chip is a historic milestone for Apple. It's the third major CPU switch in the company's history, and as they say, Apple is just getting started.
Don't forget the software
Apple also made major updates to most its software products throughout 2020. The most significant by far was the addition of trackpad support to the iPad in iPadOS 13.4 in March. Trackpad support makes the iPad even more of a laptop/computer replacement, and changes fundamentally how the iPad can be used.
Has there ever been a bigger and more significant change in a humble dot release?
In June, Apple released watchOS 7, ushering in a bunch of new personalization features (like shareable watch faces) as well as handwashing, sleep tracking and hearing health that tracks potentially damaging noise levels.
The debut of iOS 14 followed in the fall. It introduced the biggest update to the Home screen in more than a decade, adding customizable widgets and the App Library, which makes it easier to search for apps on the device. For some, like our writer Ed Hardy, widgets totally changed the way he uses his iPhone.
And finally, macOS Big Sur, released in November, brought a good-looking new design, as well as enhancements to Messages, Maps, Safari and privacy. It was also engineered for the new M1 chip.
Apple strikes gold during pandemic
While the COVID-19 pandemic proved ruinous for some companies, it was a boon to Apple financially.
In February, Apple warned investors that its quarter might not meet previous revenue guidance. However, throughout the year, Apple recorded financial results that set new records for the company, starting in the first fiscal quarter with revenue of $91.8 billion, an all-time record.
Apple's second quarter revenue also grew, driven by record-setting revenues from services and wearables.
"In this difficult environment, our users are depending on Apple products in renewed ways to stay connected, informed, creative, and productive," Cook said in a statement at the time.
The third quarter brought another blockbuster financial report, with quarterly revenue of $59.7 billion, an increase of 11% from the year before. Apple ended the fiscal year with another record quarter ($64.7 billion) thanks to huge sales of the Mac and services.
In June, Apple revealed that the App Store ecosystem was also making boatloads of money for developers. According to Apple, the App Store ecosystem was responsible for more than $519 billion in billings and sales globally in 2019 alone.
Thanks to all the cash being raked in, Apple's market cap ballooned to $2 trillion for the first time ever on August 20. That made it the first publicly traded U.S. company to reach the astronomical mark.
At the end of August, Apple split its stock for the fifth time since going public in the late 1970s. The 4-for-1 split thrilled investors, who watched Apple's stock rise steadily all year.
Apple flexes its altruistic muscle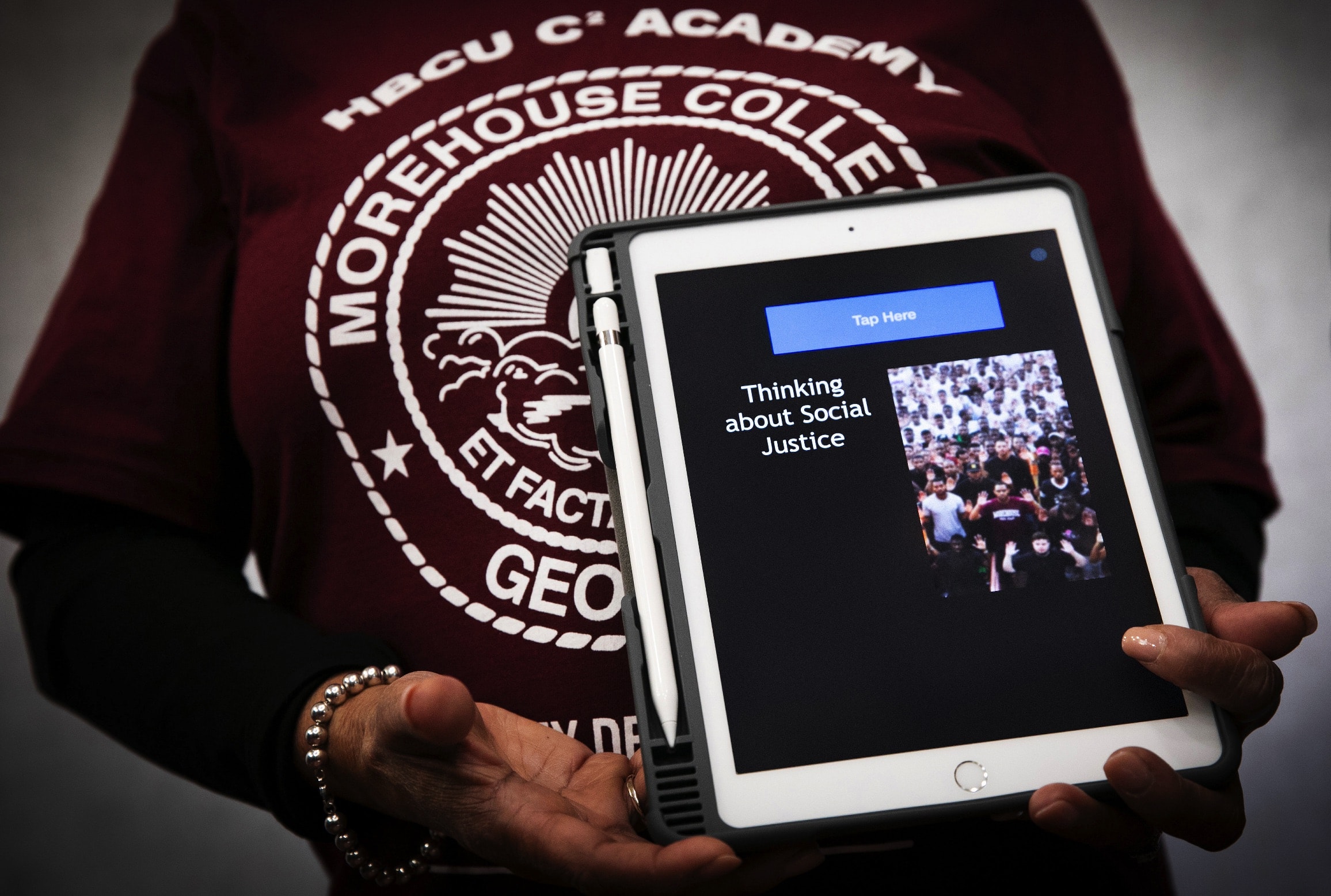 The year wasn't all about making money, though. Apple pledged several hundred million dollars to charity in 2020, including a whopping $100 million for a Racial Equity and Justice Initiative.
Racial justice and equality was an ongoing theme for Apple's charitable giving in 2020. In addition to the Racial Equity and Justice Initiative, a wide-ranging program that Cook said will impact almost everything Apple does, the company also teamed up with with Historically Black Colleges and Universities, adding 10 more regional coding centers to serve as tech hubs.
Unsurprisingly, a lot of Apple's 2020 charitable efforts were directed at the COVID-19 pandemic.
First, Apple donated tens of millions of face masks and custom-built face shields to medical professionals around the world.
Then, at the end of March, Apple released a new COVID-19 screening tool and website created in partnership with the Centers for Disease Prevention and Control. And a couple of weeks later, Apple teamed up with Google to release contact-tracing technology that uses Bluetooth to alert smartphone owners of encounters with infected people.
Its clever technology and thoughtfully implemented, but unfortunately hasn't been as widely adopted as it might have been. Only about a dozen states have used it for their public health efforts, although more may do so in the coming year.
Apple also donated several million dollars to various COVID-19 causes, such as $10 million awarded to COPAN Diagnostics, a company that makes COVID-19 sample collection kits, to expand production.
The California housing crisis also caught Apple's attention. In mid-July, the company allocated more than $400 million toward affordable housing projects and homeowner assistance programs in its home state. It was part of a $2.5 billion, multiyear commitment to help alleviate the state's housing shortage.
Apple faces antitrust scrutiny
World leaders looking to reign in the power of Big Tech cast probing eyes on Apple in 2020. The company faced scrutiny abroad as well as at home, mostly centered on Apple's iron-fisted control of the iOS App Store.
During a virtual hearing before a U.S. congressional antitrust subcommittee this summer, Cook got off pretty lightly — at least compared to CEOs from Facebook, Amazon and Alphabet, Google's parent company.
Still, the subcommittee released a 449-page report in October that came to an ominous conclusion about Cupertino's App Store policies. "Apple's monopoly power over software distribution to iOS devices has resulted in harms to competitors and competition, reducing quality and innovation among app developers, and increasing prices and reducing choices for consumers," the report said.
It remains unclear what 2021 will bring with regard to antitrust regulation for Apple and the other tech giants. However, throughout 2020, Cupertino made moves — including halving some App Store fees — that could win points with lawmakers and angry developers alike.
Environmental initiatives get a big boost
Arguably the most important announcement of the year from Apple came in mid-July, when the company pledged to become completely carbon neutral by 2030. That's across its entire business, including the manufacturing supply chain and the entire life cycle of its products, including disassembly and recycling. By 2030, every Apple device sold will have net zero climate impact.
Apple is already carbon neutral for corporate emissions worldwide, but adding the supply chain — responsible for about 70% of the company's carbon footprint — is a big deal.
As part of that effort, Apple in September invested in the world's largest onshore wind turbine in Denmark. The goal, if accomplished, will bring Apple's entire carbon footprint to net zero 20 years sooner than targets set by the Intergovernmental Panel on Climate Change. It's a model for the entire manufacturing industry.
If the world's biggest company can do it, what's stopping other manufacturers?
Apple doubles down on privacy
Apple continued its pursuit of extreme user privacy in 2020, rolling out new features in iOS and Safari that opened some eyes.
Safari added a Privacy Report that shows the number of trackers the browser keeps at bay on iPhones, iPads and Macs. And new "nutrition labels" for apps reveal what type of data is being hoovered up.
The most high-profile change — popups that expose apps that want to track users across other companies' apps and websites — drew the ire of Facebook. The social network bought full-page newspaper ads attacking Apple. The ads claim the privacy-centered features will harm small businesses, but it's really the data-driven ad industry that will take a hit.
Apple began rolling out the App Tracking Transparency feature in iOS 14.4 betas in December. When it finally goes live in 2021, users should get a better look at just how pervasive online tracking is.
Conclusion
2020 was big, historic year for Apple, in which the company performed better than it has done in other, less-challenging years.
It released some great products, and acted admirably according to its corporate values.
Apple's stances on privacy, the environment and social inclusion provide refreshing examples for the rest of society to follow.
Apple also acted well during the COVID-19 pandemic, closing workplaces and stores to protect its staff and customers. It felt like Apple put people first, and business second. That's something good that came out of this crummy year.