Tim Cook has only said that the Apple Watch Edition will be available in "select stores" later this month. You won't be able to just walk into any location and try on the ultra-expensive gold model.
Now we know exactly which Apple retail stores around the world will sell the Edition when it goes on sale April 24th.
Thanks to Apple's "Find Locations" tool for locating retail stores, you can see where the Edition (along with other Apple Watch models) will be available later this month.
Unsurprisingly, some entire states in the U.S. won't have stores that carry the Edition. It looks like supply will mostly be sent to Apple's flagship locations, like the Palo Alto store in California.
For instance, no Apple stores in my home state of Kentucky will sell the Edition. New York, on the other hand, has four stores that will carry the hi-tech timepiece, including the iconic store on Fifth Avenue.
To see where the Edition will be sold for yourself, head on over to Apple's store locator, enter your desired location, and select Watch Edition from the product list.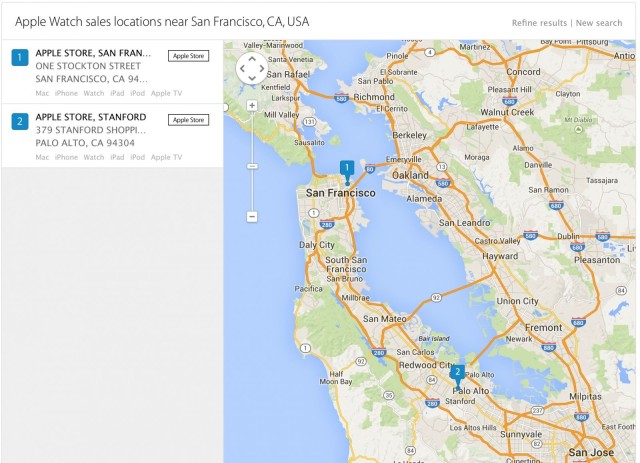 Internationally, the Edition will be sold in Australia, Canada, China, France, Germany, Hong Kong, Japan, the UK and the US at launch. Apple has also said that the Watch will be on display at boutiques in big cities like Paris, London, Tokyo, Los Angeles, and Berlin.
It's been reported that Apple will have a special courier service for delivering Edition models to stores when a customer requests one. This means that stores without Edition inventory can request stock if need be. Appointments to try on the Edition, which starts at $10,000 and maxes at $17,000, will allegedly last 30 minutes, or double the length of normal Apple Watch try-on appointments.
Today Apple announced that Watch orders will only be online at launch, even after trying one on in a store. It's unclear if this applies to the Edition as well, or if Apple will have a completely separate retail buying process for that model. Regardless, you can preorder the Edition along with the other two Watch models starting tomorrow.