The Meross Smart WiFi LED Bulb integrates almost any lamp or light fixture into a HomeKit smart home. It can be controlled with an iPhone, and offers color changing and dimming.
I added a pair to my smart home. Here's how it went.
This post contains affiliate links. Cult of Mac may earn a commission when you use our links to buy items. Read our reviews policy.
Meross Smart WiFi LED Bulb review
Light switches are as old as Edison, and today there's a better solution. With a smart bulb, you can turn your lights on or off with a voice command to an iPhone or HomePod. But the real advantage is groups of lights. Say "Hey Siri, goodnight" and every light in your house turns itself off so you don't have to do it. You can set up a schedule in Apple's Home app so some lights come on at sunset. Or whenever you arrive home.
The Meross Smart WiFi LED Bulb is dimmable, and can change to a wide variety of color. You can make a room purple of you're having a party, or just make the light warmer to match your decor.
And it's ideal for renters because there's no wiring. Just screw the bulb into the lamp or light fixture.
Hardware and design
One of the best features of the the Meross Smart WiFi LED Bulb is that it's just a light bulb. If you've seen any other LED bulb, you know what this one looks like.
To get specific, this is an A19 bulb. That means it's the standard size and fits it a typical Edison screw-in socket. If your lamb requires a compact A15 bulb, this one won't fit. I tried the smart bulb in a variety of light fixtures and lamps in my home and didn't run into any problems with size.
The Meross Smart WiFi LED Bulb puts out 810 Lumens, which is the equivalent of a 60W bulb. That's the most that many lamps and light fixtures recommended, though they also expect you to use two or more bulbs.
And it doesn't have to be smart. You can flip it on and off with a switch, like any other light.
Home automation with HomeKit
Control of the Meross Smart WiFi LED Bulb is done through the Apple Home app, which comes pre-installed on iPhone and iPad. It uses Homekit, which is built into iOS and iPadOS.
Set up is easy. Connect your iPhone to a 2.5GHz Wi-Fi network, then scan a barcode on the bulb. The app will connect. From there, you're ready to control your light fixture from the couch. Or Kathmandu.
Alternatively, the smart bulb can be controlled through the free Meross app. Plus, this is where firmware updates are installed. And I found it easier to pick the shade of the bulb from this software than with the Home app.
Another advantage of the Meross app is it doesn't require a hub. You directly control the smart bulb. However, you will need a hub for any HomeKit accessories, including this one. An older iPhone will do, or a HomePod mini.
The Meross Smart WiFi LED Bulb works equally with Amazon Alexa. I tested this to be sure. Google Assistant, Line Clova, SmartThings and IFTTT are other options, but I didn't explore them.
Performance
This smart bulb works just as expected. It responds quickly to commands. And it's at least as bright as a 60W bulb, without all the heat of incandescent. LEDs don't get hot. I ran this light for an hour and it was just warm.
I'll admit, going in I didn't think I'd use the color changing capability, but I immediately realized I was wrong. Without any modification, the Smart WiFi LED Bulb is very white, which gave my living room a clinical look. I added some brown to the mix and was much happier.
There is a mildly irritating bug, though. If Wi-Fi is cut off, this device won't always reconnect when the wireless connection comes back. And it's seemingly random. I'm testing two of these Meross smart bulbs, and over multiple trials, sometimes one will fail to reconnect, sometimes the other. To make make them reconnect, just flick the light switch.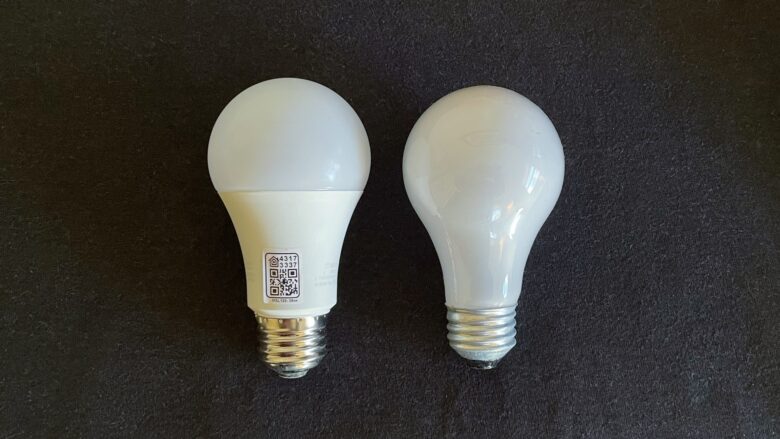 Meross Smart WiFi LED Bulb final thoughts
The best feature of the Meross Smart WiFi LED Bulb is the flexibility. They can go into so many different lamps and light fixtures and make them smart. It's a really easy way to move on from having a dumb home to a smart home.
Especially given the relatively low cost.
Pricing
Meross distributes its products through Amazon. A two-pack set of the Smart WiFi LED Bulb is available on that giant online retailer for $28.99. One is $19.99.
Buy from: Amazon
Please note that this review is of model MSL120HK. Meross also makes model MSL120 that does not have HomeKit. It works with Alexa, Google Assistant, etc. You can get a pair of this limited version on Amazon for $17.99.
Comparable products
I haven't tested it, but the Feit Electric color-changing smart LED bulb also supports HomeKit, and sells for $25.02 on Amazon.
If you just want to control a lamp, consider the Belkin Wemo WiFi Smart Plug. Plug this into a wall socket, then plug your light into it. It's $24.99 when not on sale for less.
Meross provided Cult of Mac with review units for this article. See our reviews policy, and check out more in-depth reviews of Apple-related items.