Apple may have kicked butt on Black Friday, with reports of its strongest Friday sales in history and more online purchases made using iOS devices than Androids by a giant margin.
There was one area of Apple's business where Black Friday wasn't a day of triumph, however, and that's Apple Pay. According to a new report, only half the total percentage of Apple customers who used Apple Pay at last year's Black Friday used it during this year's sales bonanza.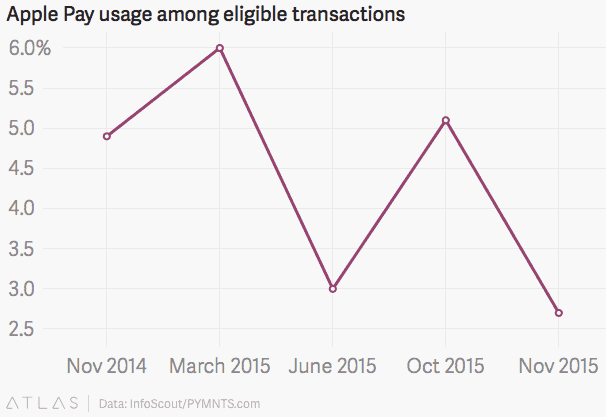 The results come from research firm InfoScout, which analyzed data from 300,000 shoppers on Black Friday. Given that this is only a sample of the total Apple Pay customers, it's not exactly the last word on the story, of course. InfoScout also didn't track in-app payments made through Apple Pay, which have been enabled by giants like AirBnb, Uber, Target, and Best Buy.
But it does demonstrate that Apple Pay perhaps isn't rising as meteorically as some would have expected — given the ease of use it provides, the number of extra partners which have jumped on board over the past year, its security advantages, and so forth.
Then again, this time last year Apple Pay was a brand new novelty — which means that its early adoption may have been artificially high. Maybe it's just finding its own level and, like the number of people who would willingly turn up to a movie about Steve Jobs, that's just lower than some expected.
Did you use Apple Pay over Black Friday? Leave your comments below.
Via: Quartz