We're getting to the stage where we could almost build a complete iPhone 5 out of all the parts leaks that have surfaced in recent weeks. Everything from the front panel to the slightly-tweaked home button has been shown, and now we're just waiting for Apple to officially lift the curtain next month.
While we wait, more parts continue to leak out from supply chain sources overseas. Today hi-res shots of a fully assembled back casing for the next iPhone reveal the new headphone jack placement at the bottom of the device along with the rumored micro dock connector.
iResQ got its hands on these particular parts, and what you see lines up with previous leaks from other repair shops. These kinds of firms get these parts early from distributors and supply sources overseas while a next-gen iOS device is in production. It happens every year without fail, and the 2012 'iPhone 5' (it will probably just be called "iPhone") is no exception.
As you can see, the smaller 8-pin dock connector and new headphone jack both fit perfectly into the back casing. iResQ previously leaked the micro dock connector, so it's cool to see the parts coming together. (As you can tell, several parts are still missing.)
The repositioned headphone jack has been rumored for months, and it does indeed look like Apple will move the jack from the top of the iPhone to the bottom, like the iPod touch.
Another thing to note is the new speaker grill at the bottom of the device. iResQ doesn't believe that Apple has added more speakers, but the hole design has definetly changed to accommodate the device's new design.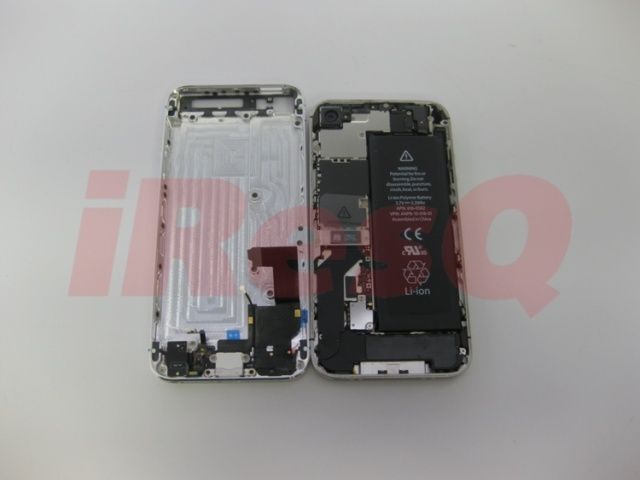 We break down everything you can expect from the iPhone 5 in our rumor roundup. Expect Apple to announce its next iPhone on Wednesday, September 12th.
Source: iResQ