Kicking off this week's roundup of must-have iOS applications is the brand new TweetDeck app for iPhone, which its creator claims has been completely re-imagined and rebuilt from the ground up to be fast, flexible, and powerful.
Fring is the popular video chat and VoIP application for iPhone and iPod touch. It deserves some recognition this week thanks to its recent update that makes it the first application for iOS to offer group video calling with support for up to four people.
Fahrenheit – or Celsius if you prefer – is a new weather application that displays the temperature in your area on your home screen. No, it doesn't require a jailbreak: it uses the iOS application badges to display the current temperature over the application's icon with push technology.
Find out more about the applications above and check out the rest of this week's must-have iOS apps – including TuneIn Radio and Lamebook – after the break!

TweetDeck – (Free) iPhone – Social Networking
TweetDeck is a Twitter client that uses a column-based user interface to help you monitor, manage and engage in your social worlds on Twitter and Facebook. It supports all of the major Twitter functions such as sending tweets, retweeting (new and old style), favorites, mentions, direct messages, and searching. It features support for multiple accounts, and Facebook integration means you can post updates to all of your Twitter and Facbook accounts simultaneously. While it's not a full-featured Facebook client, it does give you access to your news feed, notifications, wall posts, and likes. TweetDeck's columns are fully customizable; enabling you to have as little or as many as you like from your different feeds and services; and it has stacks of features that easily make it the number one free Twitter client in the App Store. It also gives many paid clients a run for their money.
Fring – (Free) iPhone – Social Networking
Fring's recent update makes it the first application for iOS to offer group calling with support for up to four people, and it's completely free to use. It uses a feature called 'Dynamic Video Quality' (DVC) that automatically and continuously adjusts your video call quality to match your connectivity; which its developers say provides you with the best audio and video quality possible. Its features include video and VoIP calling between supported iOS, Android and Nokia devices; and cheap calls to landlines and mobiles worldwide. To use Fring for video calling, you will obviously need a compatible device, such as the iPhone 4, the iPad 2, and the latest iPod touch. Fring is also available on compatible Android devices and supports cross-platform communication, so you can call and video chat between iOS and Android. The application works over 3G, 4G and Wi-Fi.
Fahrenheit / Celsius – ($0.99) Universal – Weather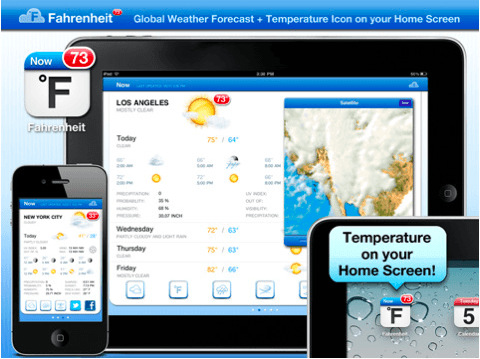 Fahrenheit is a brand new weather application that is the first to display a real-time temperature reading on your device's home screen. It uses an online web service together with iOS push technology to send the current temperature of any location to your device, which is then displayed in a badge over the application's icon on your home screen. Other features include detailed weather information for unlimited cities around the world with a 10-day forecast, 3-hourly clouds radar for up to 2 days, maximum and minimum temperatures for each day, and lots more in a highly polished and well designed user interface. Unfortunately, to display the temperature in Celsius you'll need the dedicated Celsius application. Remember these are separate applications when you come to make your purchase!
TuneIn Radio – (Free) Universal – Music
TuneIn Radio has been in the App Store for a while, but as a paid 'pro' application. Last week a free version was released which gives iOS users the opportunity to use this fantastic internet radio application at no cost. It boasts an extensive directory of over 40,000 AM & FM radio stations from around the globe, which you can pause and rewind just like your DVR. Multitasking support allows you to listen to your favorite shows and music while using other applications on your iOS device, and support for AirPlay allows you to stream the content to your AppleTV, or a compatible AirPlay receiver. Browse and search for local radio stations with GPS or Wi-Fi, find your favorite shows, and browse stations by genre or keyword. You can also preset your favorite stations, categories and shows for easy access each and every time you use the app. If you like TuneIn Radio and you'd like to record radio shows and remove the ads, get the Pro version for just $0.99.
Lamebook – ($0.99) iPhone – Entertainment
Lamebook is the official application for the hilariously entertaining Lamebook.com website, which brings you the funniest, most ridiculous, and outright craziest posts from Facebook. Featuring content that ranges from family members who share far too much personal information, to cringeworthy conversations between lovers, and bizarre and hilarious photos. If you're yet to discover Lamebook.com, go check it out – then try to stop yourself from buying the app!