Apple's newest iOS 13.4 update could roll out to everyone on Tuesday, March 17, according to leaked Alipay marketing materials. It should be accompanied by iPadOS 13.4, tvOS 13.4, watchOS 6.2, and macOS 10.15.4.
The iPhone update, which is currently in beta testing, is expected to bring Alipay support to Apple Wallet for the first time. That would make this release a pretty big deal for iPhone owners in China.
Alipay is a mobile payment platform owned by the Alibaba Group. It's available in many countries and boasts more than 1.2 billion users worldwide, but it's particularly huge in China, where it commands more than 50% of the market.
Official support for Alipay inside the Wallet app on iPhone would be a blessing to many, then. So it's no surprise Alipay is seemingly shouting about Apple's upcoming iOS 13.4 update in leaked marketing materials.
iOS 13.4 could drop this week
One poster, obtained by Chinese language site IT Home, suggests iOS 13.4 will be available to all in China from 1 a.m. on Wednesday, March 18. That's 10 a.m. PT / 1 p.m. ET on Tuesday, March 17, for those in the United States.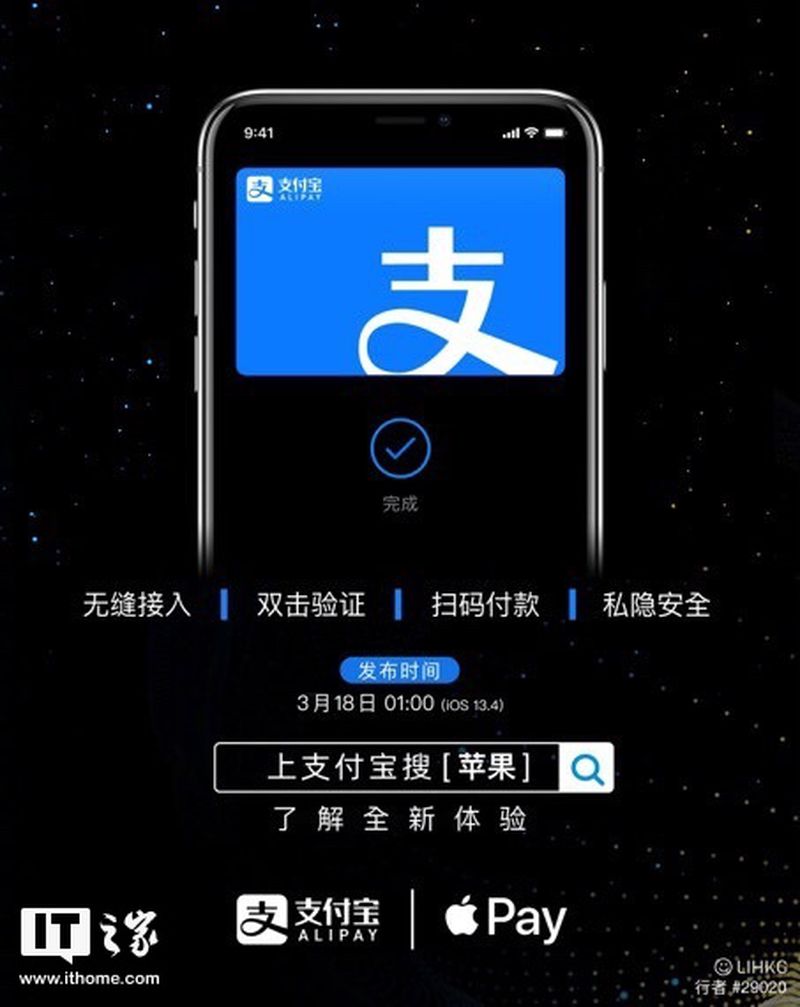 Apple started beta testing this update back in February. It is also expected to bring iCloud folder sharing, new Memoji stickers, and better physical keyboard support. It also makes some tweaks to the Mail app.
This could be the last public iOS 13 release we see before Apple previews its major iOS 14 upgrade in June. The company last Friday confirmed WWDC will go ahead this year in an "all-new online format."
Via: MacRumors