Tim Cook has been outspoken about Apple being a "force for good" in the world. However, when it comes to which tech giants have the most positive impact on society, the public has spoken — and the answer isn't Apple, but rather Amazon.
Or, at least, that's the response from a recent survey of 2,722 U.S. adults, who decided to hand the first place to the Jeff Bezos-run, high street-destroying retail leviathan. We're not totally convinced, though.
According to the survey, 20 percent of Americans think the number one company that's having the greatest impact on our daily lives is Amazon, followed by Google (Alphabet) follows in second place with 15 percent, while Apple is in third place with 11 percent.
While the survey is useful enough as a barometer of public sentiment, though, it's not particularly useful. No details have been published about exactly why users voted the way they do, which makes the whole endeavor seem more like a brand recognition survey than anything else.
Although there are still issues that Apple faces (the "right to repair" controversy, and its tax situation to name two), it's still led the way in a lot of areas when it comes to making a positive impact on society. Recently, Apple announced that its offices, stores and data centers now run on 100 percent clean energy.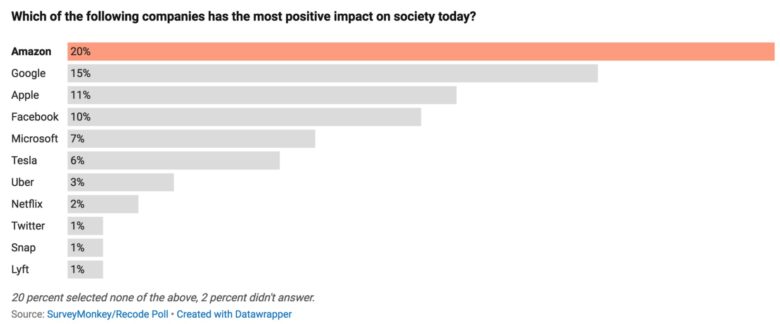 Apple has also invested heavily in education, while its Apple Stores with their focus on becoming "town squares" has helped upgrade our high streets, rather than leaving them empty and Amazon'd.
Things get more confusing when it comes to the other part of the survey, referring to the CEOs making a difference. Here, there is no mention of Cook at all (at least, not in the results Re/code published). First place is Amazon CEO Jeff Bezos with 22 percent, while Google's Sundar Pichai is in second place with 18 percent, and (somewhat surprisingly) Facebook's Mark Zuckerberg is in third position with 17 percent.
We've got nothing against Amazon as a company. Still, surveys like this one wind up not being particularly illuminating — and don't actually reflect the reality of what companies are doing to make the world a better place.
Unless delivering your books super-quickly is inherently making society better than giving us all pretty new iPhones!
Source: Re/code