LOS ANGELES — Free-to-play games don't enjoy the same cache as games that cost money right out of the gate. Sure, they're at the top of the "making money" charts, as gamers download freebies by the bucketful (and apparently purchase loads of virtual stuff from them), but ask any gamer what they think of them and they'll typically give you a blank, slightly annoyed stare.
So I honestly didn't hold out much hope that I'd see anything super-interesting at an Electronic Entertainment Expo luncheon sponsored by free-to-play mobile game maker DeNA last week.
However, the developer showed off a couple of pretty damn good games at the event. We saw the recently released Transformers tie-in game and several others, including Peter Molyneux's latest effort, Godus. But what really stuck out for me were Royal Defenders and WARP.
Royal Defenders plays like a mini tower defense game, but you'll be placing powerful characters down in the path of the creeps coming to attack your knight-princess. Starting off on Skull Island, you'll protect your princess (whose hyperactive charges into dangerous territory don't impress the creatures doing the defending) with a variety of "towers," like Ivan, the strong-yet-dumb barbarian with a sword; Gandorf, a grumpy old wizard; Knightpuss, a kitty-cat knight who uses a spiky ball of yarn to attack enemies; Chickenfist, a dude in a chicken costume who wears boxing gloves; and Chris Demon, an androgynous magic user with a dangerous deck of cards.
Plus, it's got a flying-in-reverse pig sandwich that vomits rainbows out its mouth. How can you not love that?
Royal Defenders is available now for free, and you're gonna want to check it out.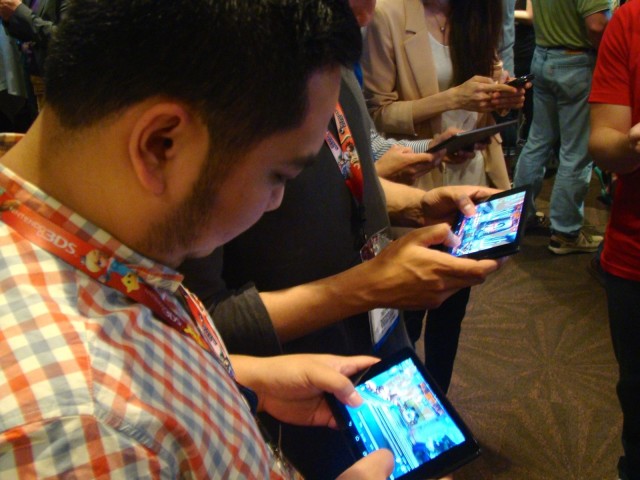 WARP: Warriors of the Red Planet is a pretty amazing upcoming multiplayer online battle arena game that eschews the top-down isometric perspective of most MOBAs like League of Legends for a more mobile-friendly 2-D view, much like the non-mobile game Awesomenauts.
The game was running on various bits of hardware at the press event, including mobile phones and tablets, with all six players getting together in teams of three to run back and forth and try and destroy the enemy teams' towers and base, like in any good MOBA.
It was a heck of a lot of fun, and super-easy to jump in and play. The controls were spot-on, and the level we tried out had different paths to get to the goal, making it seem bigger than it probably was. While WARP isn't out yet, I expect it to be a free-to-play offering released sometime this year. Be sure to keep an eye on this one.
It's a fine time to be an iOS gamer, and these new DeNA titles show that even the free-to-play business model has a few gems and surprises for the jaded gamers among us.