Jailbreaking your iPhone gives you the ability to tweak and customize nearly every facet of iOS, but new jailbreaks are few and far between these days. For example, there still hasn't been a full jailbreak for iOS 6 from last summer, although one is on the distant horizon.
People jailbreak their iPhones for all sorts of reasons, whether it be free tethering, themes, or quick access to settings. The most common reason to jailbreak is actually more of a philosophy. There are millions of iPhone owners out there who want to be able to have greater control over their iOS experience. What if you want to hide stock apps you don't use, or even just get rid of your carrier logo?
Fortunately, you can actually do those last two things on a non-jailbroken iPhone with relative ease, and here's how:
Changing Your Carrier Logo
Most jailbreakers use a Cydia tweak like Springtomize to edit the look of their carrier logo in the top left of the iPhone's status bar. When my iPhone is jailbroken, I hide "AT&T" altogether because I think it looks cluttered.
For a long time, you couldn't do anything about changing your carrier logo without jailbreaking, but a recent tool for the Mac lets any iPhone user altering their carrier logo. The free app is called CarrierEditor, and it allows you to load a logo of your choice.
Step 1: Connect your iPhone via USB to your Mac, open CarrierEditor, and follow the app's instructions. You'll get to a point where you need to drag in your replacement logos. If you don't want to create your own, you're in luck! The CarrierEditor download comes with 10 packaged logos, including a blank one to hide everything but your reception bars from the status bar.
Step 2: You can find these logos in the .dmg folder when you first download CarrierEditor. Simply drag the ones you want into the app, and click compile.
If you're afraid of not being able to switch back to your default carrier name, don't worry. CarrierEditor is smart. It will create a backup of your default logo and save it to your desktop along with your custom one.
Step 3: Now that you have your custom logo saved to your desktop, it's time to install it to your non-jailbroken iOS device (this also works with a cellular-enabled iPad) via iTunes. CarrierEditor will explain how to install the custom packing, and your altered carrier logo should appear pretty instantly on your connected iPhone.
The cool thing is that the hidden logo still shows your connection speed (3G, 4G, LTE) and not the name of your carrier. I like to know what kind of data speed I'm getting, but I don't like being constantly reminded that I've stayed with AT&T all these years.
Make sure to store your original carrier logo package somewhere safe on your Mac in case you ever want to revet back to the original setup.
Hiding Unwanted Apps
"Instead of sticking all the stock apps you don't use into some folder, why not hide them entirely?"
Apple ships quite a few stock iOS apps in every iPhone it sells, but if you're like me, you rarely use them. Sure, there are the must-haves like Safari, Mail and Camera, but what about the rarely used apps like Stocks, Voice Memos, and Compass?
There are all kinds of reasons you may want to hide a certain iOS app. Maybe you've ditched Apple Maps for Google Maps, and you want it off your home screen. Instead of sticking all the stock apps you don't use into some folder, why not hide them entirely?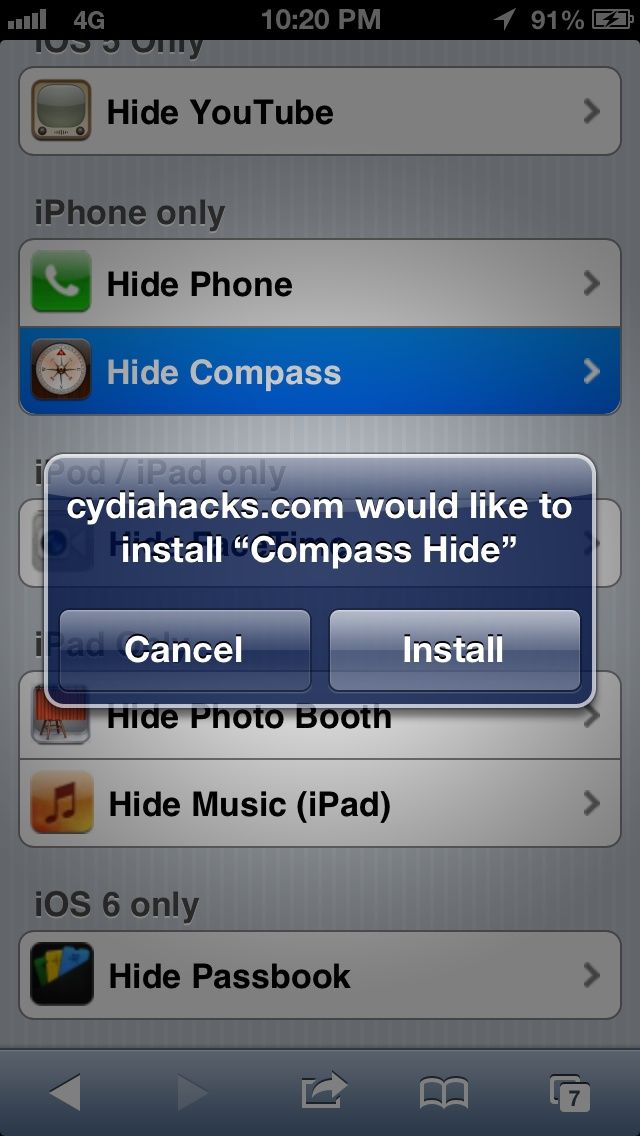 Now there are actually a few ways to do this on a non-jailbroken iPhone. There's a glitch that lets you hide apps in the Newsstand folder, but that's no good if you actually like Newsstand. It also doesn't really hide apps; they're just put in another folder.
PassHack will use Passbook in iOS 6 to hide stock apps, but the same developers behind the hack have a simpler method available.
Step 1: Visit Cydiahacks.com on your iPhone in Safari. It needs to be Safari, not a third-party browser from the App Store. (Don't be alarmed. You won't be installing any malware by using this site.)
Step 2: Tap the "Hide Apps without Jailbreak" hack. You'll be presented with a list of all the stock iOS apps.
Step 3: Find the app on your device that you want to hide, and tap it. You'll be asked to install a certificate that will be used to remove it from your home screen.
Step 4: The "installation" will appear to fail, but that's all part of the hack. Tap "Done," and tap and hold the desired icon to enter jiggle mode. All of a sudden, a small "x" will appear over the app you wish to hide. Boom. It's gone instantly.
Apps you hide aren't completely deleted from your iPhone. You can get them back by rebooting. A good tip is to save the Cydiahacks page to your home screen for quick access.
The only downside to this hack is that you won't be able to search for stock apps while they're hidden, so be sure that you're not going to actually use an app before hiding it. The good news back is that getting everything back is a quick reboot away.