San Francisco-based designer Arun Venkatesan is about to take delivery on a 2020 MacBook Air with an M1 chip to replace the 2013 MacBook Air he uses in tandem with his 2018 MacBook Pro. But the new Mac isn't really what he's excited about.
He thinks less about having the latest technology and more about how his tools fit into his design philosophy, which he wrote about at length here. Form and function meet in his elegant and minimal setup.
This post contains affiliate links. Cult of Mac may earn a commission when you use our links to buy items.
"My desk setup is the marriage of modern technology and minimal industrial design," he summed up on his blog. "It provides me both inspiration and utility. By combining my aesthetic taste with my interest in technology, I've created a space for creative expression."
An iPod's design changed his life
Venkatesan, cofounder of the fertility insurance benefits provider Carrot, said a visit to an Apple Store during his high school years changed his life. It's where he handled an iPod for the first time.
Looking to buy a new MP3 player, his careful research had sold him on the Creative Nomad Jukebox Zen – at least on paper. But that "ugly" thing went the way of the dodo for him when he tried the iPod in person.
"I realized that objects must not only fulfill their functional purpose, but they must also form an emotional bond with the user," he wrote, citing his first principle for finding great design for any purpose, a setup or otherwise.
The second principle: "Prefer the preowned classic to the brand new, unproven product." Setup-wise, this one applies more to things like furniture and lighting than it does to computer equipment.
Principles shall guide the setup
Venkatesan applies three more principles to his setup, which he spent four years building in the airy loft where he works.
First, minimize clutter and distraction, in part with a light color palette.
Second, support as many work types as possible with the same equipment (rather than rarely used, specialized gear).
Third, change as needs change.
Computers
As stated above, Venkatesan awaits the arrival of an M1-powered MacBook Air to give his 8-year-old model a rest. He uses it mainly nights and weekends, writing his blog and other personal tasks, and that won't change with the new one.
His daily workhorse will remain a 2018 MacBook Pro, which he uses mostly on weekdays in his work with Carrot.
Dock
Venkatesan calls his CalDigit TS3 Plus dock the heart of his setup.
A Thunderbolt 3 cable to his Mac provides power and connects the monitor, two storage drives, the webcam, and temporary storage like USB drives or SD cards.
After trying a few different docks and encountering reliability problems, he found the CalDigit to be "rock solid and not too ugly."
Monitor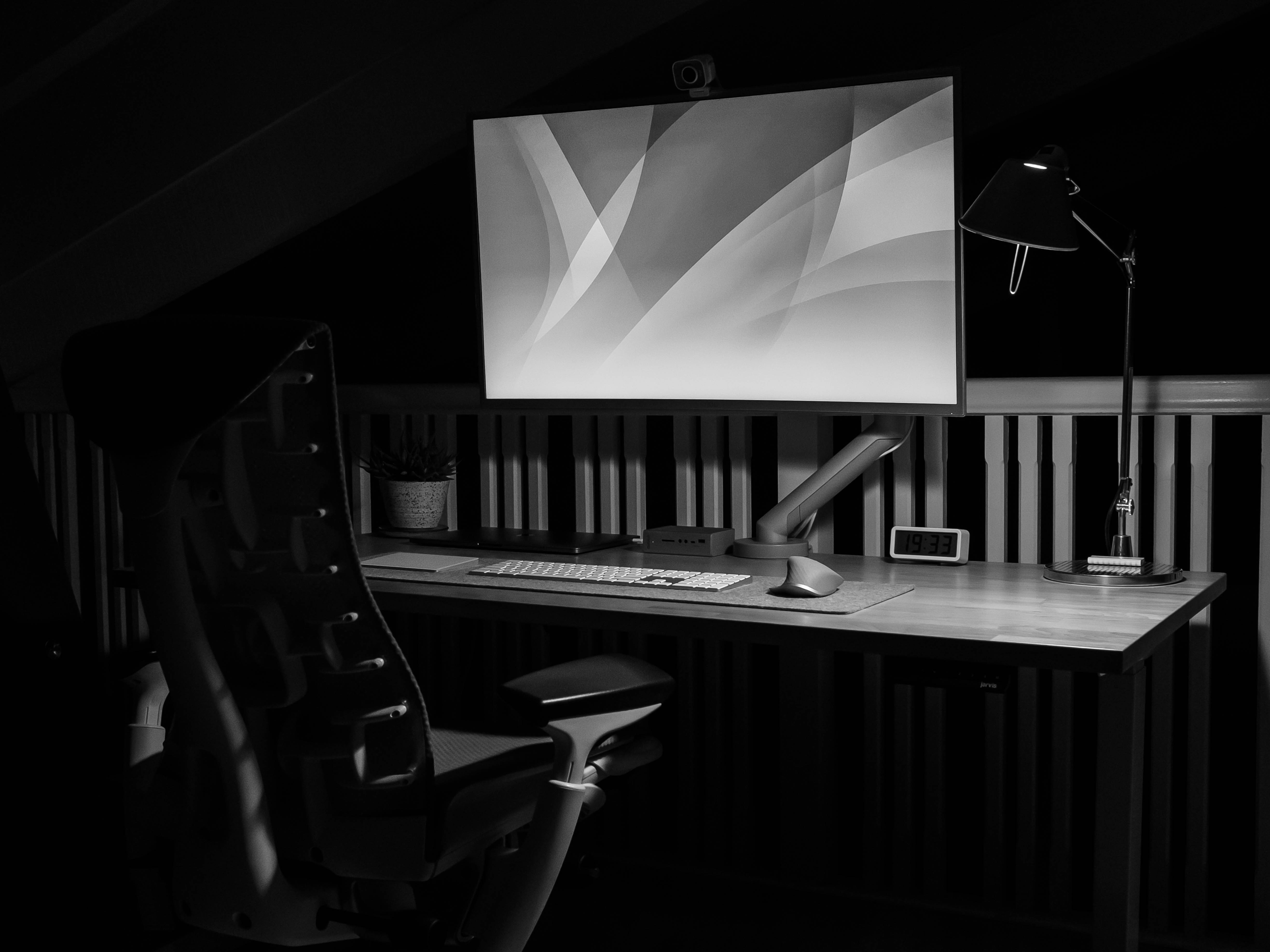 Finding the right monitor proved difficult for Venkatesan. Years ago, he used a 27-inch iMac monitor and loved it, but in today's much broader market, finding an ideal screen can be complicated, he said.
It came down to narrowing his options based on what he really needed.
In his work, he spends most of his time writing and using productivity software, so he doesn't need the be-all, end-all screen. When he works on photos or designs graphics, he finds his MacBook Pro's built-in display fine for color accuracy. Not being a gamer, he doesn't care much about a super-high refresh rate. But he wanted a lot of screen space without color distortion at the edges at wide viewing angles.
After much searching, Venkatesan found an AOC 40-inch 4K Curved LED Monitor that suited his needs. He uses a Colebrook Bosson Saunders Flo flexible monitor arm with it to free up desk space.
Webcam
For a webcam, he uses a Logitech Streamcam, which he finds good-looking but lacking in image quality. Plus, he notes, the software is buggy and hard to use.
He may upgrade it to a mirrorless camera setup later.
Desk mat, keyboard, mouse
Venkatesan prefers to use a full-size Apple Magic Keyboard with a Magic Trackpad 2 to the left and a Logitech MX Master 3 Mouse mouse to the right. In design tools like Figma and Sketch, that arrangement lets him pan around the canvas with his left hand and click on things with his right hand.
The peripherals sit on a mat he cut from 3mm felt. It provides a cushioned surface for his keyboard, reduces the sense of clutter, serves as a coaster for a cold drink, and lacks the odd sizing and annoying graphics he found in commercial mats.
DIY desk and cable management
Like a lot of things in his setup, Venkatesan spent time and effort getting the desk right and keeping it from becoming a cable-clutter monster.
He settled on an IKEA Gerton desktop, which he sanded smooth and coated with matte polyurethane. Then he purchased just the frame of a Jarvis standing desk and attached it to the top.
To cut down on clutter, he put together a nifty cable-management system.
In it, a single cord leads to a 3-foot-long power strip with 12 outlets. This lets him plug things in near where they sit, avoiding cables across the desk.
He also hung two Fully WireTamers from the desk's back edge. They hide all the power bricks, wires and even some storage drives.
Lamp and chair
For lighting, Venkatesan loves his Artemide Tolomeo desk lamp, yet another example of "gorgeous" form and useful function.
"Its polished base functions as the perfect landing pad for keys, a wallet, or a phone. The arm of the lamp is architectural, portraying both elegance and strength," he said.
For a chair, he uses a beautiful, "unbelievably comfortable," tomato-and-white-colored Hermann Miller Embody.
It adds a splash of red to the setup's muted color palette. He is a designer, after all.
Shop these items now:
Computer equipment:
AOC C4008VU8 40-inch 4K Curved LED Monitor
Networking gear:
Furniture and lighting:
If you would like to see your setup featured on Cult of Mac, send some high-res pictures to info+setups@cultofmac.com. Please provide a detailed list of your equipment. Tell us what you like or dislike about your setup, and fill us in on any special touches or challenges.