Brisbane, Australia-based defense contractor Duncan Shultz loves Dungeons & Dragons. And that's the main action his Mac-mini-and-wide-screen setup sees, although he also admits to using it to work for a living. An Aasimar Sorcerer's got to eat, after all.
"The wide screen is simply awesome for my uses," Shultz told Cult of Mac. "Specifically in running online D&D games. I can have video conferencing, multiple browsers, streaming software and other tools all open and accessible."
In addition to the aforementioned sorcerer character — goes by the name of Selinth, BTW — Schultz is a dungeon master for Curse of Strahd campaigns, one online and one in person. Online he uses the Roll20 website and in person he uses EncounterPlus for iOS and macOS.
This post contains affiliate links. Cult of Mac may earn a commission when you use our links to buy items.
'Congruence,' simplicity and fun
Shultz's excitement extends to his recently acquired Mac mini. He got it for experimentation with his setup when his wife agreed to use his late-2015 27-inch iMac. She took it upstairs, out of the den where he works and plays.
"I love the congruence of Mac, all my files and desktop the same everywhere," he said. "The screen connected to the Mac mini is the feature, though. It makes my workspace eminently more useable and navigable."
Schultz paired his 2020 Mac mini and wide screen with a space gray Apple extended keyboard and trackpad. The mini sports an i7 chip, six cores, 32GB of RAM and a 1TB SSD.
A very wide screen
He said he wanted more screen real estate without resorting to using two adjoined monitors, so he connected a Samsung 43-inch 4K monitor.
In Shultz's  home office, a Sonos One wireless speaker provides the sound; smart lighting switches help provide the atmosphere. His Logitech G533 headset conveniently hangs on the rear of the monitor.
He said he's waiting for better webcams to come back in stock (seemingly depleted by a COVID-19-inspired work-from-home rush). In the meantime, he's using an older Logitech.
Shultz recently purchased a stand-up desk lift plate so he can adopt sitting or standing modes easily. This helps him with all his endeavors — "working from home, general mucking about or running Roll20 games with friends from across the globe," he said.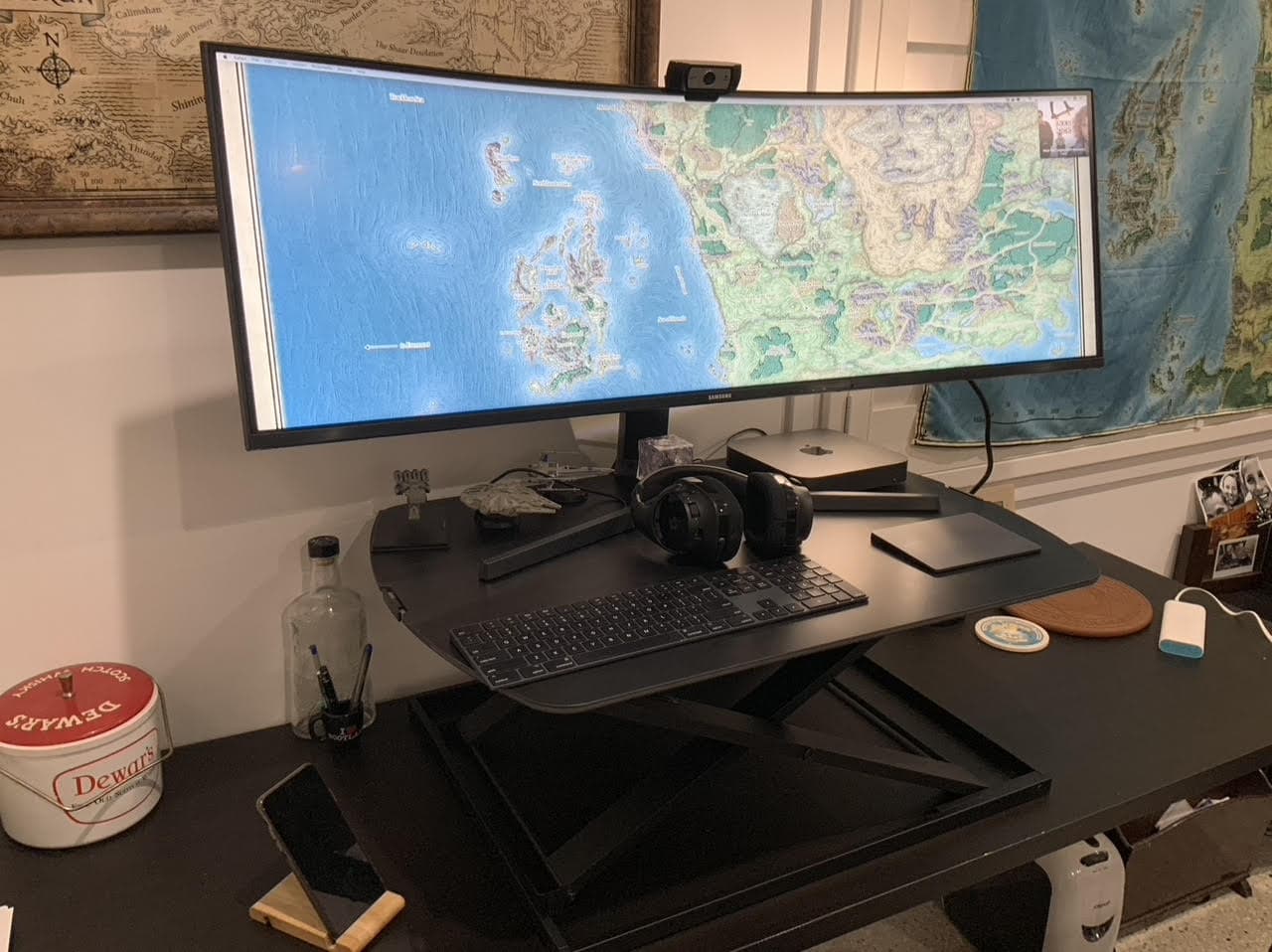 Shop these items now:
Computer equipment:
Audio equipment:
Furniture:
If you would like to see your setup featured on Cult of Mac, send some high-res pictures to info+setups@cultofmac.com. Please provide a detailed list of your equipment. Tell us what you like or dislike about your setup, and fill us in on any special touches or challenges.