Apple overtook Amazon and Google to regain its position as the world's most valuable brand, according to a new ranking by Brand Finance.
The annual survey values Apple's brand at $263.4 billion in 2021. The last time Apple held the coveted No. 1 spot came half a decade ago.
Brand Finance, described as the world's leading brand valuation consultancy, compiles its list based on complex, and slightly esoteric, formula. It takes into account factors like "brand impact" and "brand strength," based on metrics like how much the company would charge for royalties if it were to lease out its name.
As Brand Finance explains in its report:
"The BSI score is applied to the royalty range to arrive at a royalty rate. For example, if the royalty range in a sector is 0-5% and a brand has a BSI score of 80 out of 100, then an appropriate royalty rate for the use of this brand in the given sector will be 4%."
Got it? Good.
Brand Finance's interesting annual report gives a sense of the top brands from business and consumer perspectives. As can be seen in the below image, Apple ranks No. 1 this year. Amazon comes in second and Google third. Microsoft and Samsung round out the top five.
The most valuable brands of 2021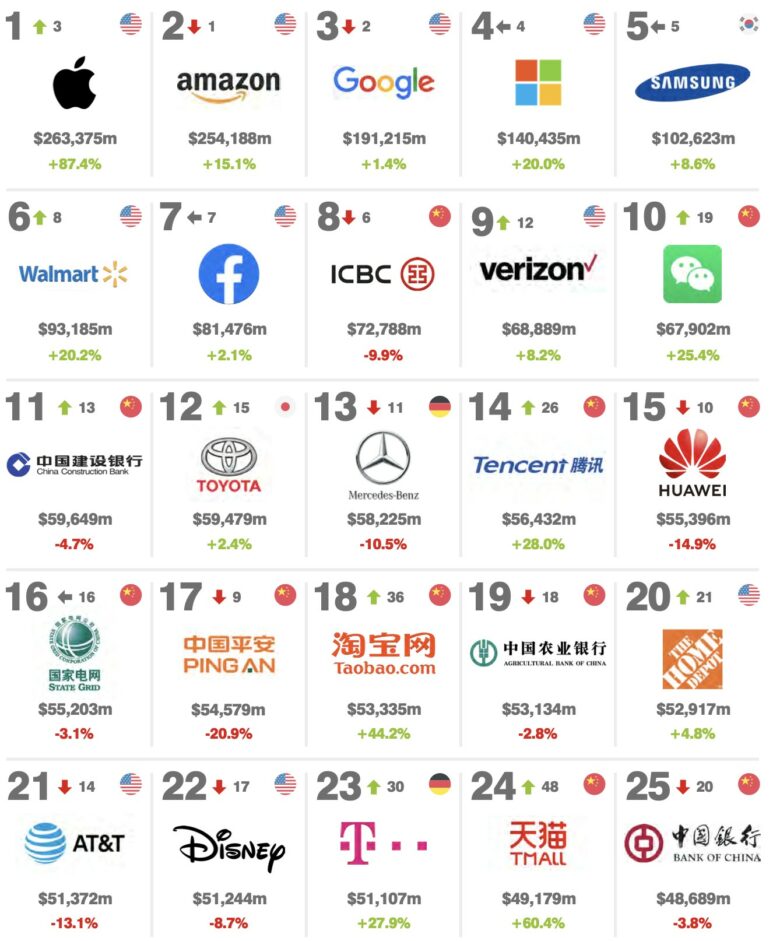 Apple's estimated brand value of $263.4 billion comes in nearly $10 billion higher than Amazon at $254.2 billion. Google follows at $191.2 billion and Microsoft at $140.4 billion.
Here's how those same top brands compare when it comes to market capitalization. Apple currently stands at $2.4 trillion, Amazon at $1.6 trillion, Google (or parent company Alphabet) at $1.26 trillion, and Microsoft at $1.8 trillion.
"Steve Jobs' legacy continues to flow through Apple, with innovation built into the brand's DNA," said Laurence Newell, managing director of Brand Finance Americas, in a statement Tuesday. "As Apple reclaims the title of the world's most valuable brand from Amazon five years since it last held the top spot, we are witnessing it Think Different once again. From Mac to iPod, to iPhone, to iPad, to Apple Watch, to subscription services, to infinity and beyond."
Apple will reveal its latest quarterly earnings Wednesday afternoon. A possible pandemic spending spree could lift Apple to a record $100 billion in quarterly revenue.