This standup setup is definitely ready for its close-up. Artfully outfitted by Fujifilm North America salesman Brandon Remler, it sports a pair of laptops. But the real focus falls on Remler's array of cameras, both film and digital.
"I do primarily use digital," Remler told Cult of Mac in an email. "I did film for 20 years and it has a great feel and experience.  Now moved on to Fujifilm GFX system. Gfx100 or Gfx50 — as well as our other Fujifilm x series (have one of everything so it's not fair ;-)."
This post contains affiliate links. Cult of Mac may earn a commission when you use our links to buy items.
The big kahuna camera here is a Toyo-View 4×5 rig with a 90mm lens and a Fujifilm Quickload 4×5 slide film holder. In the second photo below, you'll spot more camera gear, including a Red Fujifilm Instax Mini 90 and a Fujifilm x100v. Plus, there's a webcam setup with a Fujifilm XPro3, XF10-24 and Litra external light on a Benro tripod.
MacBook, iPhone, iPad and multiple stands
As mentioned, Remler's wall-mount desk — a gorgeous $1,199 piece by Orange 22/Modern — holds dueling computers: a Lenovo ThinkPad and a MacBook Pro.
"PC is for work — must use," Remler said. The "Mac is personal," he added, and used for "photo editing and all my other work and travel fun."
He also packs a pair of high-end iOS devices: an iPhone 11 Pro and an iPad Pro.
"The iPad is used for reading on the go," Remler said. During the day, he perches it on a Lamicall adjustable stand and uses it like a TV "to keep an eye on news" and such.
Remler typically uses a Benro PocketPod, but in the photo below, the iPhone sits on a functional stand by MeFoto. "The beauty of the MeFoto phone holder is that the stand base fits into (a) tripod head for easy use when doing time exposures, etc.," he said.
The fun doesn't stop there
Fujinon 10×42 binoculars (since discontinued) give Remler a closer look at the Manhattan streets below the den/office space where he set up his eye-catching workspace.
"I always grab the binocs to see what's up outside," said Remler. "Always something interesting out the window looking down Sixth Ave." (He also owns a pair of 8×42 binoculars.)
A Sonos One smart speaker — a serious HomePod competitor — and a yellow Tom Sachs 10 Bullets notepad round out the functional aspects of the setup. And then, as befitting a guy so into visuals, there's the eye candy.
The clear tube at far left holds hundreds of exposed slide rejects and various films, Remler said. And floating above the desk is a stunning black-and-white surfboard. He says he bought the board used from Bunger Surf — and then the work began.
He sanded it, then treated it, then painted that design. "Kind of kept it simple," he said, "but took many rounds of sanding and cleaning and taping. Have those photos in progress, too."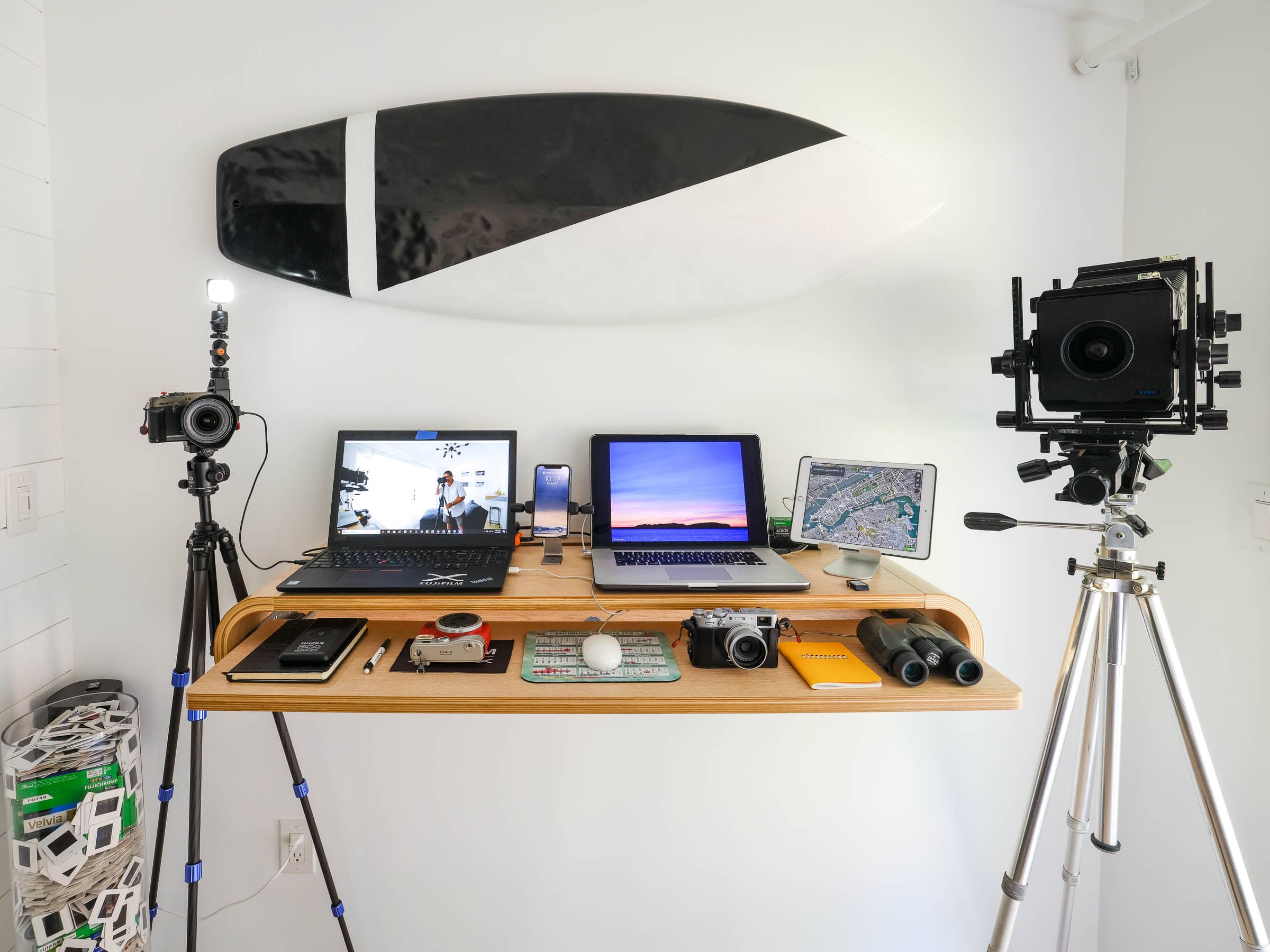 Shop these items now:
Camera gear
Computers and accessories
Mobile gear and accessories
Webcam setup
Etc.
If you would like to see your setup featured on Cult of Mac, send some high-res pictures to info+setups@cultofmac.com. Please provide a detailed list of your equipment. Tell us what you like or dislike about your setup, and fill us in on any special touches or challenges.