The iPhone is finally joining the dark side with the new Dark Mode feature introduced in iOS 13. Apple delighted fans who have been clamoring for the feature for years and it appears the wait has been worth it.
After playing around with Dark Mode the last 24 hours I don't think I'll be going back to the bright white interface anytime soon. Apple poured a bunch of thought into Dark Mode so that it does more than just make everything black.
Dark Mode takes over every pixel of the iPhone and iPad display with a beautiful dark color scheme. It's perfect for low light environments and easier on your eyes.
Apple loves Dark Mode so much that every single photo on its iOS 13 preview page is dark. All the other software updates have very bright pages. Needless to say, Dark Mode is probably going to be the biggest new iPhone feature of 2019. There are a couple tricks you should know about using it too.
Turning it on
Dark mode toggle on control center! pic.twitter.com/FtG7tJOKJt

— Mauricio (@theloloop) June 4, 2019
There are two ways to activate Dark Mode. First, you can go to the Settings app, tap Display & Brightness and then select Dark.
Apple also included a toggle in Control Center but it's not totally obvious at first. To find the Dark Mode toggle, pull down Control Center, then press and hold on the brightness slider to reveal the Dark Mode toggle that's next to Night Shift and True Tone.
Automate the on/off switch
iOS 13 includes an option to have Dark Mode on or off based on sunrise and sunset. That setting can also be found in the Display & Brightness section of the Settings app. When you have it set to automatic your wallpapers will change too when you switch. It's a pretty neat detail similar to the Dynamic Wallpapers Apple introduced in macOS Mojave, just not as detailed.
Third-party app support is key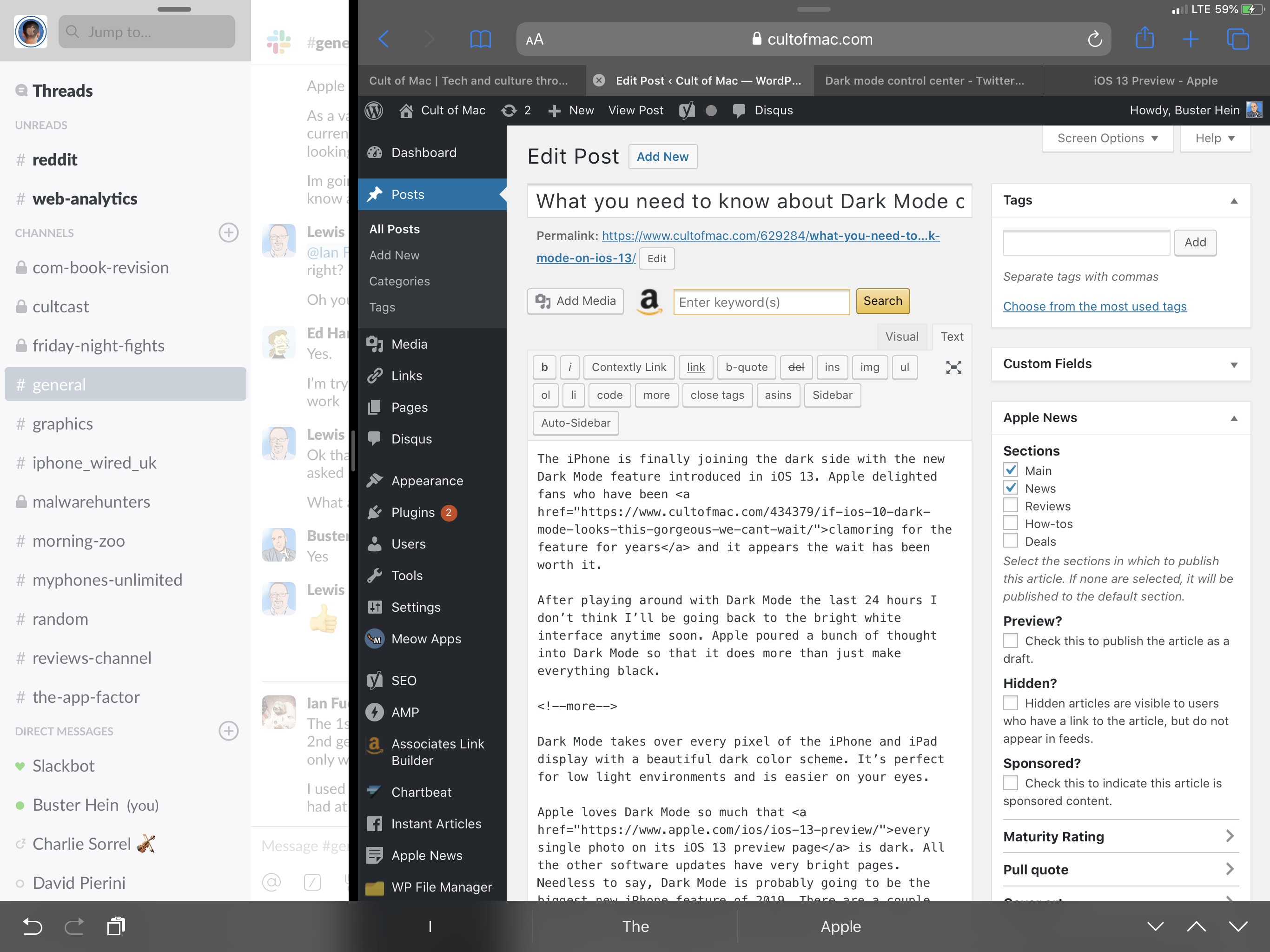 Dark Mode looks great when you're using one Apple's apps in iOS 13. But if you're using other apps, they're still be pretty bright. I spend most of my day starring at webpages and Slack channels, so my iPad screen still looks very white even when Dark Mode is turned on.
Apple created an API that allows third-party developers to implement Dark Mode into their apps. Hopefully some of the most popular apps will be Dark Mode-ready by the time iOS 13 launches this fall.