I figure there're two ways an iOS tower-defense game set in the Star Wars universe might succeed: by being an excellent example of the genre, like TowerMadness Zero, or by immersing the player in the Star Wars universe, like Star Wars: Trench Run.
Unfortunately, Star Wars: Battle for Hoth (by THQ, who also put out Trench Run) does neither, and ends up being only slightly more pleasant than crawling into the slit belly of a dead Tauntaun.
The game seems promising upon launch; the title, signature Star Wars swipe-effect between screens and video clip taken directly from the movie set the stage well enough; then the entertainment ends.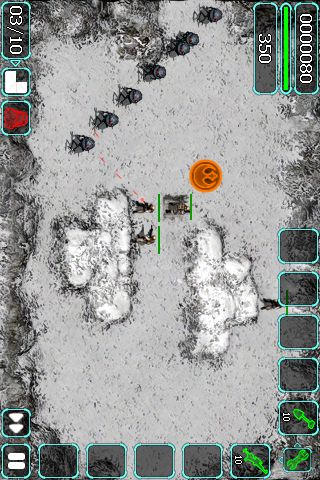 Graphics are largely to blame. The tiny figures are barely reminiscent of the Star Wars universe (uberfans who regularly think random salt shakers look like R2D2 might see a resemblance, perhaps). There's no pop or fizz to the graphics, just muddled movement on an endless white background. Any ounce of enjoyment the bland graphics haven't sucked out of the game are squelched by uninspired and — even for a tower-defense game — repetitive gameplay.
At $3, its mediocrity doesn't come cheap either; luckily, there's a try-before-you-buy free version. Just be sure to bring a book to read.
[xrr rating=40%]