Marketing language often invites a reviewer to find the flaw in the claim. So skepticism was in order when the OnePack arrived with the declaration of being the "Most Functional Backpack."
I have a backpack for every time I heard that one. But of all the backpacks I've shouldered for reviews, OnePack at least comes close to keeping its word.
OnePack is available for preorder on Kickstarter for $79, which is about half the cost, and in some cases a third, of some tech backpacks that can't comfortably carry all that this one can.
OnePack does what it says
Wiwu, the Hong Kong company behind OnePack, understood showing is better than telling. Its Kickstarter page promotes a backpack capable of a business trip for up to three days and with a series of photos and gifs, that show how to pack it.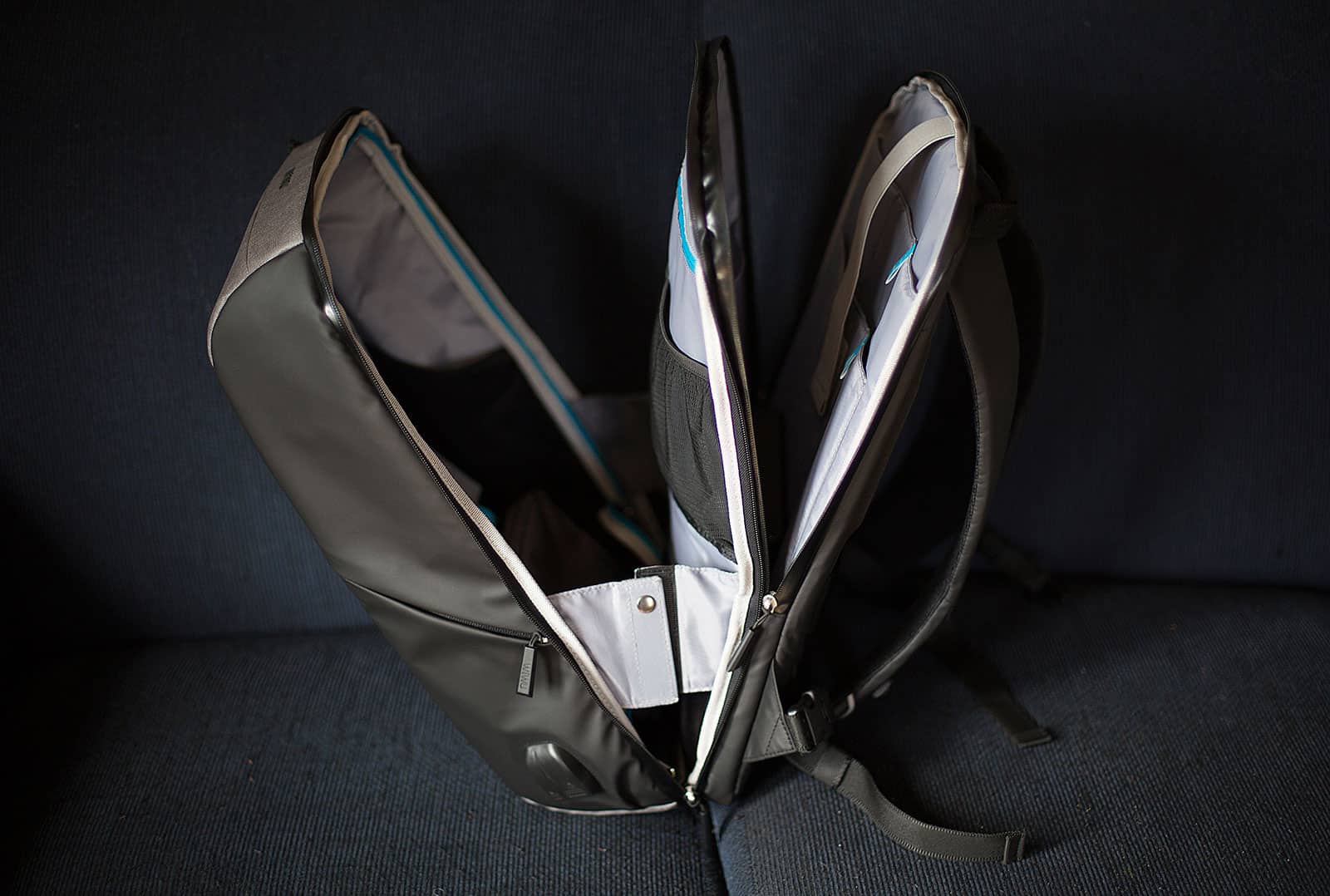 Sure, you can take a number of backpacks and accept this challenge and wind up with a bulk lump on your back. OnePack maintains a sleek shape and a comfortable balance of weight, which is achieved through thoughtfully designed pockets and compartments.
There are a number of stand-out features. There are two storage spaces, three if you use the zip up divider, which can keep dirty or damp clothes separated from the rest of your gear.
There are 19 pockets of various sizes, which can hold tech or clothing accessories. There is also a handy internal bag attached to the inside with velcro that I found more than ample for shave and shower items.
The tech compartment, which is closest to the back, swallowed my 13-inch MacBook Pro, an iPad mini and a couple of magazines.
OnePack: Style and security
The bells and whistles stay on the inside, while the outside presents a cool, minimalist silhouette. It's handsome with two-tone, water-resistant fabric panels with the only accent a reflect stip along the bottom of a front zipper pocket.
The pack features plastic zipper pulls with the Wiwu name, a small thing but still a stylish touch. There is also an integrated USB port and headphone jack on the lower right side.
It looks good and also offers some anti-theft protection. The zippers don't exactly glide along its teeth because the pulls must pass through a water-resident sheath. This would slow down a thief but also can be frustrating for the user when packing and unpacking.
There's also a locking buck on a strap designed to go around any fixed object, like a table leg in a coffee shop.
The bag itself also feels like there is a shell inside, though there is no mention of one. I feel, though, this extra bit of integrity gives it some additional shock resistance, especially when bumping into commuters or going through a door or turnstile.
About those claims
If you are someone who just throws stuff in a bag without much thought, you may find OnePack no different than any other bag.
Even with all the space and pockets, the user must thoughtfully edit their carry. If a closet full of clothes usually travels with your on a three-day trip, even OnePack won't be much help.
It was challenging for me to fit three days worth of clothes. I had to repack this compartment a couple of times until I rolled and flattened my clothes just right. There is a skill to this and it would do slobs like myself some good to watch a YouTube video or two on packing for a trip.
The layout of the compartments inspires me to organize and pack neater. I am impressed with all it carries and even more amazed at what it provides for so little money. It will eventually retail for $109.
Price: $79
Buy from: Kickstarter
Cult of Mac received a preproduction unit from Hitcase for this review. Read Cult of Mac's reviews policy.