Lens attachments can extend the reach of an iPhone camera. But now you are carrying extra stuff and compromising the compact convenience of the camera that is always with you.
RevolCam is one attachment, but with three lenses, an LED light and selfie mirror and avoids the bulk each of those accessories could add to your pockets or bag.
Its best feature is a triangle configuration of lenses – fisheye, wide angle and macro – that rotate into place. Attached to the clip-on turret of lenses is a bright and adjustable LED light that pops off to reveal a mirror to aid in composing self-portraits.
Mobile photography accessory companies, like olloclip and Moment, have been successful with developing lenses for mobile photographers, who want more perspectives than the standard wide lens on a smartphone.
The makers of RevolCam were successful with an iPhone 7 Plus case called SHIFT, which features three dual lenses that glide along a track and goes in front of the dual-lens camera of the 7 Plus.
RevolCam's clip makes it universal, evening fitting on an iPhone Plus model and many Android devices. It is available for $29 on Kickstarter and is expected to ship in time for this holiday season.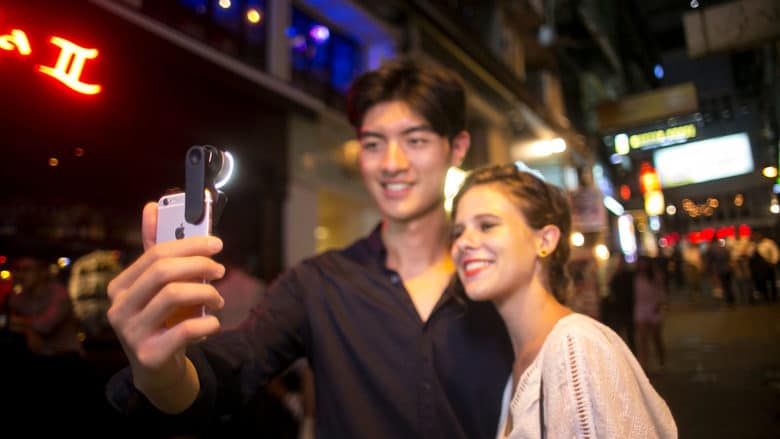 The design is based on a 1950s-era 8 mm camera by Bell & Howell that featured three revolving lenses.
The lenses on the SHIFT case for iPhone 7 Plus provide decent image quality and the optics on the RevolCam look similar to the ones on the case. RevolCam's Kickstarter page as examples of photos supposedly made with the gadget.
Like other clip-on lens attachments on the market, RevolCam works best when the iPhone is not in a protective case, which leaves your handset vulnerable to scratches or damage from dropping. The back of the lens has to be right up against the phone's native lens.
You can see the ease of operation in the video below.