Having stumbled in recent years, the iPad has had a great few months. Not only were iPad sales up 15 percent year-over-year in Apple's most recent quarter, but a new IDC report (mentioned by Tim Cook during the most recent earnings call) highlights just how significantly the company is leading its rivals in the tablet market right now.
While overall worldwide shipments for tablets declined 3.4% year-over-year to 37.9 million, Apple takes the number one spot with shipments of 11.4 million units, a.k.a. 30 percent of the market. This time last year, the company shipped 10 million units for 25.4 percent of the market.
While shipments aren't the same thing as sales, in Apple's case the two tend to be closely aligned — and the numbers nonetheless represent an impressive figure for the company.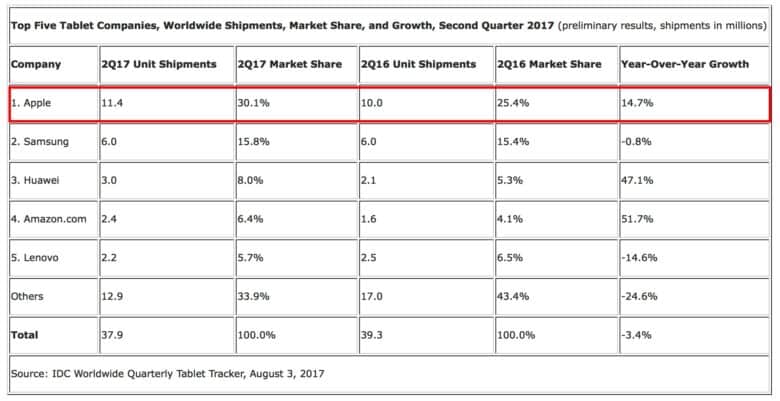 Apple's success with the iPad is underlined by the fact that Samsung, in second place, shipped just 6 million tablets for 15.8 percent of the market. In other words, Apple is close to doubling its nearest tablet competitor. Third, fourth and fifth place on the list were represented by Huawei, Amazon, and Lenovo.
"Apple positioned itself quite well during the quarter by consolidating its lineup and introducing two new iPads," IDC writes. "The new iPad's relatively low price point triggered some consumers to upgrade their aging devices and demand for this new tablet finally caused a turnaround for Apple's iPad business. Meanwhile Apple's transition towards detachable tablets continued with the launch of the 10.5″ iPad Pro and a major update to iOS (expected later this year)."
Did you buy an iPad over the past three months? Leave your comments below.