The Kings laptop backpack by STM Goods is handsome enough, but one small detail on the inside got my attention.
Tethered inside one of the two compartments I found a zippered pouch that could be used to store pens or cords. I stow my various incidentals in similar pouches in my shoulder bag, so it seemed like this particular backpack was designed especially for me.
This may be a strange place to begin a review for a bag designed first and foremost to carry a laptop up to 15 inches, but this little detail perhaps best explains why the company is called STM — for "Stuff That Matters."
STM Goods: Stuff That Matters
Like many company names, STM Goods comes with an origin story about what inspired the brand and the outfit's philosophy.
Co-founder Ethan Nyholm bought his first laptop in the 1990s, but couldn't find a protective backpack for it. Nyholm decided to tuck the computer into a padded postal envelope that he then crammed into a regular hiking pack.
While his workaround functioned, it was short-term and not exactly right. He teamed up with a co-worker to design and construct a tech carry bag with lasting protection, and that became the first STM bag. Nyholm and the co-worker Adina Jacobs started the company in Sydney, Australia, in 1998. STM Goods now boasts a global presence with offices in Sydney, San Diego, London and Kuala Lumpur.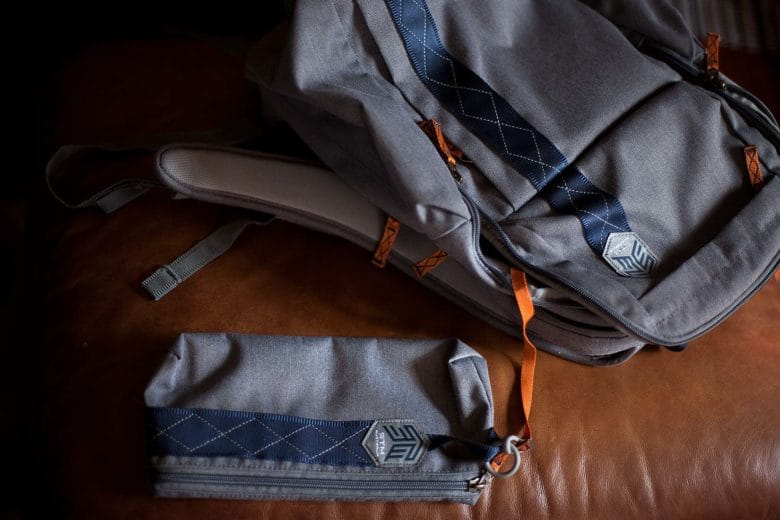 Bags for MacBook owners
STM is especially geared toward Apple users, with hard cases, sleeves and bags specially designed for MacBooks (as well as iPhone and iPad cases).
The Kings pack offers about as much room as a king's castle, with two generous main compartments. One has quilted padding to carry a computer, while the other is good for just about everything else.
I designated the all-important zippered pouch, which STM calls The Stash, for my MacBook Pro charging cord. I use the front compartment for a garden variety of day-to-day needs, from a change of shoes and pants to a couple of grocery items picked up on my way home.
Kings: A backpack fit for a king
The Kings backpack is designed and constructed with the same care STM brings to all its products.
The fabric is a thick, water-resistant polyester. The main tech compartment benefits from extra padding on the corners, and its bottom is actually suspended above and way from the edges of the pack to give your gear extra protection from a short but sudden vertical drop.
The side pockets' zippered openings face the wearer's back. These generous pockets should go unnoticed by thieves and would be the ideal place for a wallet, passport and iPhone. A thick pleat hides the zippers on a pair of pockets up front.
The curvy straps, including an adjustable sternum strap, feel comfy. A cable-routing channel and battery compartment inside the pack make it perfect for on-the-go charging of devices.
My STM Kings pack is "tornado grey," with a blue vertical stripe originating from the stylish STM logo and gray diamond stitching down its length.
Apparently, the very idea of a basic black bag bores this company: The Kings pack also comes in botanical green, china blue and desert brown.
Price: $149.95
Buy from: STM Goods
Cult of Mac received a preproduction sample from STM for this review. Read Cult of Mac's reviews policy.