We're less than one month away from the iPhone 6s being announced, and carriers are tripping over themselves and each other trying to offer the best terms for customer upgrades.
The latest carrier to throw its name in the ring is Sprint, which has just launched its new iPhone Forever plan, which lets users upgrade to the latest iPhone any time they want — without having to pay an upfront fee or experience a hike in rates.
Instead, Sprint asks customers to pay a monthly surplus fee on top of their regular service plan, which then lets them upgrade to the latest iPhone at the drop of a hat.
Currently a 16GB iPhone will cost you $15 per month extra, a 64GB iPhone 6 will cost you $19.77 per month, and a 128GB iPhone 6 will cost you $24.53 per month. On the iPhone 6 Plus end of the spectrum, a basic 16GB model will cost $19.00 per month, a 64GB model will cost $23.77, and a 128GB model will cost $28.53.
These prices are part of a Sprint introductory, which expires next year, so sign up now if you want to. Here's how the deal compares to other carriers for the 16GB base model: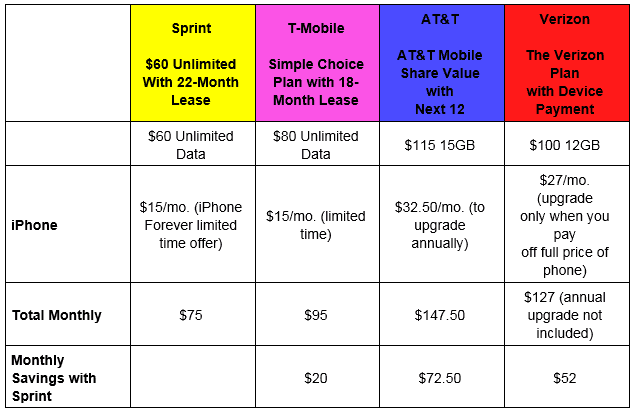 As to whether or not this will result in savings, it all depends what it is that you're after. The deal is best value for the base iPhone 16GB model, although it gets less valuable the higher up the spec list you go.
Ultimately, though, it's great to see Sprint's battle with T-Mobile yield such good results for customers. At the end of the day, that's probably the most important thing of all. Yay for capitalism!
Source: Sprint