The iPhone, as Steve Jobs pointed out in his 4.0 keynote, currently has the best implementation of Copy/Paste feature of all smartphone platforms. However, it still does lack some feature like a history of the clips you've copied,  web search for selected text, etc. If you add a Cydia app called Action Menu Plus Pack, which retails for $2.99, you can easily add those as well. Here's Cult of Mac's how-to guide for installing and using the app.
What you'll need:
A jailbroken iPhone/iPod Touch with Cydia installed.
Wi-Fi and Internet access on the device.
ActionMenu Plus Pack Cydia Application worth $2.99.
1. To start, you'll need a jailbroken device with Cydia installed. If you need to jailbreak your device, please check out our jailbreak guides. Tap the Cydia icon on the screen to open it.
2. After Cydia is done refreshing, choose the 'Sections' tab and then select 'System.'
3. Open the 'ActionMenu Plus Pack' and press 'Purchase package' to buy the app. After purchasing, download and install the app.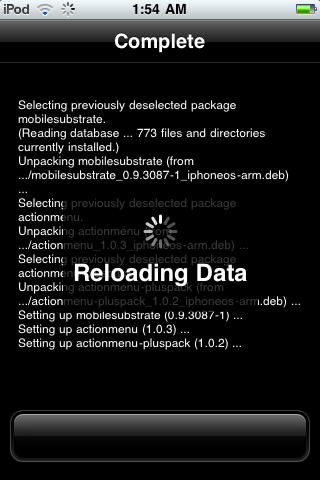 Hit 'Reboot Device' when prompted and wait for reboot.
4. Once the device reboots, open a web browser or type something in a text app. Scroll over the text to bring up the copy/paste menu and you'll see some added options like 'Copy All' and '…' (more).
5. To access the extra options, click '…' and here, along with default options, you can copy all text in the area or on the website at once.
6. You can bring up a history of your previously-copied clips by pressing the 'History' button. You can paste any of them by tapping on them via the red 'minus' symbol in front of each individual clips on the clipboard. You can also clear the clipboard by choosing the 'Clear' option and then hitting the 'Confirm' button.
7. You can also add selected text to favorites for quick access.  Just press 'Favorite' in the '…' menu and then select 'Add Favorite.' To use a favorite, just select one from the 'Pasteboard Favorites' menu.
8. To look up selected text on the web, a dictionary, wikipedia or even translate it, use  the 'Lookup' option in '…' menu and then choose from the options on the menu.
9. Choosing 'Search' will bring up a browser in the application showing the results for selected text. You can also choose to open it in Safari by hitting 'Open in Safari.'
10. You can also open the Wikipedia option from Safari, too.
11. The 'Dictionary' option brings up the meaning of selected text or phrase. You can bring up a search of Merriam-Webster by from 'References,' you can also search for another word or phrase by using the search field.
12. The 'Translate' options allows you to choose from the original and target languages. There's also a 'detect language' option if you don't recognize the source language of the text.