Apple released big updates to iOS and OS X today, and among the changes is a whole lot of new emojis.
There are over 300 emojis added by Apple as part of an update to the Unicode standard, and most of them focus on racially diversifying the existing emojis we all know and love. There's also an awesome Spock emoji for when you're wanting the world to live long and prosper.
But the catch is that if you're not on the newest iOS 8.3 and OS X 10.10.3, you won't see these new emojis. Instead, you'll see an alien or an empty box!
People have been noticing all the alien emojis on the internet today:
Weirdest part of diverse emojis in iOS 8.3? When you send them to someone on 8.2, it shows up as an alien. pic.twitter.com/9E2t8Dc8c8

— Andre Plaut (@andreplaut) April 8, 2015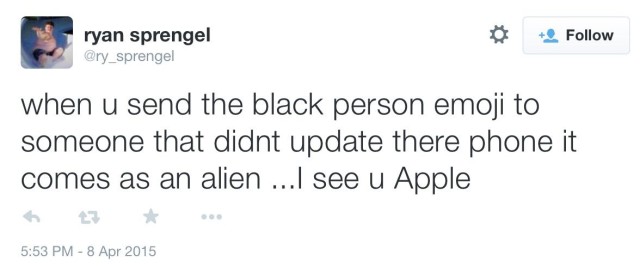 To solve this existential emoji crisis, all you have to do is update to the latest version of iOS and OS X! Emoji on!