Apple has made another interesting hire in the form of Bobby Hollis, a former vice president of NV Energy who will serve as the company's new Senior Renewable Energy Manager.
The appointment took place earlier this year, while Hollis took his post back in April.
At NV Energy in Nevada, Hollis worked as the Vice President of Renewable Energy and Origination. He also served on the board of the Solar Electric Power Association, and was recently named one of Las Vegas's 40 Under Forty business leaders.
Hollis describes his role at Apple as, "[h]elping Apple lead in the goal of a greener internet." His association with the company may have started when NV Energy partnered with Apple to build the solar farm that powers Apple's Reno data center.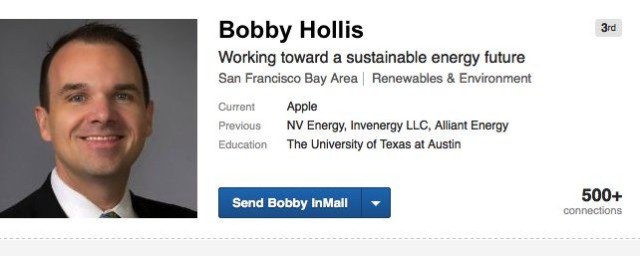 Apple's drive toward sustainability has been a continued theme of the company under the leadership of Tim Cook.
Having previously been condemned by Greenpeace for its lack of corporate responsibility, Cook has focused on making Apple a "force for good" in the world.
In May 2013, Apple hired the former Administrator of the Environmental Protection Agency, Lisa Jackson, to serve as its top environmental adviser, while the company has embraced alternative energy source like solar and hydroelectric power for its data centers and forthcoming Apple 2 campus as part of its pledge to use 100% renewable energy to power all of its facilities.
More recently, sustainability was the center of Apple's Earth Day campaign.
Source: LinkedIn