Some materials have integrity. Consider aluminum, Jony Ive's material of choice, and then compare it to plastic. Under the skin, plastic feels wholly artificial, a lump of congealed and polished chemicals; in feel and smell, there's something unnatural and slightly impure about it. But aluminum feels clean. It has texture. It isn't just a facade: It is true to itself, right on down through.
BookArc möd by Twelve South
Category: Stands
Works With: Any MacBook
Price: $80
Another material with integrity is wood. It is true to itself, from the veneer to the grain. It has texture. It is clean. And it has history. Wood actually picks up the oils from your hands, and develops a patina. And because of its innate qualities, wood pairs exquisitely with Jony Ive's chosen material of integrity: aluminum.
Which brings us to Twelve South's latest product, the BookArc möd. An organic, well-crafted version of the accessory maker's popular BookArc stand, it is a laptop dock that offers every bit as much integrity as the MacBook it is meant to house… both different and complementary at once.
The Good
If you've never heard of Twelve South's BookArc, it's a simple docking station for Apple MacBooks. A bridgelike arc with a swappable silicon insert and hidden cable managers, the idea of the BookArc is to offer the simplest, most widely compatible MacBook dock around. You just slap your MacBook into the BookArc, plug in the cloistered cables, and away you go.
In execution, the BookArc möd isn't much different from the regular BookArc: The only distinction is which material of integrity it is made of. While the plain BookArc is a sleek arc of aluminum, the BookArc möd is a sleek arc of wood.
The wood looks great. There is a wonderful relief between the available grains (birch, walnut and espresso) and the MacBook's austere aluminum. If you enjoy the interplay of textures and materials, this is a beautiful stand.
Otherwise, the möd's strengths are the same as the aluminum BookArc's. First and foremost, it is a space-saving design: The BookArc möd can stand your MacBook upright, freeing considerable desktop space compared to other stands.
Other perks? The various silicon inserts make the möd both future- and past-proof. If your MacBook doesn't fit, just put in another insert or take the insert out entirely. Plus, the silicon hooks on the underside of the BookArc make it easy to manage your cables.
The Bad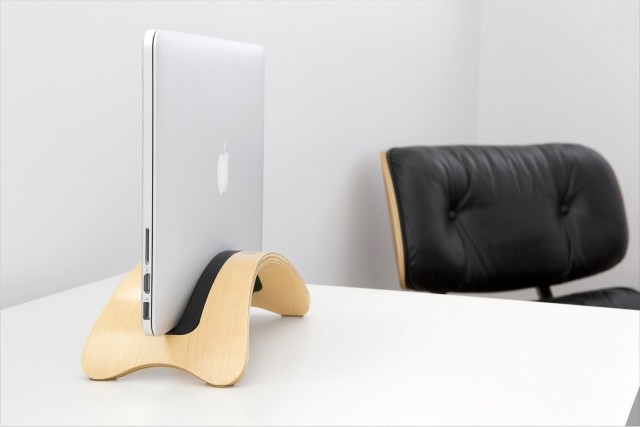 There's not much bad about the BookArc möd, but there are a couple issues to note.
My big complaint, weirdly enough, is branding. On the front of the BookArc möd you'll find Twelve South's logo, an askew 12. It is fine for a manufacturer to put its logo on its devices, and Twelve South is usually pretty restrained in this regard. However, on an aluminum BookArc, the Twelve South logo blends in with the metal; on the möd, it stands out in relief. It's an intrusive element that mars the integrity of the MacBook/möd combo. (Herman Miller, the mid-century furniture maker whose designs inspired the möd, put its logo on the underside of its famous lounge chairs.)
The second issue is price. A BookArc möd costs $79.99, twice as much as an entry-level steel BookArc. That seems like quite a discrepancy between two products which serve an identical function. It just doesn't seem like wood should cost twice as much as metal.
Conclusion
If you love a mid-century aesthetic, or delight in the way a Mac's aluminum body can interplay with textures, there's no more gorgeous way to dock your MacBook. But if wood isn't your bag, there's no reason to spend twice as much on the möd as the regular BookArc: The expense is in the aesthetic.
Product Name: BookArc möd

The Good: Beautiful interplay of materials, good cable management, space-saving design.

The Bad: Logo compromises design a bit. Twice as pricey as regular BookArc.

The Verdict: If you like the way a MacBook's aluminum body looks next to a more organic texture, this is the most beautiful way to dock your laptop.

Buy from: Twelve South
[rating=excellent]