Lollipod by Lollipod
Category: Tripods
Works With:iPhone, cameras
Price: $50
The Lollipod is a lightweight lighting stand masquerading as a camera and iPhone tripod. And this is – in almost every way – a good thing. A light stand isn't nearly as sturdy as a camera tripod, but it is a lot lighter, a lot more likely to be in your bag when you need it, and is roughly 1,000% better than no tripod at all, aka a sharp rock propping up your delicate iPhone.
What It Is
The Lollipod is an aluminum stand based on the telescoping, three-legged design of a photographer's light stand. Instead of three fat legs, it is a long pole with three short legs that fold out at the bottom. The telescopic sections have no tightening mechanism: they rely on friction to stay put, and run from 32cm when closed (a foot, more or less) to 1.3 meters (4.3 feet) when open.
At the top is a standard tripod screw which tilts through around 90-degrees, and the unit I tested shipped with Joby's phone-grabbing tripod adapter screwed onto the top.
The Lollipod comes with a mesh carrying bag and a small net which lets you add weight to the base for stability, and you can pick from a rainbow of bright anodized colors for the unit itself.
The Good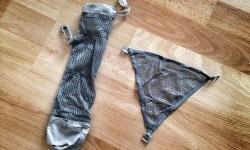 It's light, it's small, and it's absurdly flexible. At 320 grams (11.3 ounces) it weighs less than an iPad mini, and in its mesh sack you can hang it from your bag or belt and forget about it until you need it. This makes me think of all the urban tourists I see carrying tripods all day long and presumably never using them.
The Lollipod also works (surprise) as a light stand, and thanks to the tripod screw up top you can screw flashes like the LumoPro LP180, with its built-in tripod hole – straight onto the stand with no heavy adapter required.
And the mesh bags themselves deserve a mention. Not only do they look like his'n'hers bondage-wear, but the design is pretty ingenious.
The main bag has a little pocket at the bottom for the smaller mesh sheet, plus a plastic carabiner-style hook on the side for easy hanging. The mesh sheet is a triangle of cloth with a small clip at each corner. These slip into the holes that form the joints on the tripod base and give you a spot to add some weight. Anything will do, from a water bottle to a pile of stones. You won't need this indoors, but if you have a heavy camera, or you're out on a windy day, the extra stability is very handy.
The Bad
It's light. This means that it isn't nearly as sturdy as a "real" tripod, but then I don;t think it's supposed to be. Th Lollipod is more of a stand to let you use the camera hands-free than it is a base to let you shoot long exposures with no camera shake. If you use a self-timer and use the Lollipod away from the wind, it's steady enough, but if you're looking to make time-lapse movies outdoors, look elsewhere.
That said, the Lollipod is well made. It's just not designed to compete with $300 Manfrottos and Gitzos.
The Verdict
I'm surprisingly taken with the Lollipod, despite the fact that the makers sent me one in teal, or whatever it is you call that horrible green you see in the pictures. I almost never use a tripod, but I often need to place my iPhone on a steady base for shake-free selfies. And I use a light stand a lot. You could even use this to prop up an iPad in front of the sofa at movie time, or as a stand for Enlight's new Phlite lampshade.
And if I'm heading out on a day exploring a new city on my bike (I have a folding Brompton, so I always travel with a bike), then I can just toss the Lollipod into the front bag and forget about it until I need it.
Or you could take it camping. It'll serve as a tripod for those awesome dawn and dusk shots, and you can rig up a flashlight on top to light up the campsite. It really is very useful.
Product Name: : Lollipod
The Good: Absurdly flexible, sturdy enough, and easy to carry everywhere. Cheap, too, for what you get.
The Bad: Avoid if you're expecting something as solid as a $200 tripod.
The Verdict This is one of the most useful accessories I've ever tested, and it's small enough to take everywhere. Photographers will love it as a handy backup for almost anything, and the rest of use can use it as an actual tripod.
Buy from: Lollipod
[rating=excellent]