iOS 7 has ushered in a new age of design for third-party Twitter apps. Before Jony Ive's monumental redesign of iOS was introduced over the summer, apps capitalized on making themselves stand out with a distinct design aesthetic—the robotic, chromatic look of the old Tweetbot, for example.
Several of the biggest Twitter clients in the App Store have undergone their iOS 7 redesigns by now, and while they feel more at home in iOS 7, they've also become harder to tell apart at first glance. The launch of Osfoora 2 for iPhone this past week reinforces this design trend.
Made from from the ground up for iOS 7, Osfoora 2 is a massive update to an established third-party Twitter app in the store. It includes streaming in the timeline, background refresh, and bookmarking with services like Pocket and Safari's Reading List. You can sync timelines between apps with Tweet Marker, and iCloud support is coming in a future update. The biggest drawback is that Osfoora still doesn't have its own push notification system like some of its competitors, namely Tweetbot.
Osfoora 2 is available in the App Store on the iPhone for $3.
To prove my point about the design trend, here are the main timelines in order of Osfoora 2, Tweetbot 3, and Twitterrific 5: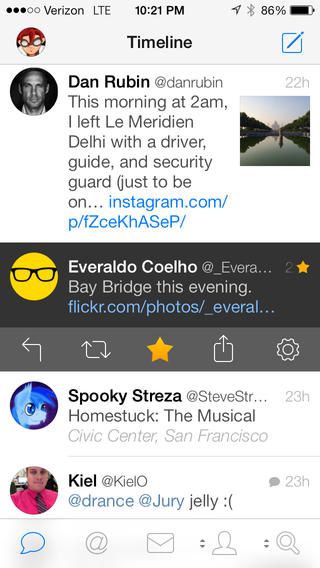 Twitterrific was the first Twitter app to receive this kind of look in December of last year, which was all the more impressive given that Apple's iOS 7 announcement was still months away. I called it a "fresh take" in my original review. It looked very different from just about everything else in the App Store at the time. Now, not so much.
All of these apps are obviously different with their own perks, and I'm not discrediting any of the hard work that went into making each one (I'm a hardcore Tweetbot user, actually), but it's clear that there's a pretty common aesthetic shared between them.
Then on the other hand, you have the official Twitter app and Echofon: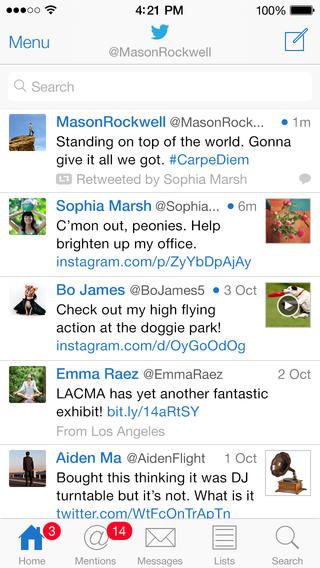 Are third-party Twitter apps losing their personality? I sure hope not.