As we reminisced in our previous poll, 2011 has been a monumental year for the Mac App Store. There have been countless new releases and updates that we've covered on the site, and the Mac app ecosystem has reached a whole new level of excellence.
We told you to choose the 10 most innovative Mac apps of this year, and your votes garnered some interesting results. Here are the 10 most innovative Mac apps of 2011. And now we need you to choose your number one.
Evernote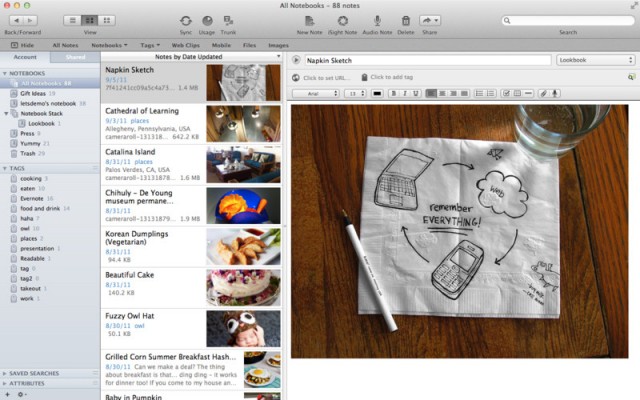 If you aren't already using Evernote, you're missing out on a robust, streamlined productivity tool for managing your digital life. The note-taking/to-do app is available on every platform imaginable, and the Mac app acts as the hub for collecting information and entering large amounts of data.
1Password
As the ultimate password manager, 1Password on the Mac acts as your personal vault for storing sensitive information like passwords and credit card numbers. Not only can you store your logins and have them automatically filled in when browsing online, but 1Password will encrypt your database to keep it protected like Fort Knox.
Pixelmator
Think of Pixelmator as Photoshop for the rest of us. The gorgeous photo editor looks like it was made by Apple, and there's plenty of power inside to make it a viable Photoshop substitute for most purposes. It's also incredibly cheap comparatively, so you can't go wrong.
Alfred
We've covered the 1.0 release of Alfred extensively on the site, and it's clear that Alfred deserves to sit amongst the top ranks of innovative Mac apps for 2011. The lightweight launcher utility makes operating a Mac delightful, and there's plenty of available plugins for fine tuning your experience. Don't let the cute hat fool you, Alfred doesn't mess around — it gets stuff done.
Spotify
Spotify has helped revolutionize the way we listen to music, and the service finally went live with a Mac app this year. With an elegant interface and vast catalog of content, Spotify for Mac is a must-have for those that are inclined to the subscription-based model of music consumption.
Sparrow
Disgruntled users of Apple's Mail app have found happiness in Sparrow during 2011. The innovative app rocketed to the top of the Mac App Store and made huge splashes in the blogosphere this year. Sparrow's incredible UI and Apple-like attention to detail make it an essential app for those that want a new take on Mac email clients.
Reeder
RSS fanatics know Reeder very well. The app originally launched in the iOS App Store, and its users rejoiced when it finally came to the Mac. For most, Reeder is the de facto Google RSS client on all Apple devices. With gestures and a minimalist interface, Reeder for Mac is the crown jewel of RSS readers for the desktop.
djay
Aspiring DJs can spin like the pros now thanks to djay for Mac. The app offers an intuitive interface for mixing music on the go or with a turntable setup. With iOS apps to match, djay for Mac makes it easy to play at a party or enjoy mixing tunes on your own.
Fantastical
Fantastical makes adding calendar events on the Mac a dream come true. The menubar app acts as your personal assistant that parses natural text input ("Schedule my doctor's appointment for tomorrow at 3") and interprets it into an iCal event. Regular iCal users will immediately see the value of such an app, as it isn't exactly easy to add events in Apple's calendar application natively.
Cloud
Cloud makes it super easy to send and share links, text, video, images, and the like with short links. The lightweight app sits in your Mac's menubar and lets you upload stuff to your account quickly with a keyboard shortcut. Cloud then takes whatever you've copied in your clipboard, uploads it, and spits out a shortened URL for sharing online. Simple and efficient.
Get Voting!
Those are your 10 most innovative Mac apps of 2011. Now it's time to select the ultimate winner. Vote for your favorite below and we'll announce the winner, as selected by Cult of Mac readers, next week!