Got a stack of Game Boy cartridges lying around but no Game Boy to play them on? GB Operator is a new adapter that lets you connect and play those physical games on your Mac, Windows, or Linux computer.
GB Operator supports original Game Boy, Game Boy Color, and Game Boy Advance cartridges. It combines with an emulator to allow the games to be played on non-original hardware.
Almost every aging (sorry!) gamer has fond memories of Nintendo's original handhelds. Even if you're not a Nintendo fan today, you can't help but appreciate what those consoles did for gaming on the go.
Many of the games developed for these devices, such as Super Mario Bros., The Legend of Zelda, and Pokémon, are iconic classics today. And many love to replay them all over again decades later.
There are free and easy (though in many cases illegal) ways to do that on almost any modern device. But if you own original cartridges you want to make use of, there's also the potentially brilliant GB Operator.
GB Operator brings Game Boy games to Mac
Developed by Epilogue, GB Operator is simply a Game Boy, Game Boy Color, and Game Boy Advance cartridge reader that plugs into your Mac, Windows, or Linux computer to allow physical games to be played.
The adapter works alongside the Epilogue Operator software, which has the popular mGBA emulator at its core, to run each title. And just like original mGBA emulators, it supports controllers, cheats, and more.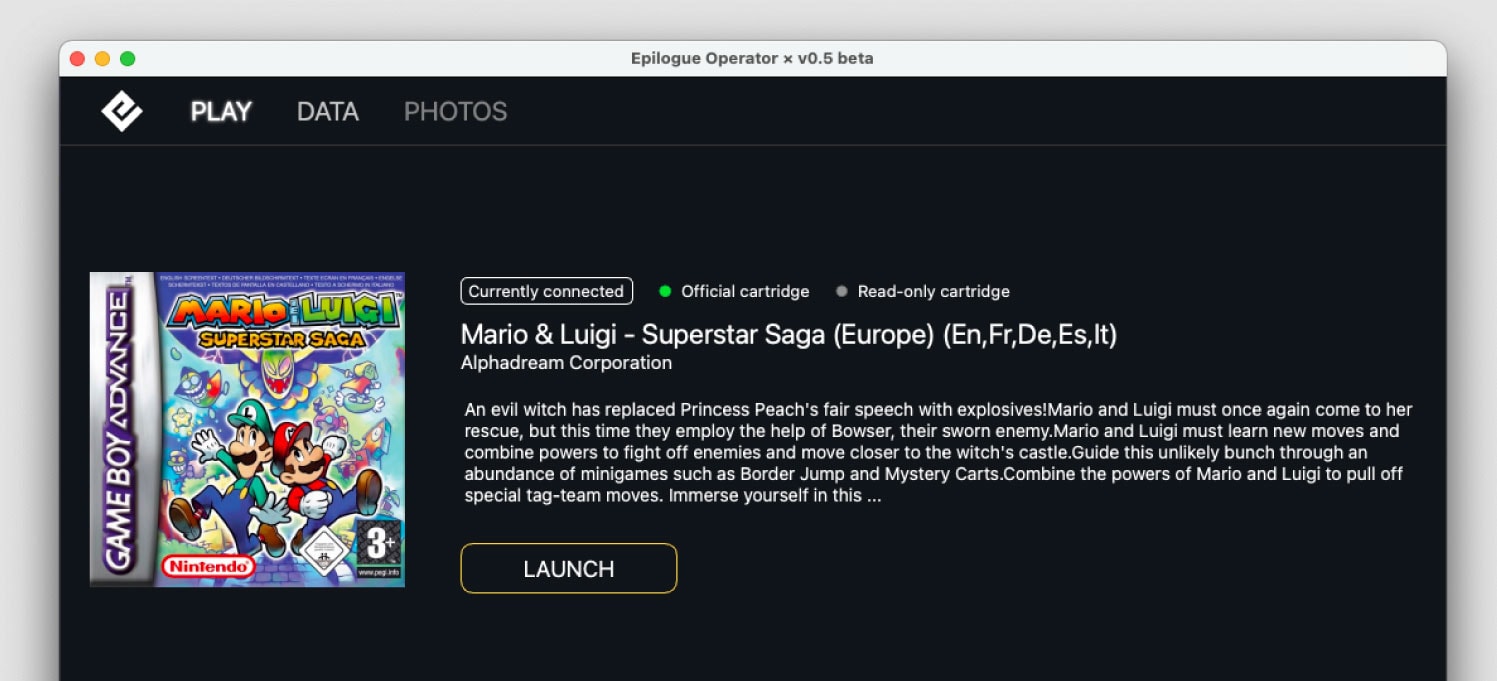 One nifty advantage GB Operator has over all-digital emulators is that it continually saves your game progress to your Game Boy cartridges. So all your data is available when you play the games on original hardware.
What's more, GB Operator can write homemade games to Game Boy carts so that you can enjoy them on real consoles. And it can detect bootleg games, helping you weed out counterfeits in your collection.
GB Operator available now
What will you pay for all of this? Probably not as much as you might expect.
GB Operator is available to order through the Epilogue website, priced at a reasonable $49.99 plus shipping (worldwide delivery available). Orders placed now begin shipping in August.
Via: Nintendo Life