Brydge recently rolled out a big update for select iPad keyboards that finally brings multitouch gesture support and some major improvements. Here's how you can update yours to take advantage of the changes.
With proper multitouch support, Brydge keyboards for iPad (those with built-in trackpads, at least) offer exactly the same gestures as Apple's own Magic Keyboard. They make it much easier to navigate iPadOS.
Big improvements for Brydge
Some of the gestures you can use include:
Open the App Switcher: Swipe up with three fingers.
Switch between open apps: Swipe left or right with three fingers.
Zoom in and out: Pinch with two fingers.
Open Control Center: Swipe to the top-right corner of the screen with one finger.
Open Search: Swipe down with two fingers on the Home screen.
In addition, the firmware update brings smoother pointer movement, better battery life, and improvements to Bluetooth connectivity. Before you install it, you should be running iPadOS 14.5 or later.
How to update your Brydge keyboard for iPad
To update your Brydge keyboard, all you need is your iPad and your keyboard itself. Start by downloading the Brydge Connect app from the App Store, then follow these steps:
Ensure your Brydge keyboard is connected to your iPad over Bluetooth.
Open the Brydge Connect app and tap Update Now.
Connect your Brydge keyboard to power. If it was already charging, unplug the charging cable, then plug it back in.
Tap the Start Update button in Brydge Connect.
Wait for the update to install.
Open the Settings app on your iPad, then tap Bluetooth. Find your Brydge keyboard, tap the i button next to its name, then tap Forget This Device.
Return to the Settings menu and tap Accessibility. Tap Touch, then ensure AssistiveTouch is disabled.
Return to the Bluetooth menu and re-pair your Brydge keyboard.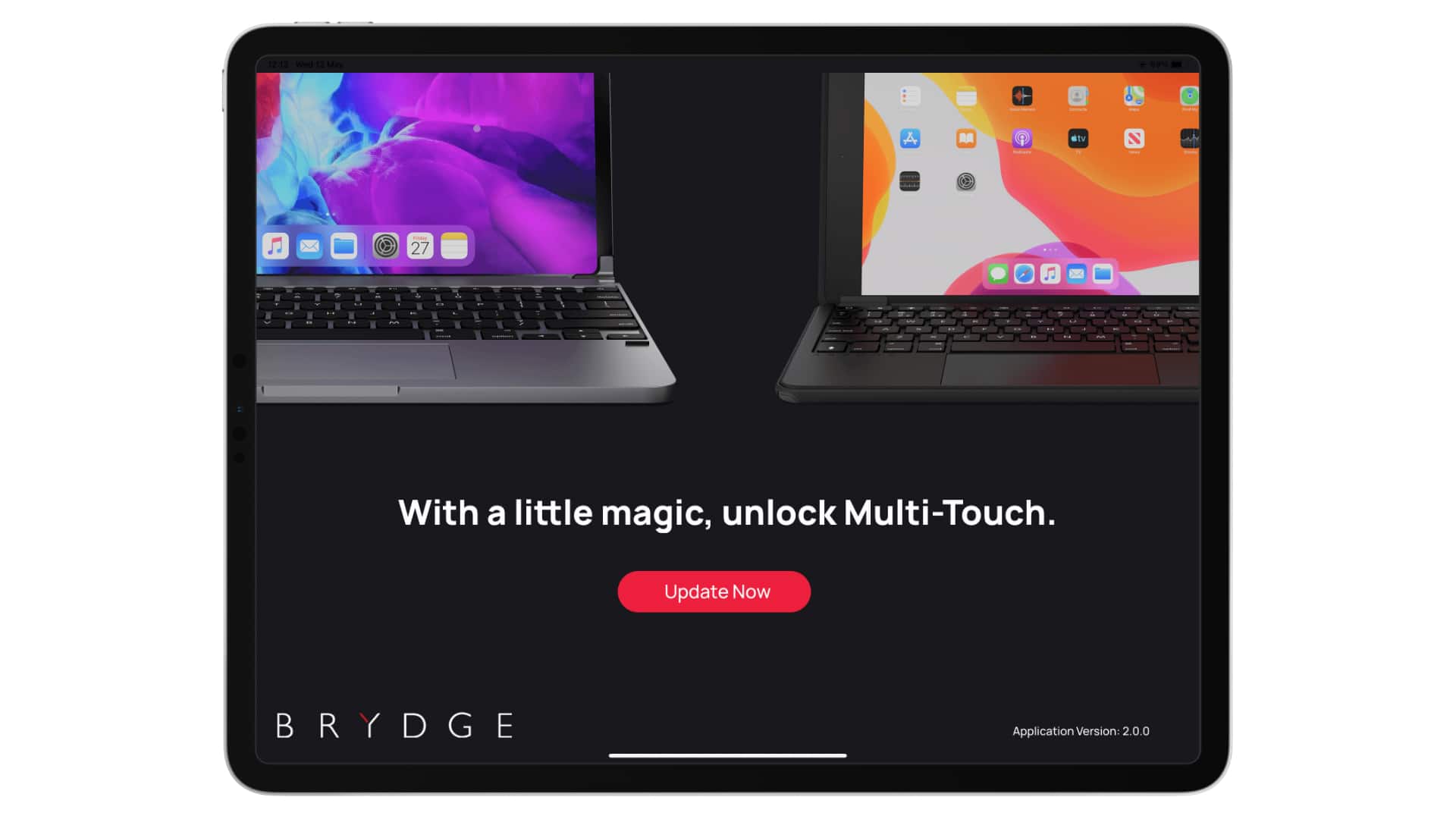 Your keyboard is now ready to use. You should immediately notice that moving the mouse pointer is a lot smoother, and you can play around with the multitouch gestures listed above to get used to them.
It's a good idea to keep the Brydge Connect app installed after updating. You'll need it to install any future updates and improvements.