Sony fans know that one year of Playstation Plus costs $59.99. But what if you could get that and a lifetime of e-learning and VPN protection for an additional $9?
That's right: For just $69, you can score a year of Playstation Plus, a lifetime subscription to StackSkills Unlimited, and a lifetime subscription to KeepSolid VPN for up to five devices. With these three subscriptions, you can play, learn and safely surf the web for an unbelievable 96% discount.
PlayStation Plus: 1-Year Subscription
PlayStation Plus is a must for any avid online gamer, and it's easy to see why. The service offers players a monthly rotation of free game downloads, as well as exclusive perks and discounts. Equipped with cloud storage that allows you to upload saved games and characters, this annual subscription is well worth its original value.
Getting a year of PlayStation Plus and two other lifetime subscriptions in a single, discounted bundle is one sweet deal.
StackSkills Unlimited: Lifetime Subscription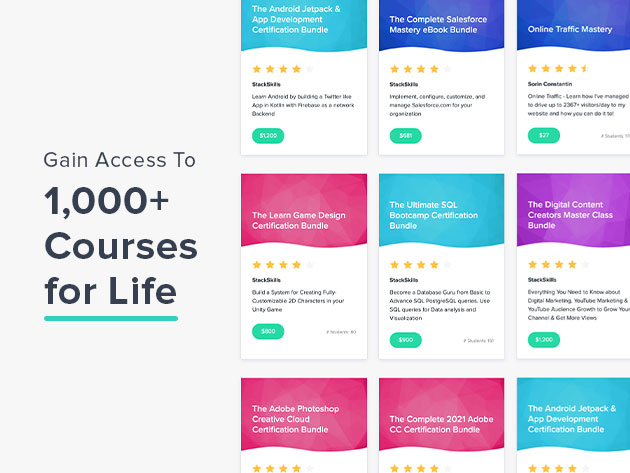 As the premier online learning platform for mastering today's most in-demand skills, StackSkills is the perfect place to develop skills in IT, development, graphic design, finance, business, marketing and much more. With this lifetime subscription, you'll gain access to more than 1,000 StackSkills courses on topics like blockchain, growth hacking and iOS development. StackSkills adds new courses every month, with more than 550,000 satisfied students worldwide. With this lifetime sub, you'll join a community of lifelong learners for an incredibly low price.
KeepSolid VPN Unlimited: Lifetime Subscription (5 Devices)
If that wasn't enough, KeepSolid VPN is offering its elite virtual private network for up to five devices for a lifetime as well. With KeepSolid VPN, you can regain control over your digital life with full security and anonymity online. You'll enjoy full browsing speeds without the dangers of leaving your data exposed or the geographic restrictions set on websites abroad.
With one year of PlayStation Plus and lifetime subscriptions to StackSkills and KeepSolid VPN, you'll be able to play your favorite games, learn new skills, and stream without restrictions. Join in on this limited-time deal today for the exclusive price of $69.
Prices subject to change.