Apple's new iMovie '11 is here and while it isn't the best part of my iLife, like iPhoto, it does make an occasional cameo appearance in my life. The new iMovie features that Apple announced last Wednesday are pretty good making an already great program better.
The new movie trailers, improved audio editing, one-step side effects, people finder, themes, and world premiere all bring new or improved features the give me more opportunities to be creative. I'll be able to finally craft movies that are almost as good as the ones made by Steven Spielberg. Well maybe not that good, but definitely better than before.
Movie Trailer Outline
The first and most interesting new feature added to iMovie is movie trailers. It might also prove to be the most annoying as well as the next big thing for home movie producers everywhere. They'll be annoying because they are so easy to create that they will be everywhere and no one is going to pass up a chance to create one for their latest movie.
The trailers are very easy to set up and configure, but ironically there was one interesting thing to note. iMovie will not let you spoof any real movie studios — it censors them. For example, if I try to use "Universal Studios" in the trailer iMovie removes the word "Universal" and leaves some hyphens behind in its place. Oh well give credit where credit is due and be yourself.
Movie Trailer Storyboard
The story board for the movie trailer is where you build your trailer from video clips, etc. you can create a good trailer in under 30 minutes.
Movie Trailer Theme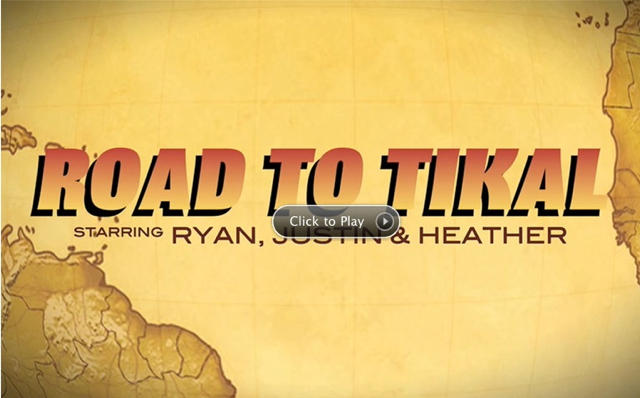 The movie trailer themes are definitely catchy. You'll enjoy playing around with these. Apple supplies themes for action, adventure, blockbuster, friendship, and holiday movies trailers. You can get pretty creative with these. I'm sure they will keep you and your family pretty busy creating the next home movie that will blow the socks off your grandparents.
Audio Editing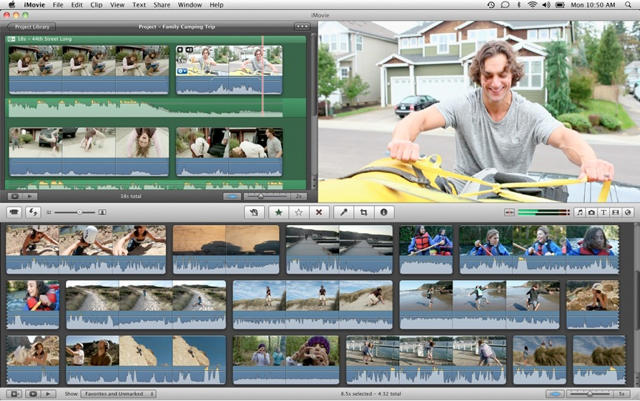 Apple has added some new audio editing tools in iMovie. Users now have control over sound effects, voiceovers, and music. You get very detailed waveforms for your audio clips. I liked that feature because it gives you a visual idea about where you might have audio that is overwhelming. You can make adjustments to fix that very easily using a the volume slider. Any changes you make are immediately reflected in the displayed waveform. I think this new feature will go along in making audio easier to manage in iMovie.
One-Step Effects
Considering the wow factor the movie trailers brought us you would think that Apple would take a break. Well they didn't stop there they added special effects. Talk about eye candy there are 12 effects that you can apply to any clip in your movie with one click. Nice!
I found out that it was easy to quickly apply these. Although that might seem like a good thing it might not be since it is so easy to add these your movie making might get a bit out of control. Remember every good movie producer should use these wisely and sparingly.
People Finder
People finder in iMovie isn't going to find your lost cousin George, but it will find all the people in your movie and build a cast for you. It can even analyze the movie and tell you how many of them appear in each scene. It can find close-ups, medium shots, or wide angles for you. These are important since you will need them for your video trailer storyboard.
Sadly this feature didn't seem to work for pets or animals. Hey Apple! Animals have faces too. Some of them play a big roll in our lives so leaving them out of the movie we are building just doesn't seem fair.
Sports and News Themes
Apple added additional themes to iMovie and like the rest of the eye candy they did a good job creating things you'll use time and time again. News and sports themes have been added with fancy graphics, nifty transitions, and titles. Send the announcement about a new family member in the form of a fancy broadcast television news segment.
World Premiere
The movie is done and in the can. Now you are ready to share it with your very own world premiere. A premiere that can take place practically anywhere since you can export your movies to iTunes and watch them later on your iPhone, iPad, iPod, or Apple TV.
Need a bit more exposure then send your movie to Facebook, YouTube, or Vimeo. See something news worthy then send that content to CNN's iReport or create a video podcast and send it directly to a server running Apple Podcast Producer.
No world premiere would be perfect without HD video and iMovie delivers by allowing you to export in HD at a full 1920-by-1080p resolution.
Conclusion
Steve Jobs told us last Wednesday that iPhoto was the most popular application in the iLife suite and if I were to guess iMovie has to be second. It's just about perfect for home video editing, but there is one thing holding it back — the learning curve. My only real complaint about an otherwise nearly perfect application. You'll need to practice and play around with iMovie before you can master it. This will take some time for some people. However, once you master it you'll be able to release your inner Spielberg and shoot for an Emmy.