The Businessman works hard, and he relies on his stuff to get him through the day. Make life easier both at home and on the road for the Businessman with these Wall Street-worthy gifts.
Tom Bihn Checkpoint Flyer Laptop Bag
Speed through the security checkpoint
The Checkpoint Flyer Laptop Bag is the perfect traveling companion: Your Businessman will appreciate the convenience of not having to take out his MacBook Pro while sending it through the x-ray machine, and the removable laptop pocket is made from high density molded foam, offering a high degree of protection. Ten pockets keep everything needed for a business trip organized.
The Checkpoint Flyer Laptop Bag is made by Tom Bihn and can be purchased from Tom Bihn for $220.00 in four colors.
Apple 13-Inch MacBook Air
MacBook Air: the new must-have business tool
You've heard us rave in general about this little gem, which just happens to be the perfect laptop for the traveling Businessman. Get the model with the 13-inch screen — he'll appreciate the extra LCD real estate.
The MacBook Air is made by (duh) Apple and is available from Apple for $1,499 (1.86GHz version).
Apple AirPort Express
Bring your wifi hotspot with you
Lightweight and compact, the AirPort Express is built for mobility so you can create an instant wireless network at your hotel. Just plug in an ethernet cable, then plug the little white brick into an outlet and you're good to go.
The Airport Express Base Station is available from Apple for $99.00.
Canon Powershot S95
Point-and-shoot perfection
The PowerShot S95's great features will have you moving "upgrade my digital camera" to the top of your to-do list. This ultra-slim, ultra-intelligent camera gets down to business with everything a serious photographer needs, like a bright f/2 wide-angle lens and professional-style control ring for intuitive manual control. Then throw in Canon's HS System for spectacular performance and image quality in low light and — new for a compact — Canon's Hybrid image-stabilization for blur-free shooting. Video? Of course — in 720p with stereo sound.
The Powershot S95 is available from Canon and can be purchased from Canon for $399.99.
Sena Case Hampton Flip
The iPhone 4 case fit for an executive
Simple, seamless luxury; the Hampton Flip is for those who prefer an upscale luxurious full-grain leather case for their iPhone 4. Full-grain protective front flap; two credit card pockets for those corporate credit cards.
The Hampton Flip is made by Sena Cases and is available from Sena Cases for $59.95 in four colors.
Etymotic Mc3 Earphones
Inline microphone-equipped earphones seal out noise for those crucial power deals
Etymotic has combined the excellent noise-isolating qualities of their earphones together with a convenient inline microphone for just under $100. These little guys will be great for conduct business deals over the phone, or listening to music in between. They're even compatible with Etymotic's custom earpiece service.
The Etymotic Mc3 earphones are available from Etymotic for $99 in four colors.
AAXA Technology P2 Pico Projector
Pocket projector packs a powerful presentation punch
The pint-sized P2 Pico Projector easily fits into a pocket, yet manages to be the brightest Pico projector on the market with a stunning 33-lumen output at 800×600 resolution. The Businessman will appreciate its portability, battery-powered flexibility and compatibility with both laptops and iPhones.
The AAXA P2 Pico Projector is available from AAXA Technology for $299.00.
M-EDGE Method Portfolio
The Method Portfolio is an excellent mobile office for the Businessman. It'll hold his iPad in luxurious leather while it charges, and It'll keep him organized too; there's a place for just about everything he may need — and even places for stuff he didn't know he needed.
The Method Portfolio is made by M-EDGE and is available from M-EDGE for $119.99 in two colors.
TripIt Travel Organizer App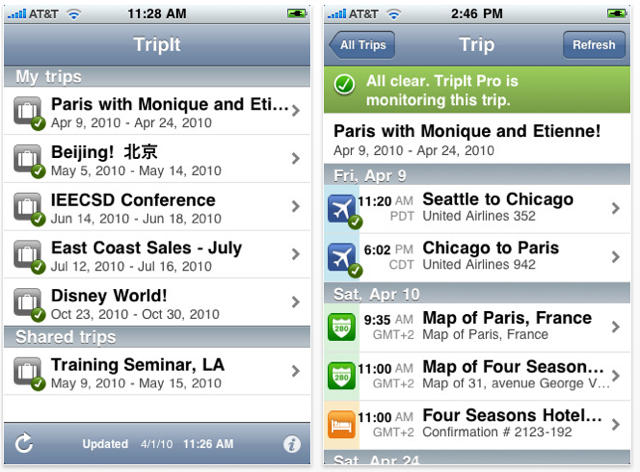 Don't trip over tedious travel details
TripIt Travel Organizer puts the Businessman's travel plans right on his iPhone; just forward travel confirmation to TripIt to build a travel itinerary. Displays trip details whether online or offline, and makes maps and directions are available with the tap of a finger.
Tripit is available from the iTunes Store for free.