Six weeks after inaugurating an iPad wine list, one top Atlanta restaurant is reporting an uptick in sales and interest with patrons ordering more — and often more expensive — wines.
Bones offers a 1,350 label wine list, loaded with descriptions and ratings, including those from wine writer Robert M. Parker Jr. The owners say wine purchases shot up overnight — about 11 percent higher per diner in the first two weeks compared with the previous three weeks, with no obvious alternative explanation. The New York Times reports that other restaurateurs who are experimenting with iPad wine lists, from Sydney to London to Central Park South, report similar results.
"I felt like they had given me the answer sheet to the test," said Bradley D. Kendall, a Bone's regular who recently used the iPad to select a 2005 Corté Riva cabernet franc for $102, about 25 percent beyond his usual range.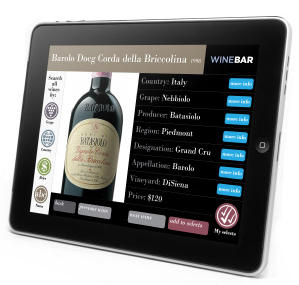 Kendall — a self-described "wine poseur" — said he chose the more expensive wine in part because of the independent ratings.
Interactive wine lists are no new thing, but the iPad has sparked a heady revival of the concept. Wine-list software maker Incentient has received orders from 40 restaurants, up from 5 a few months ago. Other restaurants are developing their own programs.
An iPad wine list may also become a signal for the budget-conscious to lay off the vino. Given the mark ups on wine in restaurants, checking out the list on a magical piece of technology with a custom-built app may mean higher margins on the spirits, although many of these iPad wine lists are now only available at uber-high-end establishments.