As Apple collectibles go, a Steve Jobs autograph is almost as rare as the Apple 1. Both are pricey investments.
However, a TIME magazine cover featuring Jobs and the signature he loathed giving out is kind of a bargain at a penny shy of $20,000.
The seller, Press Pass Collectibles, has even dropped the advertised price on eBay for the signed cover from Feb. 15, 1982, showing a young, mustachioed Jobs with the headline, "America's Risk Takers." It was Jobs' first TIME cover, which made him the first public face of the personal computing era.
The autographed TIME features a slightly faded signature in ballpoint pen that has been authenticated by Beckett Authentication Services, according to the seller.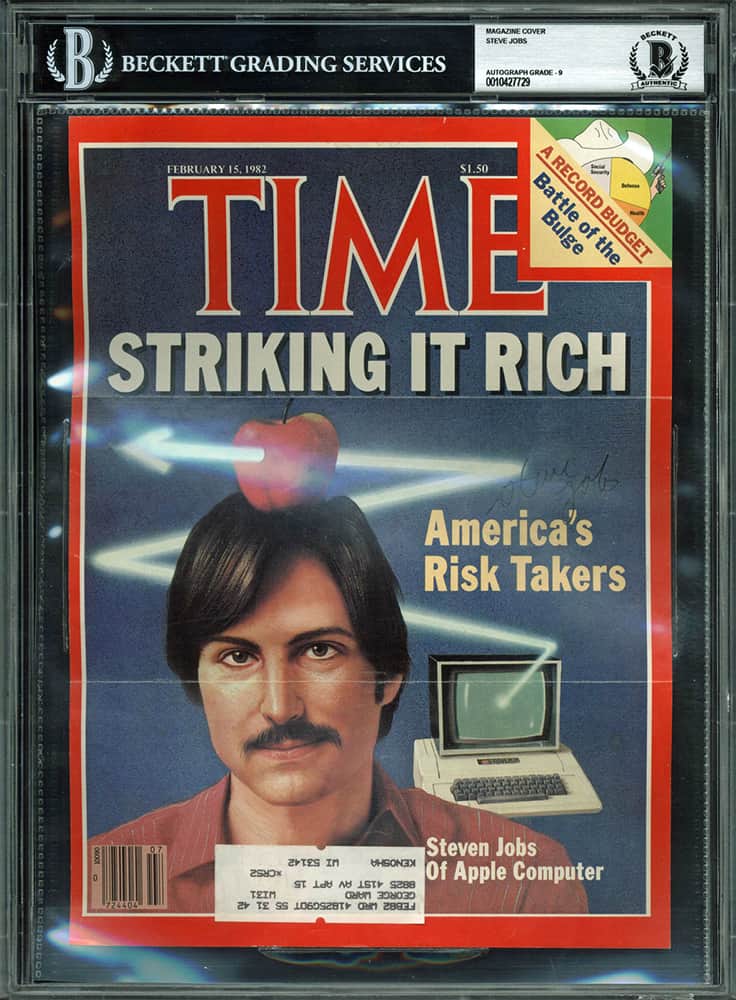 Steve Jobs autograph: The value of owning one
The quality of the signature may explain the $19,999.99 price, considering what some Jobs' autographs earned at past auctions.
An autographed Newsweek from 1988 featuring a bolder signature with the message "I love manufacturing," sold last year for $50,587. The provenance of this particular item provides an insight into the rarity of Jobs' autographs.
The original owner, a buyer for a software company, approached the mercurial Apple co-founder a the launch of the NeXT computer. "I don't do autographs," Jobs reported said. But the fan, Diane Williams, persisted and asked him to write something for the heart.
Through his professional life, Jobs was known to turn down the many requests he received for his signature. There is also a heavily viewed YouTube video of Jobs refusing a fan's request, though he eventually relented.
The most a Jobs' autograph has fetched was $1.6 million in 2015, though it was an Apple founding document, according to Nate D. Sanders Auctions. In March, a single-page job application Jobs filled out in 1973 sold at auction for $175,000.
The $20,000 may be the minimum mark on any Jobs autograph unless more begin to surface. Last week, the auction house fetched that figure for a canceled check Jobs filled out in 1988 to his then-girlfriend, Tina Redse.
"There aren't a lot of auction records because his autograph so seldom comes up for sale," the Nate D. Sanders Auctions website said, "which is good news if you happen to have a Steve Jobs' autograph."