The notch on the iPhone X is one of the most divisive design decisions Apple's made in years. Not everyone is a fan of the small black patch at the top of the iPhone X display, but it seems inevitable that Apple will bring Face ID to other products.
The folks at Curved created a bunch of concepts imaging what the soon-to-be-iconic iPhone X notch would look like on other Apple products. Some of the mock ups seem like their destined, while it looks down right wrong on the Apple Watch.
Check it out:
iPad Pro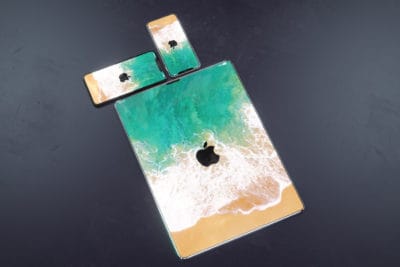 Face ID on the iPad Pro seems like a given at this point. Apple might even be able to add the tech to new iPad Pro models in 2018 if manufacturers are able to pump out more of the components that are notoriuosly hard to make.
Apple Watch
Adding Face ID to the Apple Watch would be cool, but the clock face would look downright weird. I'm not really sure it's very beneficial either. Apple Watch already uses your heart rate to verify you after you've unlocked it once with your pin.
MacBook
An edge-to-edge display on the MacBook lineup would be absolutely amazing. The notch at the top might not bw totally necesary though. Apple could put the Face ID sensors in other areas instead.
iMac
Too bad Apple can't change the design on the iMac Pro real quick in order to add Face ID. All that extra screen real estate would make the iMac a dream machine.