Jordan Ritter owes his success as a software architect and serial entrepreneur to ruthless time and task management. But still, there were times "digital chaos" was kicking his ass.
So leave it to Ritter, who made history with Napster, to kick back. His newest venture, Atlas Informatics, launched a software product he says will give every user a "photographs memory" of their digital lives.
Atlas Recall, which became available today for free open beta testing on Mac and iPhone, lets you search everything and anything you laid eyes on across your devices. It's a single search engine that works on as little as vague recollection, doing a single quick search of documents, web pages, texts, videos, emails, apps, anything that ever came across your screen.
Ever wish you had saved an article you read a while back because now, all of a sudden, the information is useful? Recall aims to solve that dilemma by tracking what you access without it ever having been stored.
Recall, works quietly while you do. It makes a record of everything you look at and encrypts the data for storage in a secure cloud. Your memory could be frayed and that fragment can be enough information for Atlas Recall to show its muscle in one try.
While most engines rely on keywords or search history, Atlas Recall moves fluidly across all platforms with something that casts a wider net – context
"We are not extracting anything from you," Ritter told Cult of Mac. "We are in the service of learning about you to help you, and you remain in control of your data at all times. We are entering an age of context. Google doesn't know context, it knows search history.
"This is a photographic memory for an entire digital life. If you've seen it, it can be searched."
Travis Murdock, marketing vice president for Atlas Informatics, gave Cult of Mac a recent demonstration of Recall. He used an example of having four minutes before having to conduct an interview of a candidate for an open position. He got the candidate's resume a few weeks back, but did not remember his name or anything else about him. All he knew is the finalist is scheduled for an interview at this moment.
He types in the name of the position and on screen appears a spiral picture of everything related to the opening, including emails, LinkedIn profiles, websites etc. He finds the name and enters the interview with the candidate's resume and other application materials on screen, his memory quickly and adequately jogged to begin the interview.
Once downloaded, a Recall search can begin in Safari or Google Chrome and run with preferred search tools, like Spotlight and Google Search.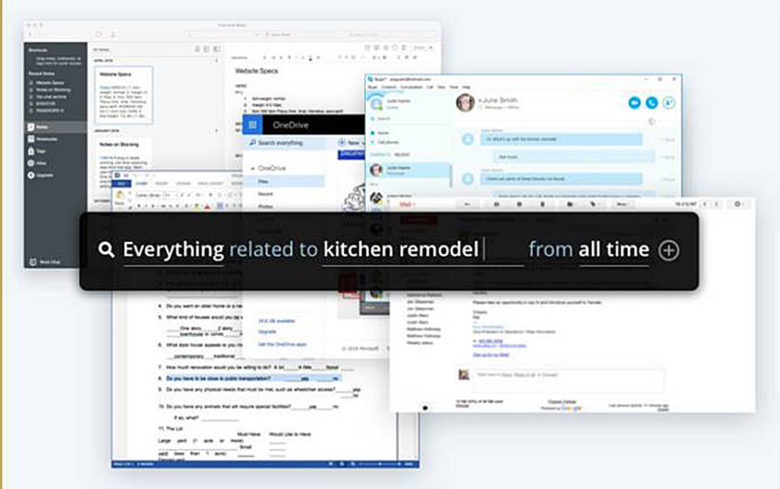 A user will have to complete a 15-item survey so that Recall can get to know your favorite digital resources before it has enough to try a search. Search by a keyword, date or content top and Atlas Recall will provide a snapshot of the previously glanced at content. There is a download button to instantly open the item from the secure cloud.
If you're away from your computer, you can use Atlas Recall on your iPhone and while, it may not be able to pull a file on your computer, it will at least tell you where it can be found.
While Ritter is confident in Atlas Recall's security, users have an option to block certain items from ever appearing in a search. You can set Recall not to capture specific files and URLs. Recall will not require log-in and password info from your various accounts.
Right now, Recall will be free for its beta testing and there is currently no set limit on the length of the system's memory. Once it comes out of testing, the company is expected to offer premium features that users can pay for.