Do you frequently find yourself repeating the same blocks of text in emails? Or maybe you send certain sets of data, contact information or links on a regular basis. Text snippet and clipboard apps are lifesavers for anyone that finds themselves doing this. Many of them can not only capture and save from the clipboard, but make your most frequently used selections available in just a swipe.
These are currently my favorites when it comes to clipboard and text snippet apps, and why I'd recommend them.
Copied
Wicked-fast iCloud sync, organized by list
I learned of Copied a while back and I've been using it ever since. Anyone that knows me is fully aware that I like order and consistency. My problem with a lot of clipboard apps is that I can't sort, organize and edit exactly the way I want. Copied solves this problem.
There are lots of things I like to save in snippets, including addresses and contact information I have to use, specific URLs I refer readers and friends to, and email templates I can just tweak and send on their way. Instead of having to weed through tons of snippets, Copied lets me lump them into groups.
I use those groups inside of the Copied app and also access them in the Today View of Notification Center. The interface is clean, easy to use, and adaptable.
If chaos isn't your thing, you'll appreciate how well Copied brings order to text snippets.
See also:
CLIP+
Affiliate links, Apple Watch snippet creation, and more
CLIP+ is an incredibly media-rich clipboard app that, in addition to letting you copy and manage plain text, also auto-detects the kind of media you are using and lets you know at a glance what those links or snippets contain. You can also get live image and GIF previews with CLIP+, which makes it a great choice for anyone who primarily uses snippets for sharing actual media opposed to plain text.
With the iPhone version of CLIP+, you'll also get an Apple Watch app that lets you custom-record snippets using dictation. Once you save it, the snippet will be available immediately on your iPhone or iPad.
Last but not least, CLIP+ lets you input your iTunes affiliate link in the app's settings. Whenever you copy an iTunes link to your clipboard, grap it from CLIP+ and it can auto-append your affiliate information with no additional work on your part.
CLIP+ may not be the prettiest clipboard app, but it's certainly one of the most versatile and feature-packed.
Clips
Quick keyboard access and Apple Watch support
Up until recently, Clips was my favorite text snippet and clipboard app for iOS. While Copied fills most of my needs more appropriately, I still use the keyboard support in Clips. Instead of completely taking over as a keyboard, Clips just shows you relevant snippets that you can quickly insert into a message, email or wherever else you'd like.
Unlike some of the other clipboard apps on this list, Clips does not support direct editing of text snippets you copy to your clipboard. This was something I wanted desperately and what got me with Copied. However, if you don't need this feature, Clips offers a well-done Today View widget, an easy way to view your snippets on Apple Watch, and access direct from the keyboard and in the share sheet.
If great keyboard access is a must-have for you, that feature alone makes Clips worth using in conjunction with another, more advanced, clipboard app.
TextExpander 3
True text expansion for iPhone and iPad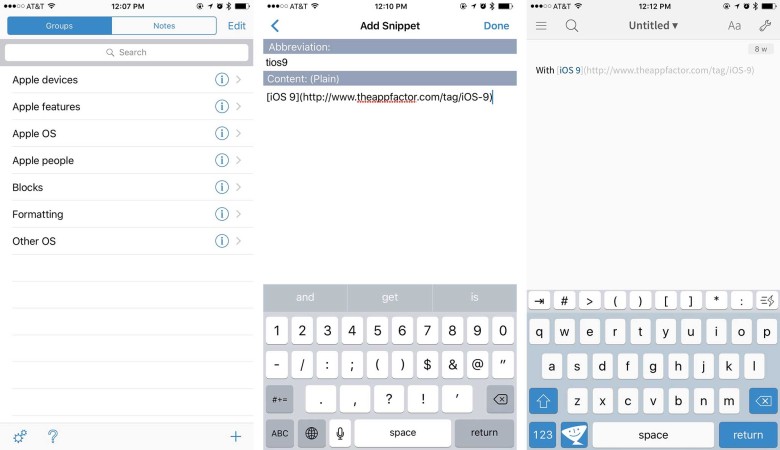 TextExpander is an app I could never live without on my Mac. I use it for snippets of code, common links when writing, and everything in between. I love having the same snippets available to me on iOS.
While I don't particularly care for full-time third-party keyboards, the TextExpander keyboard is the best way to have snippets literally at your fingertips. Just type the shortcut and TextExpander 3 will automatically expand the full text for you the same way it does in OS X.
Since TextExpander offers sync between devices, it's organization structure is a lot more advanced than most snippet apps for iOS, and it's probably the reason I've grown so fond of Copied. If you want lists and full text-expander power, there's nothing more powerful than TextExpander 3 with keyboard support.
See also:
This post was syndicated via The App Factor.