The flagship speaker from Sonos has been revamped, redesigned and relaunched. The result is awesome.
The new Play:5 is a big, beefy speaker that sounds absolutely wonderful. It's available in stores today, and although it's not cheap, I'd recommend you go out and get one. Or two. Stereo is even better.
This post contains affiliate links. Cult of Mac may earn a commission when you use our links to buy items. Read our reviews policy.
Sonos is a truly modern music system. It's a multi-speaker, multi-room system that beams tunes wirelessly from a wide range of online sources, from an iTunes library to Spotify, Pandora, TuneIn or Tidal, plus dozens of others. It's dead-easy to set up and use. There are no wires.
I've been a huge Sonos fan for yonks. Our house is rigged with several Sonos speakers that we've acquired over the years. There's still something amazing and magical about having music play throughout the house as you wander from room to room.
The new Play:5
Now, for the first time in years, Sonos has upgraded its top-of-the-line speaker: the Play:5.
The previous Play:5 was OK for most rooms, but wasn't quite big enough to stand alone. It was always best when paired with another Play:5 to create a stereo pair.
The new Play:5 is a bigger, beefier version that has more than two times the acoustic horsepower of the original. For the first time, it's an army of one.
The hardware
The Play:5 boasts six speakers packed into a surprisingly big and heavy enclosure.
Weighing 14 pounds, the Play:5 packs three mid-woofers and three tweeters. Each of the six drivers has its own amplifier. Two of the tweeters are aimed off to the side to create a wider soundstage. The Play:5 is made of matte polycarbonate and comes in either black or white, with a dense black grill. I've been testing the white, and it's a handsome box. It looks great on a tabletop or next to the TV. It's solid and well-made.
There are no control buttons. The physical controls have been replaced with a capacitive strip on top that detects finger taps and swipes. Tap to play/pause; or to raise or lower the volume. Songs are skipped or replayed with a sideways swipe. It's easy and intuitive.
At the back, there's a 1/8-inch line-in jack — which I've been using with an old iPod Touch — and an ethernet port.
The speaker has an orientation sensor to tell whether it's lying on its side or has been placed on its end. This changes the orientation of the controls, and also tunes the internal speakers. If the Play:5 is placed on its side, the two side tweeters play at full power to create a wide soundstage. If the speaker's placed on its end, the software turns down the side drivers to create a more centralized "sweet spot," which is better-suited to using them in a stereo pair.
There's a great and subtle design touch. Because the Sonos logo is a palindrome, it reads the same no matter which orientation the speaker's in — horizontal or vertical.
Setup and Trueplay
Sonos has simplified the setup of its speakers over the years, and it's now a question of simply pressing a single button on the back. The Play:5 quickly connects to the Sonos App running on a phone, computer or tablet (Mac or PC, iOS or Android).
After connecting, you're invited to tune the speaker to the room it's in using new tuning software called Trueplay.
Trueplay tweaks the speaker precisely to the room. It sends out waves of special tones to see how sound reflects off the walls and furniture in the room. It uses the iPhone's microphone to listen to the room's acoustics and how it affects the speaker's positioning. It'll then modify the speaker output to best suit its surroundings.
Tuning the speaker involves wandering around the room while waving the iPhone up and down in the air while strange sounds play. It takes a few moments.
Personally, it had minimal effect. I tuned three different rooms (it works with older Play speakers, too) and in each case it reported that the speakers were already in optimal spots and tuning was minimal.
I've read reports that in some cases it makes a radical difference, and not always for the better. Sometimes it wipes out the bass. I've also seen advice that it's best to ignore Sonos' instructions to wander all around the room, instead staying put in the spot where you do most of your listening and tune it to that location.
So how does it sound?
One word: awesome!
The Play:5 is louder, clearer and better balanced than anything I've heard recently. It sounds great. That's the best word for it — "great."
Granted, I'm not much of an audiophile. I love music, but I never sit and concentrate on the individual instruments or the soundstage. If it's loud and clear, I'm happy.
The Play:5 puts out big, muscular, room-filling sound. It's clear and balanced and punchy at the low end. In general, it stays loud and clear all the way up the dial, distorting just a little at the top (depending on the music, of course).
It's actually uncomfortable to crank the Play:5 to the max — our house is too small.
Below 11, it sounds wonderful. Even at low volumes, the Play:5 sounds muscular. It has impressive bass for a single, stand-alone box with no air port to blow to low-frequency sound.
I haven't seen any official specs, but reports says the Play:5 goes as low as 25Hz, which is impressively low. In the press kit Sonos provided, the company recommended playing A$AP Rocky's song "L$D" to feel the bass. It cracked a giant grin across my face as everything in the room rumbled. I could feel it in my chest cavity.
Like all of Sonos' speakers, the Play:5 is easily paired with another Play:5 but unfortunately I haven't had a chance to test it out. I can only imagine what a glorious bubble of sound two of them would create.
The only down side? The software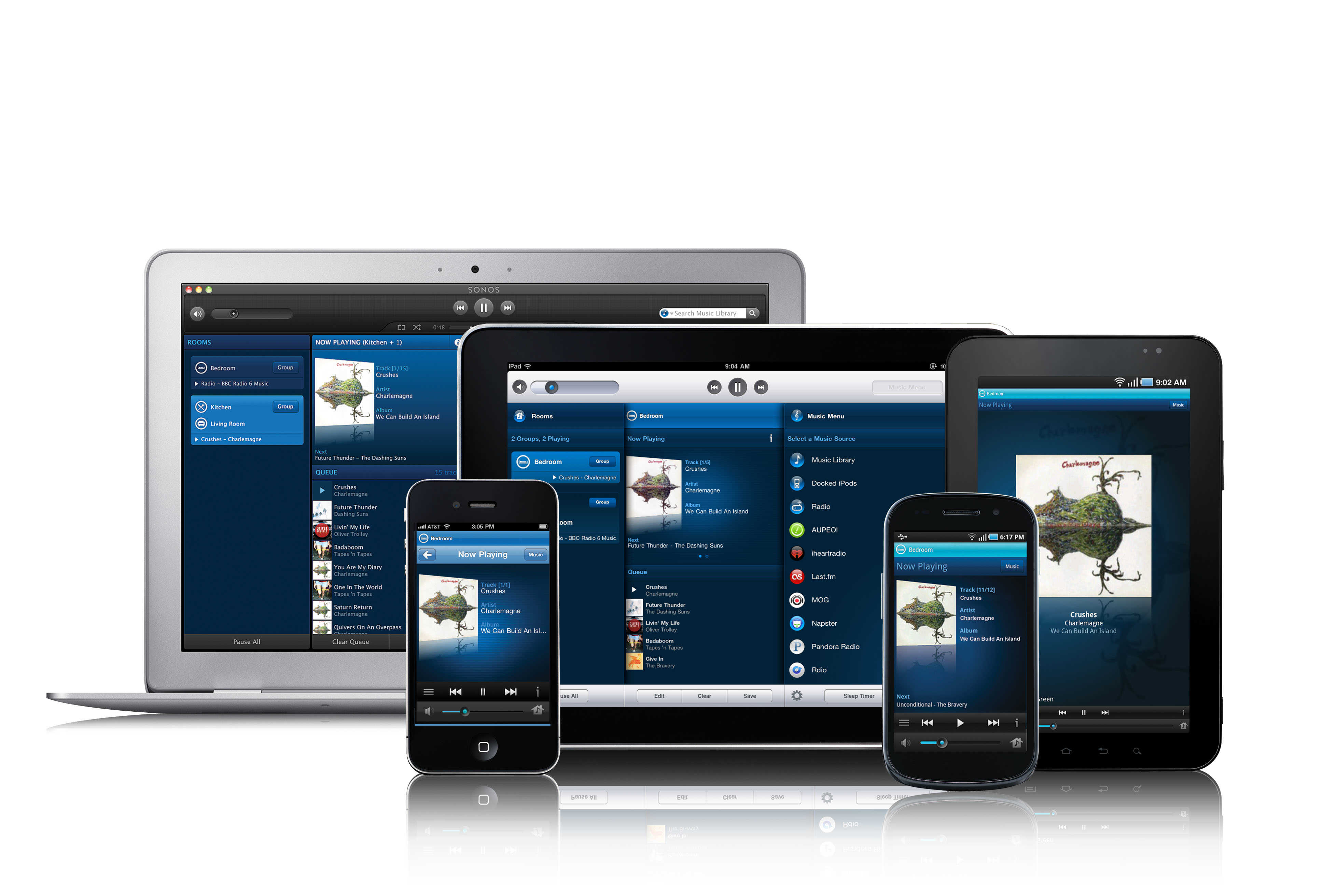 The weakness of the Sonos system is the software. Sonos' Controller app was groundbreaking and innovative when it debuted. The app still does a decent job of integrating a wide range of disparate services, but managing playback is awkward.
Unfortunately Sonos' app hasn't kept pace with streaming services like Spotify or even Apple Music. It pales against Spotify's app, which has a ton of great and easy-to-use features, especially for surfacing stuff you've never heard before.
By comparison, the Sonos app is simplistic and clumsy. Search is still by single keyword, and can't be refined for more complex queries, like looking for a particular track by a particular artist.
The app is adequate for controlling the hardware. Adjusting the volume's easy enough, as is creating zones by adding speakers in different rooms or turning them off.
But for playback, it'd be much better to control the music through the different services' individual apps. I'd rather use Apple's Music app, or Spotify's or Pandora's, but I don't see that happening.
The wrap
The Play:5 is easily the best speaker Sonos has made, and it blows away every other connected smart speaker I've used.
If you have the cash, I absolutely recommend it. If you have an older Play:5, it's also worth the upgrade, and you can pair the two.
Hey, it's the holidays! The Play:5 makes a great gift. It's $499 on Amazon.