I've started cheating on my Apple Watch. It's not that I don't love it. It's amazingly beautiful. It does stuff I didn't even know I'd like. But when it comes to running wild in the outdoors, I've found a smartwatch that satisfies me more than Jony Ive's wearable does.
For the past week I've been testing the Garmin Fenix 3, a top-of-the-line smartwatch from a company that's made a name for itself by providing runners and outdoorsmen with some of the best wrist-worn fitness tech. I hate wearing the Fenix 3. While Apple Watch gently caresses my wrist, the Fenix 3 feels like I've strapped a tank to it. Yet it boasts features Apple Watch doesn't have that I'm starting to think I can't live without on runs and hikes.
I don't plan to completely break up with the Apple Watch anytime soon, but I'm ditching it during my four-day trek through the Grand Canyon this weekend because there are still a couple things it needs to learn before it can truly be the best all-around fitness tracker.
Get GPS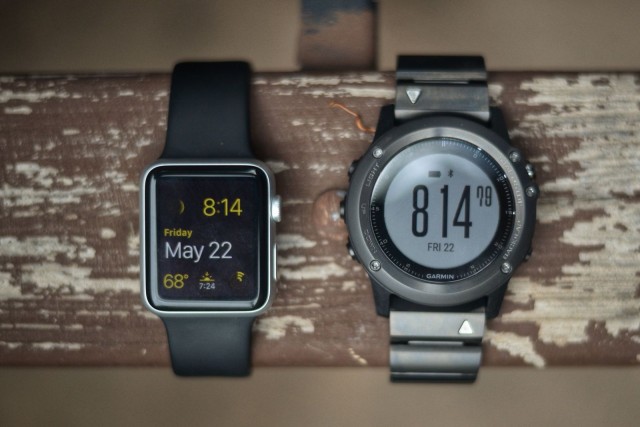 Even though the Fenix 3 isn't as sexy as Apple Watch, it's become my go-to smartwatch on long hikes simply because it has GPS. It can also connect to GLONASS (the Russian GPS equivalent) for faster and more precise tracking.
The lack of GPS has been one of the biggest complaints levied against Apple Watch since the wearable's unveiling last year. You can pair it to your iPhone and use its GPS, which isn't much of a bother on a 45-minute jog around the city, but if you're heading into the wilderness for a two-day trek, it's pretty much worthless.
To get around the lack of GPS, Apple Watch can guesstimate by calculating the average distance of your stride from previous GPS-assisted runs. This workaround works pretty well, but on a hike I also need to know exactly where I'm at on a map, in places where LTE signals are as rare as water in the desert.
There are other sensors I'd love for Apple Watch to add — barometer, altimeter or a sweat sensor. But GPS is a crucial addition if fitness freaks, ultra-marathoners and outdoorsmen are going to flock to Apple's smartwatch en masse.
Make exercise social
Apple Watch has made me be more active thanks to the gamification of fitness. Not seeing all three of my Activity circles completed by the end of the day makes me feel like a lazy blob of lard. The only problem is, I'm the only one who sees my achievements because I can't humblebrag on Twitter every time I finish a jog.
Let's be honest: Part of the appeal of owning Apple products is that all your friends own one too. I can send other Apple Watch owners special messages with new emojis and crappy sketches, but there's no way to connect with other Apple Watch wearers about fitness goals I've set or met, and that's a missed opportunity.
I'm a vainglorious bastard, and 90 percent of the reason why I run, hike and work out is because I've got friends who do the same. Seeing how often friends are running and cycling is one of the biggest motivators to get me pounding the asphalt. The only problem is, no one uses the same app. My wife uses Nike+, while I use Strava (because a couple of my friends do). Some of my other friends are on MapMyRun or RunKeeper.
Almost all of the exercise apps on the iPhone provide the same features with slightly different interfaces. Instantly connecting with other Apple Watch friends and being able to share workout summaries would be a killer feature for fitness freaks.
Apple's Workout app has a leg up on others like Nike+ and Strava because it's the only one with access to display data on the watch's face. If you want to view your pace, distance or heart rate on third-party apps, you must raise the watch, press the Digital Crown, tap the third-party apps' little icon and wait for it to update before you can read the measurements. All while struggling to breathe and maintain your tempo.
Maybe Apple should just buy Strava and bring all its features, like location-based leaderboards, to the Exercise and Activity apps. If they don't want to do that, at least let us share workout summaries with other apps.
Turn on the pulse oximeter
Apple didn't tell anyone, but its heart rate monitor is actually a plethysmograph that acts like a pulse oximeter. The tech is there for Apple Watch to measure blood oxygen levels. Why Apple hasn't turned it on yet isn't clear, but it probably has something to do with Food and Drug Administration regulations.
The heart rate sensor has been tested to be almost as accurate as electrocardiogram machines used in hospitals and doctor's offices. FDA approval is required just to show that information on the wrist or to offer medical guidance, which might be one of the reasons why there's not an option to view your average BPM throughout the day.
Switching on this feature with a software update would give Apple Watch fitness tracking a boost.
Support attachments for boost functionality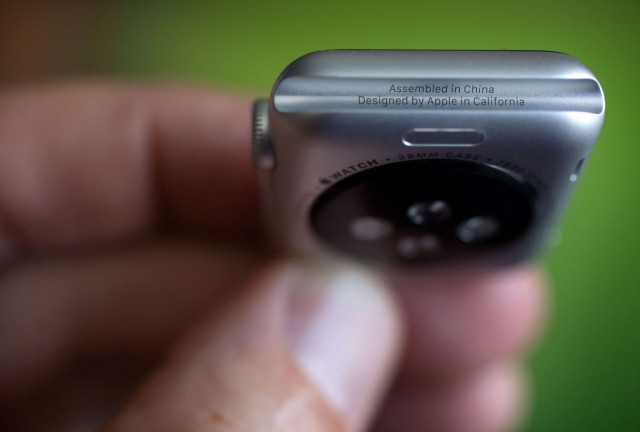 We've known for months that Apple Watch has a hidden port in its lower band groove. We don't know what Apple plans to do with the port, even though some guys discovered you can use it for charging. Whether Apple will actually let third parties go through with plans to build battery-pack bracelets remains to be seen.
Hopefully, Apple's engineers will open up the port once they figure out the safest way to do so without compromising the original experience. Accessory makers could do even more than adding extra batteries so you only have to charge the watch every three days: Extra sensors could solve the watch's lack of GPS or add new vital metrics like blood pressure and blood glucose without forcing customers to upgrade to a new model.
Even though the Garmin Fenix 3 is gigantic compared to Apple Watch, it was designed with a full admission that you can't do everything from the wrist. It's just not practical to strap 2 pounds of extra batteries and sensors to your wrist. To solve this problem, Garmin opened the Fenix's port to accessories so you can strap the watch to your bike and wire it to a bigger battery.
The future of Apple Watch could be so much bigger than the wrist. Yes, it's a timepiece, but it's also a tiny touchscreen computer with a bunch of sensors. You can put it almost anywhere.
Add the Health app
The foundation for some of Apple Watch's fitness features was laid when the company introduced the Health app alongside HealthKit last year. For some reason, though, the company didn't include a Health app with the Apple Watch.
You can measure your heart rate on the Apple Watch, but you can't view your average beats per minute or how much that number has fluctuated over the last few hours. You must open up your iPhone to get that info.
Apple Watch was supposed to make this easier. The Activity app is useful for getting a general outlook about your daily movement divided into three categories: calories burned, minutes of exercise and standing. I find the exercise and calories burned to be the most useful info, but I'd like it more if I could get a quick look at data points I'm tracking in the Health app, too.
Allow sleep tracking
The biggest surprise about the Apple Watch the past four weeks is how long the battery lasts. I usually end up with around 40 percent battery at the end of the day. Instead of charging the watch overnight, I usually wear it in bed. It's pretty nifty to have a clock on my wrist that tells me how much time I have left to sleep rather than frantically fumbling through the sheets, under the pillow, over the side of the bed and around the corner in search of my precious iPhone.
Pretty much every basic fitness tracker offers sleep tracking. Even the giant, metallic Fenix 3 — and I don't think anyone wants to spend a night between the sheets with it. My guess is that Apple left out sleep tracking on Watch OS 1.0 out of fears that it'd eat up battery life, and people would complain. Most people charge their watch overnight, but I've found it's not inconvenient to just throw it on the charger for an hour or two after I wake up.
Apple already supports sleep tracking data in the Health app. There aren't any hardware limitations preventing sleep tracking either, so it's likely that Apple is working on adding the feature in a future update, along with support for other vital metrics.
Conclusion
What's amazing about Apple Watch is that, despite its flaws, it's the watch you want to wear more than any other, mostly because it does a little of everything so damn well. It's not a perfect fitness device but it can send messages, pay for groceries, help me take selfies, control my music and give me turn-by-turn walking directions to the nearest bar.
Still, I'm ditching Apple Watch for my next adventure. I just can't wait till I get back home to put it on again.