Have you ever had an Apple product bite the dust only a few months after its warranty or AppleCare expired? Out-of-warranty repair costs can easily soar into the hundreds of dollars for Apple products, but if you purchased your Mac using a credit card that offers extended-warranty protection, you might be able to get that money back.
Many credit cards offer purchase-protection and extended warranties, which are usually included as a free benefit for qualifying purchases made using the card. I recently had a MacBook Air die. It was over three years old, so it was no longer covered by Apple's One-Year Limited Warranty or AppleCare. Fortunately, I purchased it using an American Express credit card and, therefore, AMEX's extended-warranty program gave me extra coverage.
Read on to learn how Apple repaired my broken MacBook Air and AMEX reimbursed the cost — saving me nearly $300.
Extended-warranty programs are an underutilized and often misunderstood benefit of purchasing products with a credit card. Many cards offer extended warranties as one of numerous benefits to using their products (e.g., purchase protection, return protection, etc.). All major credit card companies offer them, including American Express, VISA, MasterCard and Discover.
To benefit, all you typically need to do is use the card to purchase the item and follow your credit card company's own claim-submittal process.
Unfortunately, card owners fail to take advantage of these benefits for one of two reasons: lack of awareness or laziness. If you are unsure about whether your card offers extended-warranty protection or how to submit a claim, contact your credit card provider. Most of the information you need will be found on your card's website. 
How it worked with American Express
With my out-of-warranty MacBook Air repair, I found American Express' claims process to be quick, easy and well worth the time.
Insofar as AMEX's extended-warranty program and Apple products are concerned, you stand to benefit in two big ways. First, it effectively doubles Apple's one-year warranty — extending repair coverage from one year to two. Second, if you purchase AppleCare or AppleCare+ (collectively "AppleCare"), AMEX's program extends coverage under those plans by one year.
It's very important to note here that the extension beyond the expiration of a service plan applies only where the item's original manufacturer offers the service plan — third-party extended-warranty plans need not apply. In this case, AppleCare is Apple's own service plan and, therefore, AMEX's extended-warranty program covers you up to one year after AppleCare expires. This is one of the many reasons I recommend AppleCare over third-party warranty plans.
The coverage trifecta of Apple's One-Year Limited Warranty plus AppleCare plus AMEX's extended-warranty program gives you up to four years of warranty coverage, which is very good. The only difference is that instead of simply having Apple repair your Mac you must pay for repairs up front and then await reimbursement.
AMEX's claims process can be summarized in four general steps:
Diagnose and confirm the problem.
Initiate claims process after repair.
Obtain necessary documentation and provide it to AMEX
Resolve issues, if any, and wait for AMEX to issue the credit.
All in all it should take you a month or less.
Step 1: Verify that repair is needed
The first step is to confirm that your Apple product is, in fact, in need of repair. I performed all the usual diagnostics, including resetting the System Management Controller and performing a few other oddball remedies suggested on Apple's forums by users experiencing the same symptoms. Unfortunately, I was unable to resurrect the MacBook Air.
At this point, I recommend avoiding calling Apple because you will be charged $29 under the AppleCare Pay-Per-Incident Support plan just for the pleasure of speaking with a live person, who will undoubtedly tell you to bring your Mac in for repair. If you contact Apple and pay the $29 for support, be sure to include evidence of that charge in the documentation you provide to AMEX, since it should be reimbursable as a diagnostic fee.
Step 2: File a claim with American Express
Convinced that my MacBook Air needed repair, I began the AMEX claims process. AMEX has an online claim-submittal form that is very easy to follow.
You will be required to input information including: date of loss, contact and item information (manufacturer, model number, serial number, purchase date, purchase price), length of warranty, length of manufacturer extended warranty program (if any), and information about the circumstances leading to the loss.
Have all this information ready so you can fill out the form as completely and accurately as possible. Incorrect entries can delay the process significantly or lead to denial of your claim. Once submitted, print out and save the confirmation for your records.
You can expect to receive email responses from AMEX within two business days.
I received two emails from AMEX: The first asked me to fax two things: an itemized store receipt and a repair estimate from the original manufacturer. I had long since lost the physical Apple Store receipt, so I contacted AMEX and was told to simply ask Apple to indicate ownership verification on the forms they filled out.
A second email including a PDF repair estimate form arrived the day after the first email. I printed out the repair estimate form and scheduled a Genius Bar appointment at the local Apple Store.
When scheduling the appointment online, I included a brief description of the visit's purpose, which the Genius said was helpful in speeding up the transaction.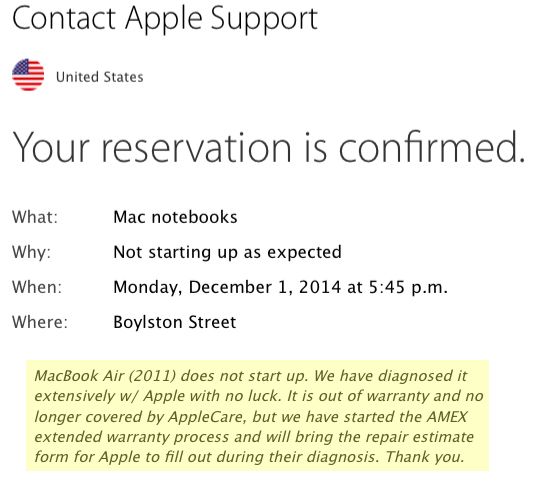 Upon arrival, the Genius took the MacBook Air back for inspection and returned after about 10 minutes to confirm that it was, in fact, in need of repair and that there were no signs of damage, misuse, etc.
I filled out all of Apple's paperwork and also requested that the Genius fill out the equivalent of the AMEX repair estimate form. The forms were largely duplicative, but we filled out both and provided both to AMEX. At my request, the Genius added the ownership-verification note to the work-authorization form.
I left the MacBook Air with Apple and told them to proceed, then received the repaired computer four days later. The repair documentation indicated Apple had replaced the logic board as well as several other components. All that remained was to get reimbursed by AMEX.
Step 3: Send documentation to American Express
Now it's time to send your documentation to AMEX. Unfortunately, it seems fax or traditional mail are your only options here. Be sure to include all the documentation AMEX requested.
If you had AppleCare coverage and your claim arose in the year following its expiration, you will also need to include evidence of AppleCare coverage. In my case, I did not initially include this and received a denial notification 10 days after faxing my documents to AMEX. Lesson learned: Even though AMEX didn't specifically request the certificate, I was required to provide it.
Step 4: Resolve any problems
The final step is to resolve issues, if any, and wait for reimbursement. Don't be discouraged if AMEX initially denies your claim. Assuming you're entitled to reimbursement, you should be able to sort it out with AMEX.
To take care of my problem, I simply called AMEX, confirmed the issue and faxed the AppleCare Protection Plan Certificate. I asked that they expedite the process if possible, which the representative agreed to note on my claim. Two days later I received an email indicating AMEX had reversed its denial. Claim payout: $280, which I received a few days later as a credit to my AMEX account.
The entire AMEX extended-warranty process — claim submittal to reimbursement — took less than a month, and I had the MacBook Air repaired and back in service much sooner than that.
While the extra steps and time involved makes credit card extended-warranty programs less convenient than service under Apple's One-Year Limited Warranty or AppleCare, it's worth taking the time because the savings can be substantial.