Apple scooped up a couple architectural awards this week for the stunning engineering behind its magnificent Glass Lantern store at the Zorlu Center in Istanbul Turkey.  The judges said it 'takes structural glass technology to a new dimension', and even though we've never been inside the Zorlu store it's not hard to see why it's getting showered with awards after looking at these pictures.
The Zorlu Store is the first Apple Store created by the same architectural firm behind the new spaceship campus in Cupertino, and it looks like the same amount of attention to detail and minimalist thought that goes into the creation of an iPhone was also poured into the new award-winning Apple temple.
Take a tour of the exquisite store below:
Foster + Partners was commissioned to design and build the Apple Store at the Zorlu Center in Istanbul. The firm is also behind Apple's spaceship campus that's expected to be completed in 2016.
Along with the gorgeous glass sky box, the Zorlu store features an incredible staircase made of singular glass planks anchored into the wall. You can see a cutaway view of the staircase from the mall corridor.
Shoppers get blasted with natural light while browsing Apple's latest wares, and you can see out to the different skyscrapers from the ground
The side view of the glass staircase designed by Norman Foster's firm. Norman + Partners took over the design of all Apple Stores last year.
A shallow pool surrounds the glass box which was made out of four piece of glass seamlessly joined together with structural silicone. Shoppers in the main plaza of the shopping center can look down into the Apple Store to check out the action.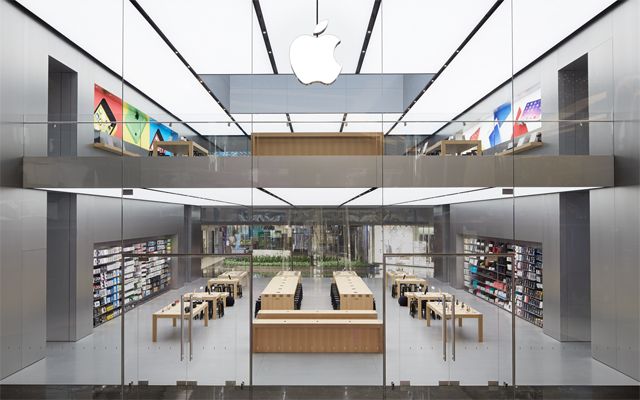 This is the view of the two-story underground store shoppers see when entering from the Zorlu Center. The 18-square-meter void the store sits in was originally intended as a descending water feature.