A Twitter account claiming to be run by superstar Apple exec Craig Federighi has been tweeting and retweeting as if it's run by Hair Force One himself during WWDC. It has amassed more than 14,000 followers in less than two weeks and looks legit at first glance, but don't be fooled.
We're pretty sure it's a fake — and we've seen an email that appears to confirm our suspicions.
Federighi, who is in charge of all Apple software, is the funniest and most charismatic public speaker on Cupertino's executive team. His wisecracks during the WWDC keynote Monday included a riff on "OS X Weed" and a jab about Jony Ive's "diamond-cut, chamfered-edged aluminium spoon." So the casual, enthusiastic tone of the tweets coming from @craig_apple sound believable enough.
The first one came May 26:
Good morning! Only a week left until WWDC 2014! #wwdc2014 pic.twitter.com/AdoKyug2mk

— Craig Federighi (@craig_apple) May 26, 2014
Not too shady, but then there were these tweets leading up to WWDC:
Some of the rumors I'm hearing about upcoming releases are actually quite correct. #apple — Craig Federighi (@craig_apple) May 27, 2014
If anything serious leaks, don't blame it on me. #appleleaks

— Craig Federighi (@craig_apple) May 28, 2014
OS X. #wwdc2014 #osx pic.twitter.com/Z2Em0sV03C — Craig Federighi (@craig_apple) May 29, 2014
To those who are wondering, this is not quite Myriad. #ios8 #wwdc2014 pic.twitter.com/MyB0dw38B0

— Craig Federighi (@craig_apple) May 30, 2014
No Apple exec, even one as loose as Federighi, would tweet stuff like that.
Most of the account's recent activity has been retweets. App Store developers have been taking selfies with Federighi all week at WWDC in San Francisco and, thinking it's him, have been mentioning the account.
Our ambassador @emreberge just meet up with @craig_apple at #wwdc14, can you see the resemblance? pic.twitter.com/hj2ajwqws5 — Bontouch AB (@bontouch) June 3, 2014
With the amazing and unique @craig_apple at #WWDC2014. Thanks for the photo Craig! pic.twitter.com/receljeWOM

— Cy (@BenderCy) June 4, 2014
Line to take a photo with @craig_apple, I like this new Apple! pic.twitter.com/OHdEVjj6aC — Giovanni Donelli (@gdonelli) June 5, 2014
A line formed at #wwdc to take a photo with @craig_apple pic.twitter.com/BnsMpZH505

— Alex Ford (@alexford) June 5, 2014
Whoever set up the account tried to make it look as real as possible, following the official Apple accounts you would expect.
What's most telling about it being inauthentic is something that can't be faked: It doesn't sport the blue check mark that indicates a verified Twitter account. Not one of the other Apple execs who have been verified by Twitter follow the account either, including Tim Cook, Angela Ahrendts, Phil Schiller and Eddy Cue.
That didn't stop big networks like CNBC from believing the account is real.
Cook: now welcomes @craig_apple onstage — Josh Lipton (@CNBCJosh) June 2, 2014
Apple says @Craig_Apple does belong to Craig Federighi, the company's senior vice president of Software Engineering. (via @CNBCJosh) $AAPL

— CNBC Social Team (@CNBCSocial) June 2, 2014
(Update: CNBC has since tweeted a correction: "Apple now confirms that @Craig_Apple does not in fact belong to Craig Federighi.")
An email from the Federighi
A Cult of Mac reader emailed Federighi himself to set the record straight, and he actually got a response.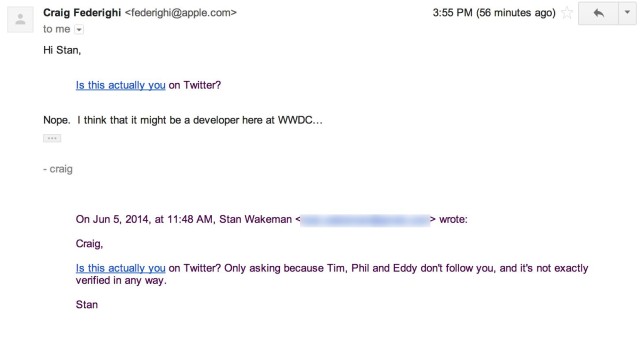 Verified email headers confirm that the reply is from Federighi. We've reached out to Federighi and to Apple PR for comment but have not yet received a reply.
Federighi is the most electrifying personality at Apple right now, and he should be on Twitter officially. Some headlines called him the new Steve Jobs after Monday's keynote, which is a bit of a stretch. But the praise speaks to his talents as a presenter.
Come on, Craig. You're a rock star. We need you in the Twitter world.
And, just so you know, @hairforceone is already taken.