If you upgraded your old iPad for an iPad Air late last year, you probably did so for several reasons — but I'll bet one of the biggest was its new form factor, which is substantially thinner and lighter than any of its predecessors. The last thing you want to do with it, then, is slap a big chunky case on it that makes it even bigger than the iPad you owned before it.
Gauntlet by Thule
Category: Case
Works With: iPad Air
Price: $54
Thule took that into consideration when designing its new Gauntlet folio case for the iPad Air. Although its main focus is clearly on protection, so the case is tough and robust and ready to absorb any impact, it's also surprisingly light, and much thinner than you'd expect a case of this ilk to be.
It's also practical, with rubber grips that provide a built-in stand for typing or watching movies, and a "stability clip" that keeps its front cover securely closed when your iPad's not in use. There's a soft interior lining that prevents scratching, and the Gauntlet provides easy access to all of your iPad's buttons and ports.
The Good
Somehow, the Gauntlet manages to be wonderfully thin and light, and yet still as protective as you'll need it for most of your daily activities.
Its polyurethane covers with bordered edges will prevent your iPad from smashing to pieces when you drop it on the floor or throw it around inside your bag, and its soft interior lining will ensure that your iPad's display isn't scratched when you're transporting it around.
There's also a "stability clip" on the edge of the front cover that clings onto the side of your iPad when the case is closed. It ensures the front cover doesn't pop open when you don't want it to and mostly prevents anything from getting inside the case.
The Gauntlet measures just 1.5cm thick, which makes it just a hair thicker than a fourth-generation iPad with a Smart Cover. That's mostly thanks to Apple's efforts to make the iPad Air so thin, of course, but you also have to commend Thule for making a case this protective so thin.
It weighs just 0.28kg, too. You'll notice the additional weight if you really try to, but it's never going to be a problem for you.
When you open up the Gauntlet, you can lift your iPad out of the middle clip on the left side of the case to stand it up. The other two clips have sticky feet that sit on top of the front cover, meaning you can prop up your iPad at just about any angle that suits what you're doing. It's ideal for watching movies or typing with a wireless keyboard.
The Bad
You can also rest your iPad against that stability clip on the case's front cover to create a typing stand, however, I found the angle to be a little too steep. After a short while, typing on the iPad's display became too uncomfortable for my wrists.
I'm also a little disappointed that the Gauntlet doesn't have magnets embedded in its front cover to take advantage of the iPad's automatic sleep/wake function. I've come to rely on this now, and I really miss it when it's not there.
Maybe Thule did this to make the Gauntlet as thin as it is, but I'd have sacrificed another couple of millimeters for built-in magnets. Especially since the case makes the iPad's sleep/wake button a little difficult to get to.
Due to the clip that sits around the iPad's top edge, and the overlapping covers, you have really get your finger right inside the case to get to the button on the top of your device. It's a little easier to access with the case open — so you'll want to make sure you put your iPad to sleep before you close it — but it's still not as easy to get to as I'd like.
The Verdict
While there's certainly room for improvement, Thule's first iPad Air case is an impressive one. It's plenty protective enough for most iPad users, and it won't make your device too big and too heavy to carry around all day. It's also not at all bad looking.
I would have liked to see built-in magnets — especially for a case that costs $54. But if that's not a deal-breaker for you, then the Gauntlet is most definitely worth checking out.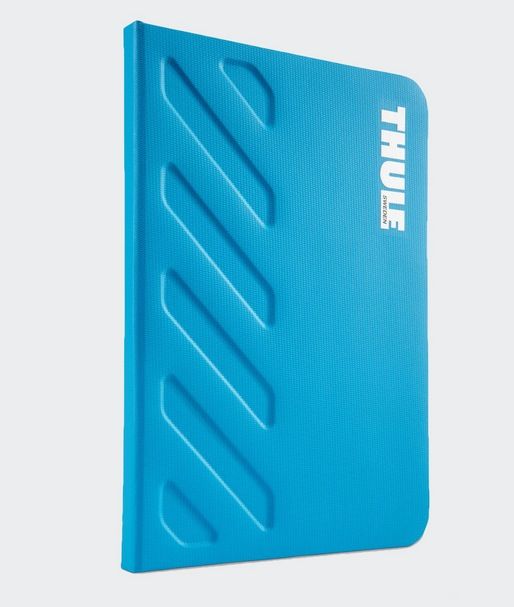 Product Name: Gauntlet
The Good: Protective; good-looking; slim and light.
The Bad: No built-in magnets; not great for typing.
The Verdict: Very nice iPad Air case, but there's room for improvement.
Buy from: MyBanana

[rating=good]