Surprise: These cans aren't quite the flashy, youthful boombasts their outward appearance suggest (yes, that's a good thing). And, surprise: There's much more here than simply a nod at the term "active noise cancellation."
SMS, which is helmed by Rapper 50 Cent, jumped into the headphone game just shy of three years ago. At that time the lion's share of attention was directed toward their wireless Sync cans, which stream music via the somewhat uncommon Kleer technology. But that doesn't mean the rest of SMS's broad, diverse lineup should be ignored, and that assertion is well-supported by the performance — and, yes, dash of flash – of the wired, active noise-canceling Street by 50 ANC headphones.
This post contains affiliate links. Cult of Mac may earn a commission when you use our links to buy items.
The Good
Man, are these guys comfy. Thanks to memory-foam earpads, lightweight construction and a wide headband that exerted little pressure, sessions we're among the least-painful of any set I've tested. The round cups we're just about the right size for my ears too.
The biggest surprise was in how the Street by 50 ANC sounded. I expected something more bass-heavy, with an emphasized high-and and a muted middle. But that's not what happened. Instead, the whole tonal range was much more balanced, with a wide soundstage that allowed everything to blend sweetly. Bass was very good — deep and detailed, without being overboosted, and highs were clean and clear, if not quite crystal. The mids were still restrained, but not to the point where they sounded squashed. The overall effect was a pleasant listening experience without a whiff of harshness or real blemish. Of course, that's with the ANC flipped on. While the cans do work with the ANC off, the sound isn't as good: it's boomier, and looses the crisp highs and nuanced bass.
Luckily, you'll want to use the set with the active noise-canceling light lit up all the time anyway. Punch the button and low-frequency rumbling is significantly muted, letting the Street by 50 ANC's nuanced bass through. The set's ANC is very good, and perhaps almost as good as that of ANC models like Audio-Technica's ATH-ANC9 — but without the feeling of pressure on the ears users sometimes experience with ANC technology. The only downside is a characteristic hiss present with most ANC 'phones with the ANC turned on; but it's noticeable only with the volume really low or through very quiet passages, and no worse than with most other ANC sets.
The set's construction brimmed with quality: great-looking exterior finish, colored stitching on the headband padding, and a nice feel to moving parts, like the hinges. In fact, about the only surface ding to their apparent quality is that they feel too light — which ends up being an illusion, as the headband is all kinds of bendy and seems to be able to take a good deal of abuse without breaking a sweat, or anything else. The 'phones just looked, and felt, fantastic, and they seem to strike a good balance between flash and taste.
As seems to be the growing trend with noise-canceling 'phones, the Street by 50 ANC are powered by a lithium-ion battery — which could be a plus or minus, depending on whether you like fiddling with batteries, or whether the cans run out of juice every 15 minutes. In this case, battery longevity was very good, and never had me worried. I went for weeks of moderate-to-heavy use before having to charge up the lithium battery with the supplied micro-USB cable.
Portability is good, thanks to the lightweight construction mentioned earlier and the fact that the Street by 50 ANC seem to fold up more tightly than most other sets. The semi-hard case is well designed too, without any extraneous nonsense (although the inside accessory flap made my eyebrows dance a little). The single-button control allows for track play/pause/skip and answering calls, and the embedded microphone works fairly well.
The Bad
The Street by 50 ANC tends toward the quiet side, volume-wise. This isn't necessarily a bad thing, and the set's noise-canceling mostly negates the need for redline-tripping volume anyway; just be aware that those seeking — LOUD CANS!! — won't find them here.
The earpads on the white ones I tested almost seemed to pull smudges out of the air; I'm pretty sure they were marred on day one. Of course, that's the price for white. Messier listeners should pick the black version.
Many, perhaps most, sets at this level include a cable with volume controls. Android users won't need one, but for almost$300, SMS should at least include the option.
Verdict
The SMS Street by 50 ANC isn't quite a reference set, but rather a great-sounding set for hours of kicking back with with some good music under any conditions: forgiving, fun, charismatic and easy to love.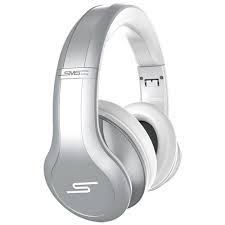 Product Name: SMS Street by 50 ANC HeadphonesThe Good: Mellow sound with just the right amount of nuanced bass, soothingly comfortable, powerful noise-cancelingThe Bad: Could be louder, Maybe come with more accessories.Verdict: This is what it's all about — kicking back, tuning out and enjoying music. And hey, looking good doing it.Buy from: Amazon
[xrr rating=90%]