Pocket, the service formerly known as Read It Later, announced a new version of its mobile and desktop apps today. Version 5.0 introduces what Pocket is calling "Highlights," a new method for discovering articles inside the app.
The user interface has also been simplified to make the experience of using the app smoother, and Pocket has added a new side navigation bar and the ability to bulk edit lists of items.
While we've made it really easy to save everything you discover that is interesting, relevant items can get buried beneath waves of new items saved to Pocket each day. Pocket 5.0 is smarter, more dynamic, and offers streamlined navigation and search. It is designed it to help you spend more time reading and watching the best unviewed content in your list, and less time looking for it.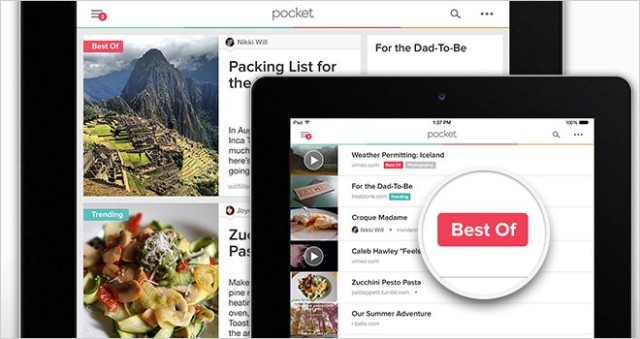 Highlights reminds me of when Instapaper added an Editor's Picks section a couple years ago, but this time Pocket is relying on its algorithms instead of human curation to surface the best content in a user's feed. Here are the different categories in Highlights, all of which are designed to adapt to your favorite authors, sites, and topics:
Highlights is split into different categories to make it easy to find the perfect item in your list: Best of (the most impactful articles and videos in your list), Trending (the most popular items being saved and shared throughout Pocket), Long Reads (for when you have a lot of time, like your commute), and Quick Reads (when you have only a few minutes to spare).
We're working on rolling out Highlights to all users over the coming weeks. You'll start seeing it appear in your list and inside the Highlights section soon. We'll also be offering Pocket 5.0 functionality to our web, packaged, and Mac apps in the coming months.
Pocket 5.0 is available now for iOS in the App Store.
Source: Pocket