Instagram for iOS 7 is finally here. Today the app received its first big update for Apple's new OS, and the interface has been given a fresh coat of paint to match the iOS 7 aesthetic.
"With the introduction of iOS 7 and its emphasis on clarity, we were excited to rebuild the look and feel of Instagram in a way that would bring these principles together and let the moments this community captures and shares shine," said the Instagram team. "We led our redesign with a focus on clarity to keep the feel of Instagram clean, simple and grounded in the photos and videos you discover and share."
Images and videos now fill the screen from edge to edge, which is a nice design change that makes the content feel more immersive. Another plus of edge-to-edge media viewing is that Instagram now supports higher resolution uploads, so the stuff you shoot won't look as scaled down.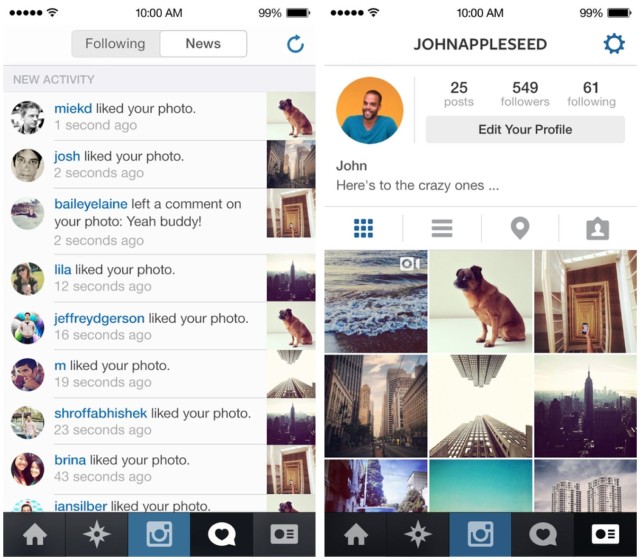 Profile pics are now rounded like they are in Apple's Contacts app. The app's interior looks iOS 7-friendly for the most part, but the most blatant omission from the redesign is the icon. It hasn't changed. Instagram told The Verge that "we don't plan on changing it right now." That's a shame because it sticks out like a sore thumb on iOS 7.
Today's update is a good step forward, but Instagram still needs to tackle support for importing slow-mo videos from the 5s and a redesigned camera interface.
Source: Instagram
Via: The Verge