Instacast by Vemedio has been my podcaster of choice since I threw up my arms in frustration at Apple's Podcast app and abandoned podcasts in iTunes altogether. That was about six months ago, and I've been beta testing version 4.0 of the Instacast iOS client over the summer. It's a radical departure from the previous design, and it's right at home in iOS 7.
From Vemedio:
The first, most obvious alteration is the completely overhauled user interface, which draws on the iOS 7 design philosophy. However, we've added our own interpretation of iOS 7's design philosophy to core Instacast features: for example the new downloaded indicator is now more subtle and natural, indicating the presence of a downloaded file by shading the episode's play icon.
Instead of just flattening the app's design and slapping an iOS 7 label on it, Instacast 4 includes some real interface and usability improvements. A new sidebar can be accessed by swiping from the left like other popular apps, which makes it easier to access different windows for subscriptions, lists, the online directory, etc. You can swipe through windows and batch edit episodes or subscriptions.
A now playing bar sits at the bottom of the app when something is playing in the background, like Spotify. Another major addition is the 'Up Next' queue, which gets its name after a similar feature in iTunes 11.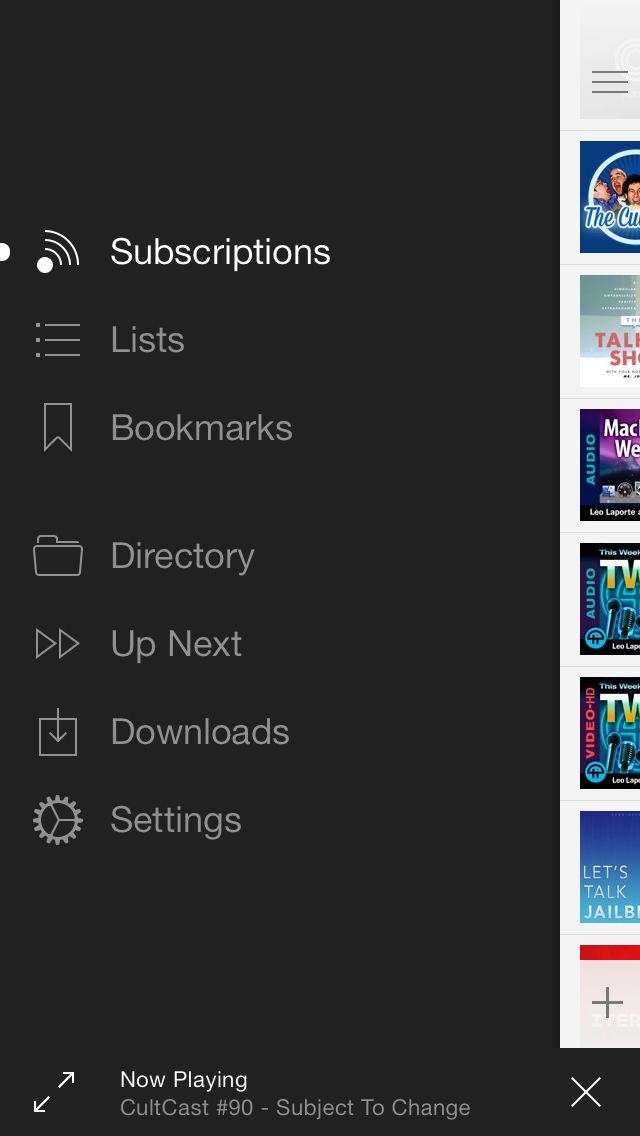 In the past, Instacast would send you a push notification whenever a new episode was available to download, but thanks to iOS 7, the app can now download episodes in the background even when it's not open. Push notifications are now for when episodes are queued up and ready to play, which is excellent. Improved background syncing is a common feature addition you're going to see in a lot of iOS 7 app updates—it's great that devs are taking advantage of the new APIs.
There's a ton more under the hood, but rest assured that Instacast 4 is the luxury podcaster your iOS device deserves. I've been thrilled with it. And did I mention that it's also on the Mac and syncs everything wirelessly between devices better than iTunes? You should be sold now.
Instacast 4 is a free update to existing users in the App Store.