Ah, summer. Isn't it just the best time of year? But like the other three seasons, it has its drawbacks. It gets too bright too early, ruining your lie-in; bugs and creepy-crawlies decide it's okay to come live with you; and the sun is so bright you have to find some shade every time you need to reply to a text message because you can't see your screen.
Tru-Fit HD Anti-Glare by Tru
Category: Screen Protector
Works With: iPhone 5
Price: $19.95
But the latter can be eliminated with the Tru-Fit HD Anti-Glare film for iPhone 5. It's a screen protector that utilizes "the highest grade materials and cutting-edge technologies" to provide your iPhone's Retina display with scratch protection and a matte finish that doesn't reflect light.
Every Tru-Fit film is precision die-cut to ensure a perfect fit, and they are applied using the included Tru-Fit applicator, which ensures every film goes on straight, and without dust or bubbles beneath it.
Every one of its four layers has an important role to play, and they combine to create a strong screen protector that promises to install easily, stick well, protect your display from damage, and be removed with no residue.
The Tru-Fit costs $19.95 for two films, which isn't exactly cheap when it comes to a screen protector. But let's find out if you get what you pay for.
The Good
Screen protectors are the best way to keep your smartphone's display in great condition, but applying them is a pain in the butt. It's hard enough ensuring they go down straight, but you also have to worry about trapping dirt, dust, and bubbles beneath them.
But not with the Tru-Fit. Inside the packaging is the Tru-Fit Film Applicator, which is essentially a plastic frame the shape of your iPhone. You place the film inside the frame, then clean your iPhone's display using the included microfiber cloth.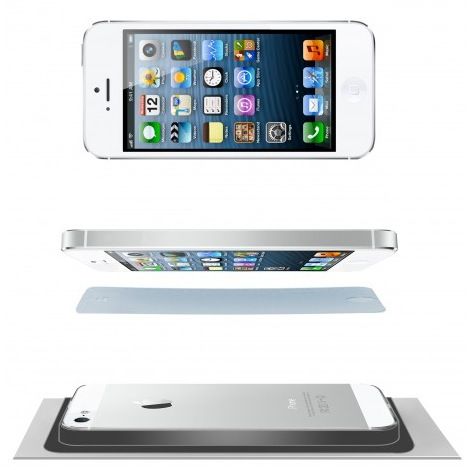 Unlike other screen protectors, the Tru-Fit also comes with a sticky sheet that you can use on your front of your iPhone's display to ensure you've removed any dust and debris, and to prevent anything from settling on it while you're getting the protector ready.
It's best to leave the sticky sheet on the front of your iPhone until you're ready to apply the protector — the longer your display is exposed in between cleaning and applying, the more likely it is to collect dirt.
When you're ready, you peel off the cover from the film to expose its adhesive, then quickly remove the sticky sheet from your iPhone and place it inside the frame, pushing down firmly to ensure the film sticks.
When you pull your iPhone out of the frame, you have a screen protector that's positioned perfectly, with no dirt underneath it. You may have a few bubbles, but these can be pushed out with the microfiber cloth, or a small piece of card.
You'll find your display significantly easier to see in bright sunlight, with glare almost eliminated entirely.
Once the Tru-Fit is applied, it has a terrific grip. I've been using the same film for almost a month now, and it's yet to show any signs of unsticking at the edges like some do after a little while — even after being stuffed into my pockets.
It's also incredibly tough. I'm yet to notice a single scratch on mine, and I usually find that screen protectors pick up scratches far too easily — particularly if they have a shiny gloss finish. I haven't exactly been careful with my iPhone, but the Tru-Fit still looks brand new.
Of course, its main feature is its anti-glare finish, which is designed to minimize reflections on your display. And it works exactly as you'd expect. You'll find your display significantly easier to see in bright sunlight, with glare almost eliminated entirely.
The Bad
Like all anti-glare screen protectors, the Tru-Fit's matte finish somewhat spoils your crisp Retina display. It's noticeably clearer than cheaper anti-glare protectors I've purchased in the past, but you will see a slightly fuzzy effect up close.
You will see a slightly fuzzy effect up close.
Unfortunately, this is a sacrifice we have to make for anti-glare protectors, so if maintaining the quality of your display is more important to you than eliminating glare, you'll want to go for one of Tru's Crystal offerings instead.
I would have also liked to have seen a rear film protector included with the Tru-Fit at $19.95, but there are only two front protectors included in the pack. This isn't a massive issue, but it would have been nice.
The Verdict
I can't tell you how long I've been buying cheap protectors on eBay and changing them every few weeks because they come unstuck or get too scratched up. I would have saved a lot of cash if I'd have just invested in the Tru-Fit a long time ago.
I've just written almost 900 words about a sheet of plastic.
Sure, it's not exactly cheap at $19.95. But you do get what you pay for, and in the long run, you're likely to save yourself some cash. I've found the Tru-Fit to be stronger, easier to apply, and just generally a whole lot better than cheaper alternatives.
I mean, I've just written almost 900 words about a sheet of plastic — and the Tru-Fit is worth every one of them.

Product Name: Tru-Fit HD Anti-Glare
The Good: Easy to apply, strong and durable, long-lasting.
The Bad: Not cheap, not completely clear.
The Verdict: Certainly worth $20; a great screen protector that should last you a long time.
Buy from: Tru

[rating=excellent]